Courses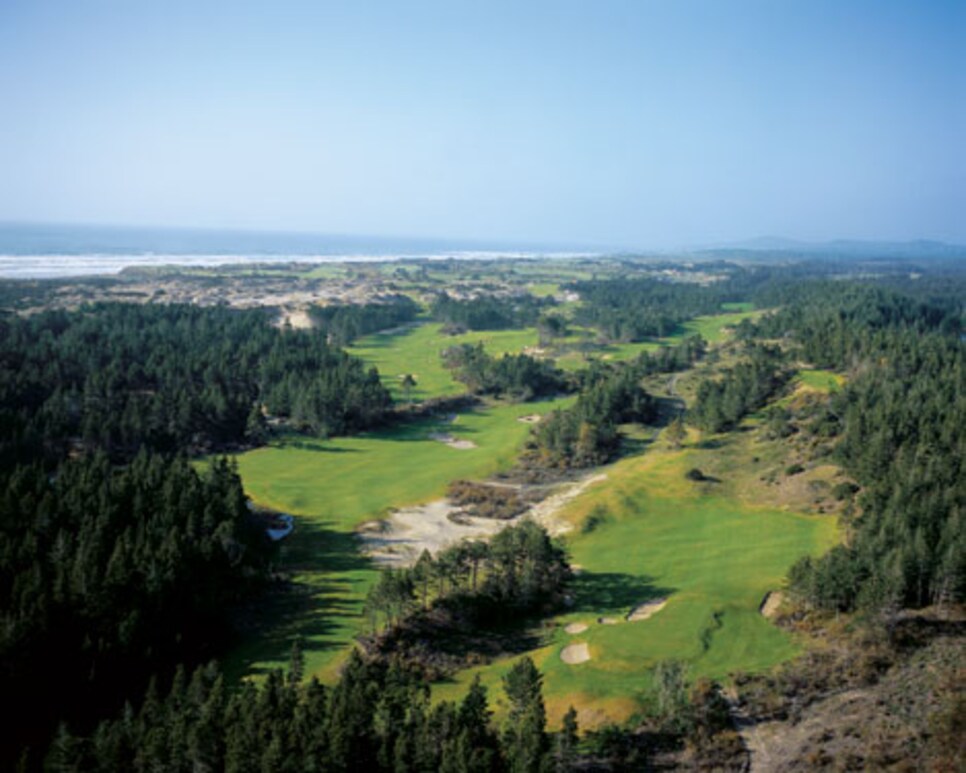 Coastal stunner (clockwise from bottom right): holes No. 14, 15, 3,4 and 16 at Bandon Trails.
Editor's note: Sandy Tatum won the 1942 NCAA championship and was president of the U.S. Golf Association from 1978-'79. He is active in golf course design and is the author of A Love Affair with the Game.
A jolt of excitement mixed with surprise. That is the sensation one gets when pulling into the Bandon Dunes Golf Resort. You have been driving along a nondescript section of U.S. Highway 101, past old fishing villages and logging towns, and then all of a sudden there you are—squarely in the middle of a golf mecca. The one place I can think of where it happens much the same way is Pine Valley, the golf cathedral tucked inside an unremarkable New Jersey neighborhood.
My most recent visit to coastal Oregon came in late March, when I had the pleasure of playing two rounds on Bandon's latest addition: the Bill Coore and Ben Crenshaw-designed Bandon Trails. When this course officially opens on June 1 it will be the third in a complex of courses forming an unusual and remarkably successful golf-course development adventure.
The first of these courses was Bandon Dunes, designed by David McLay Kidd and opened in 1999. It was so well received that the second course, Pacific Dunes, designed by Tom Doak, was developed and opened in 2001. Each made such a spectacular impression—they are Nos. 28 and 22, respectively, in Golf Digest's ranking of America's 100 Greatest Golf Courses—as to pose a serious challenge for Coore and Crenshaw. How could they ever compete with these two neighboring golf-course icons?
I can report that Bandon Trails is an exceptional golf course. Though I still consider Pacific Dunes the finest treasure Bandon has to offer, I rate Bandon Trails as treasure No. 2, ahead of treasure No. 3 Bandon Dunes.
All three courses share much in common. Each is sculpted into the landscape so that it appears to be an integral part of the terrain, created well before the advent of bulldozers. There are few structures of any kind, enhancing the natural setting. The wind provides a frequent challenge at each. And all are highly walkable, which is a good thing because carts are not allowed.
Yet for all their similarities, each course has a distinct personality. Bandon Dunes is a solid purveyor of the virtues of links-style golf. Pacific Dunes, with its back nine of four par 3s, three par 5s and two par 4s, gives the impression of youthful exuberance unfettered by convention. Bandon Trails has an element of swagger in its makeup that invites going for it without regard to the risks.
The first couple of holes at Bandon Trails are tight, framed by huge, rolling sand dunes, with the Pacific Ocean in the distance. But the course soon imparts the feeling of extraordinary spaciousness. All three courses have a similar feel, though Trails is the most expansive. This continues even as the course makes its way out of the dunes and into a forest, where it remains for holes 3 through 17. The architects accomplished this by clearing out the trees nearest the course but leaving many of them on the periphery.
This spaciousness encourages you to let go, to give your tee shot everything you have. If you do, look out; land your drive in the wrong part of the fairway and you might find that you have seriously complicated your second shot. The green designs also fit the spacious theme. They are commodious.
My favorite hole is the 14th--and it turns out this is one of Crenshaw's favorites as well. From the tee of this short par 4 (303 yards from the middle tees), you hit to a two-level fairway with a substantial elevation change. On the left, the fairway is at roughly the same height as the green. But if you go right, as I did in both rounds, it drops off precipitously. This leaves you with a very delicate uphill shot of about 70 yards to a smallish green that drops off on three sides.
The one blemish on the Trails is a water hazard by the 11th green. The architects placed it on this otherwise splendid hole for irrigation purposes, but it is seriously out of character with the rest of the course.
That certainly should not deter anyone from realizing the experience of this remarkable course. Indeed, the demand is already strong. Two months before the course was scheduled to open, Bandon Trails had booked 15,000 rounds through the end of the year. That means it will be as busy as Bandon Dunes and Pacific Dunes, two of the premier courses in the world.