The Loop
It's time to give ourselves back to football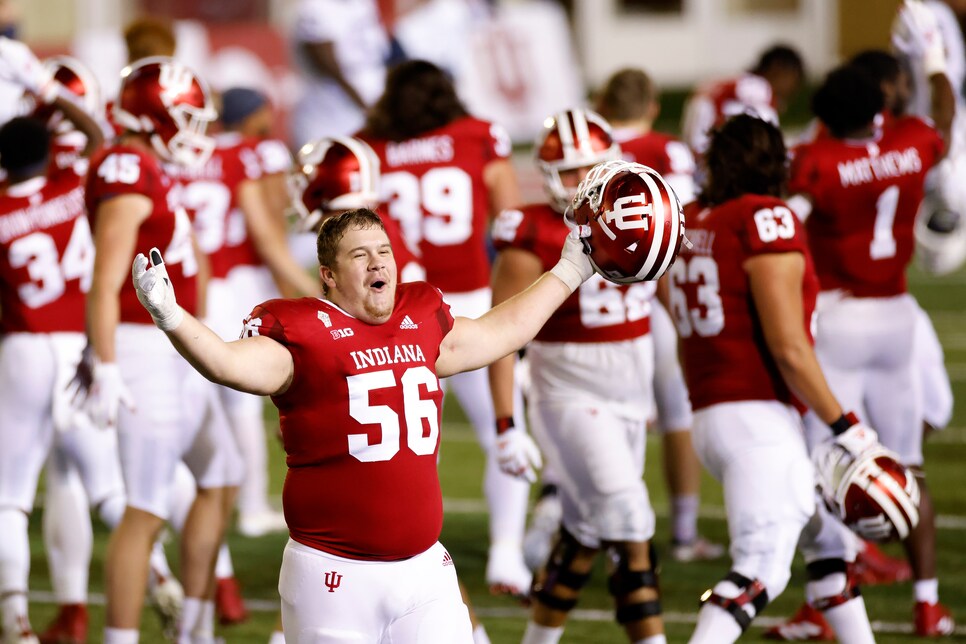 If you're like me (and judging by the average sports fan in this country, you're probably not), you've been resisting football for a few years now. Whether it was simple as getting older and having less time, feeling some qualms about CTE, or just being fed up with the endless propagandizing and political sniping that is so insanely tiresome you could scream, there seemed to be more than a few good reasons to give up. The core of the problem was that the simple pleasure of sitting down and watching a football game had been bludgeoned into near-nonexistence by everything extracurricular. Where did the innocent fun go? Where was that nostalgic feeling from childhood falls, or the sense of joy from waking up on New Year's day to a full slate of bowl games?
Well, football is still here. And the game, overshadowed as it might be, is still as good as ever, and so are the players. At some point, if you're an adult, you have to make a choice to rediscover that old feeling even in the midst of weird times. For one thing, you simply cannot go around caring about politics every second of every day, regardless of your affiliation. Of all the things we ignore, football should be the least bothersome. Plus, things are changing on that front, and it seems to be fading into the background as this season goes along. Head injuries are harder, but the ruling bodies finally seem to be taking that seriously, or attempting to.
So if you've left football behind but have a vague desire to spend a few hours on the weekend getting that old mojo back, why not try now? Even if you start out just watching a half or two, reconciliation is possible. And in the spirit of that choice, today's Superlatives will be all football all the time. Lesgo.
The "Sports Makes Strange Bedfellows" Oddity of the Week: The Lions, Of Course
This is hilarious—watch the Lions basically start cheering for Todd Gurley, a dude who is on the other team, as he tries not to score a touchdown but succeeds anyway:
Along with this whole thing being very funny to watch, "cheering for another team's touchdown" is a pretty good summation of the Lions season so far, just as "trying not to score" hits all the right notes for a Falcons metaphor.
Long Field Goal Porn of the Week: Panthers
There's nothing better than a really long field goal attempt, which is only attempted at the end of a half or in very desperate late-game situations. Mostly the former. In this case, the Panthers were going for a late field goal to tie the Saints, and Joey Slye lined it up at 65 yards, which would be an NFL record:
Here's how close he came:
There should be a rule that you have to attempt at least one 65+ yard field goal per game. We'd break the record in no time!
Weird Field Goal Porn of the Week: Rice
This was Rice, going for the win in OT:
The quadruple doink! I have never, ever seen this before, and I could easily go a lifetime without seeing it again. As you can tell from that tweet, Rice made virtually no attempt to score the winning touchdown after MTSU failed to convert on its try, and later lost in the second OT. Which just proves that football gods are real, they hate cowardice and college kickers, and they love instant karma.
Pylon Porn of the Week: Indiana Football
As a Duke football "fan," let me tell you that it means something when I say that I'm impressed at the sheer unrelenting futility of Indiana football. And yet, thanks to one of the great plays of the season, they just nabbed their first win over a top-ten opponent since, like, 1884. It came against Penn State, with Indiana boldly opting for the two-point conversation to win the game in overtime. Here's how it ended:
I'll be honest: I have no idea how that's a touchdown. But it's exciting that it is, so let's go with it. Hoosiers!
(By the way, sorry for writing the words "pylon porn." I went too far, and I regret the error.)
Football Buzzer Beater...Enjoyment...of the Week: LIONS!
Remember how I dissed the Lions a moment ago? Well, apparently the Falcons just crush them in negative mojo, because somehow the Pride of Detroit were able to give us that rare and delightful play: The football buzzer beater walk-off. Watch Matthew Stafford duck out of pressure and deliver the dagger:
Okay, I guess technically the kick still has to be made before it's a buzzer-beater win, but come on, lay off...Detroit needs this.
The "Wait, This Guy's Going Kinda Decent-ish, Isn't He?" QB of the Week: Baker Mayfield
Speaking of buzzer beaters, here's one that came just a few seconds too early to qualify, Baker Mayfield to Donovan Peoples:
Now, look, Baker Mayfield is a mid-level QB at best right now. Don't get me wrong on that front. Still, that's a great pressure pass, and he had a massive game with five touchdowns. This guy? Folks, he could one day, ONE DAY...be kinda decent. You heard it here first.