The Loop
Back-roads Scotland: Boat of Garten
Eight years ago, I took what's probably my favorite golf trip ever. I flew to Glasgow, Scotland, without an itinerary, and spent 10 days playing only courses I'd never heard of. My second stop -- suggested by the regulars at Kingussie Golf Club, which I played the day I arrived -- was Boat of Garten.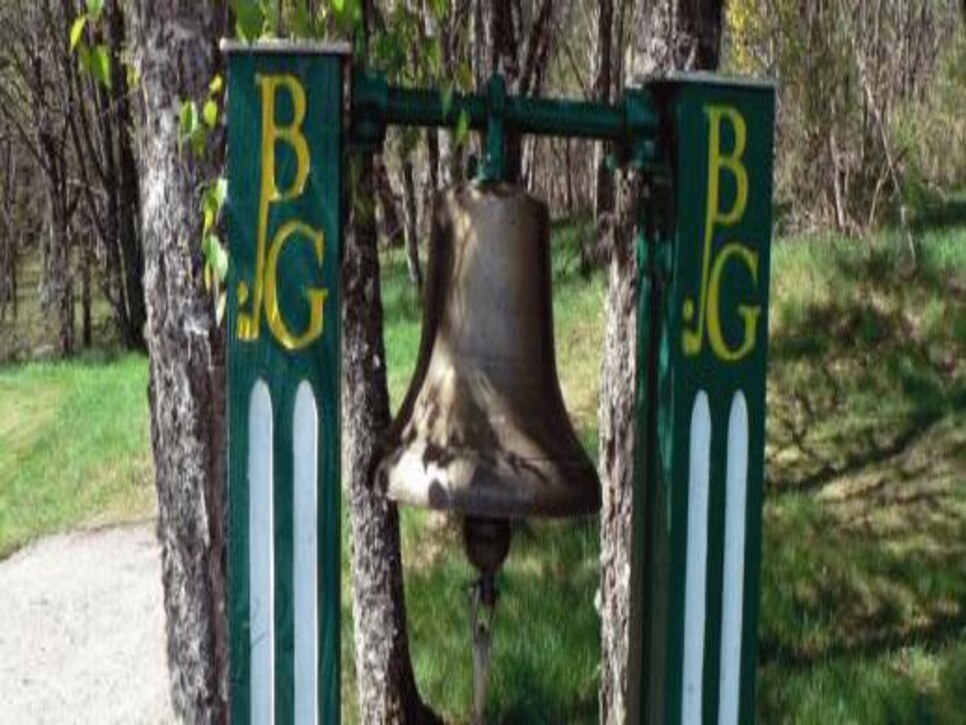 The village of Boat of Garten (population 700) was possibly named for a nearby river ferry, long since put out of business by a bridge. The region is a major summertime holiday destination for bird watchers, among others; Loch Garten, a nearby lake, is a national bird sanctuary. The golf course, which is known locally as "the Boat," began as six holes in 1898, and was extended to 18 holes by James Braid a little over 30 years later. There are four clocks on the wall above the counter in the golf shop; they give the time in Boat of Garten, Pebble Beach, Augusta, and the United Arab Emirates. I paid £32 and, because no one else was around, teed off by myself.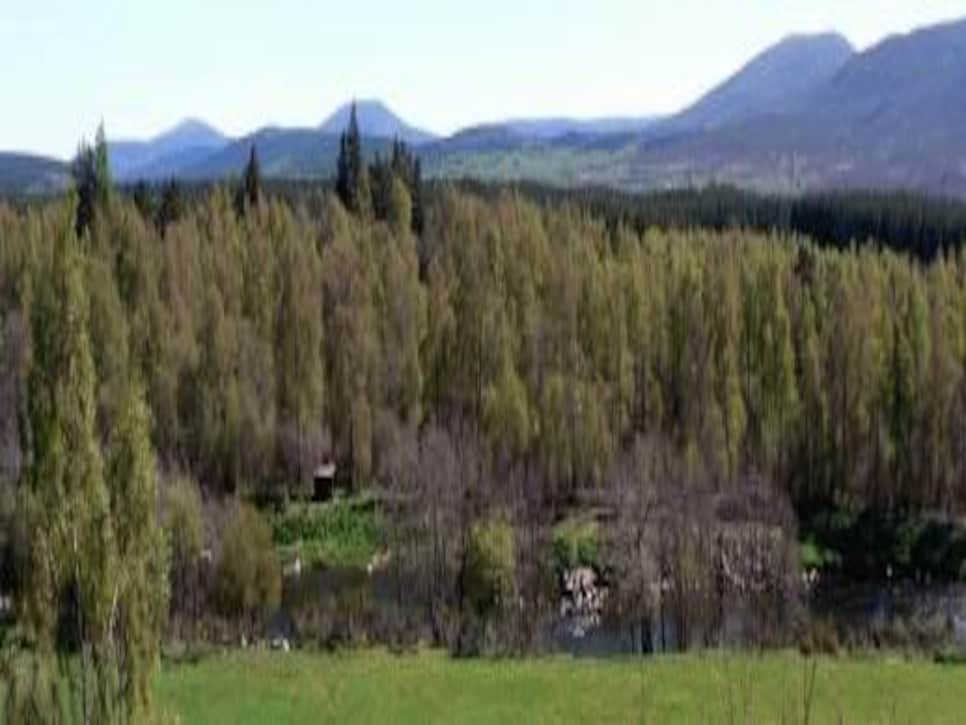 The Boat's first hole runs past a station of the Strathspey Steam Railway: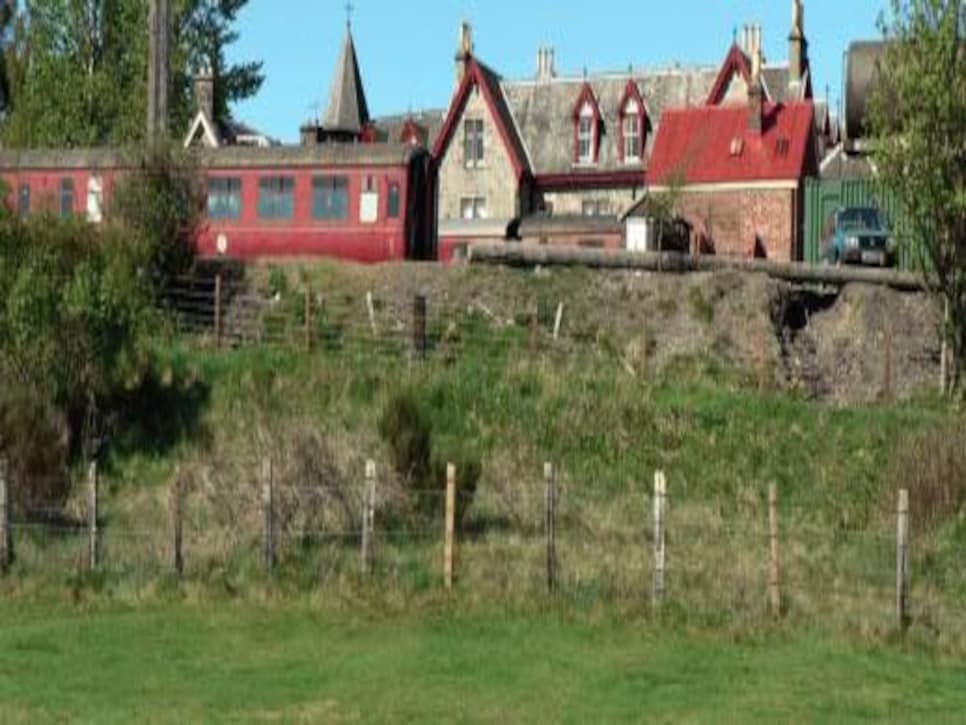 It's a so-so par 3, but the second is terrific par 4, and many more terrific holes follow. Here's the second, from the tee: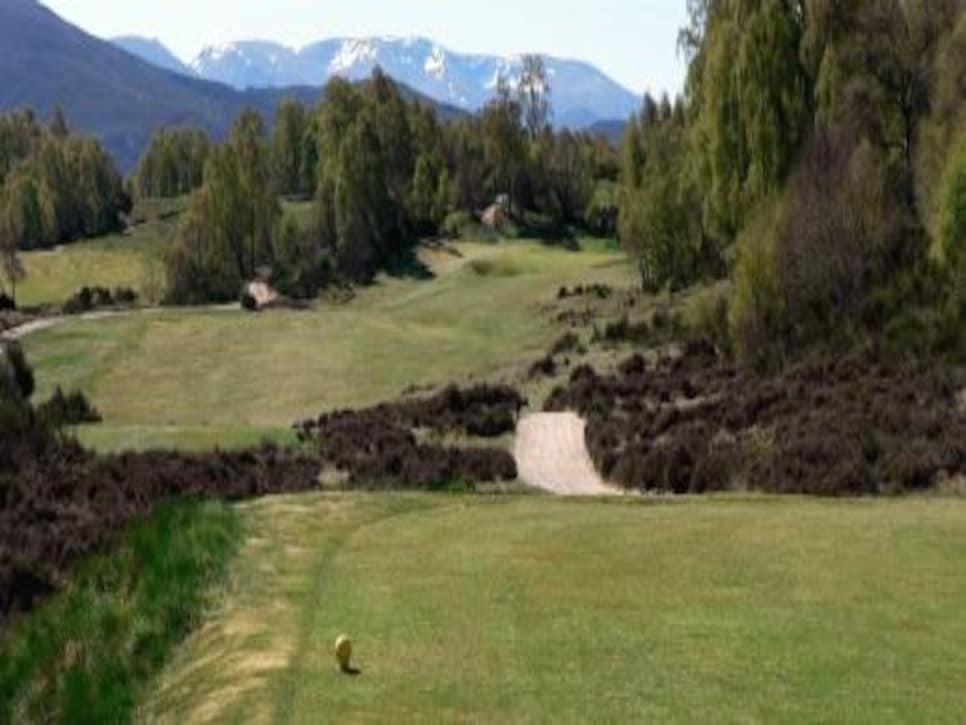 On the fourth, I caught up to Andy and Pat, a retired couple from Aberdeen, and played the rest of the way with them.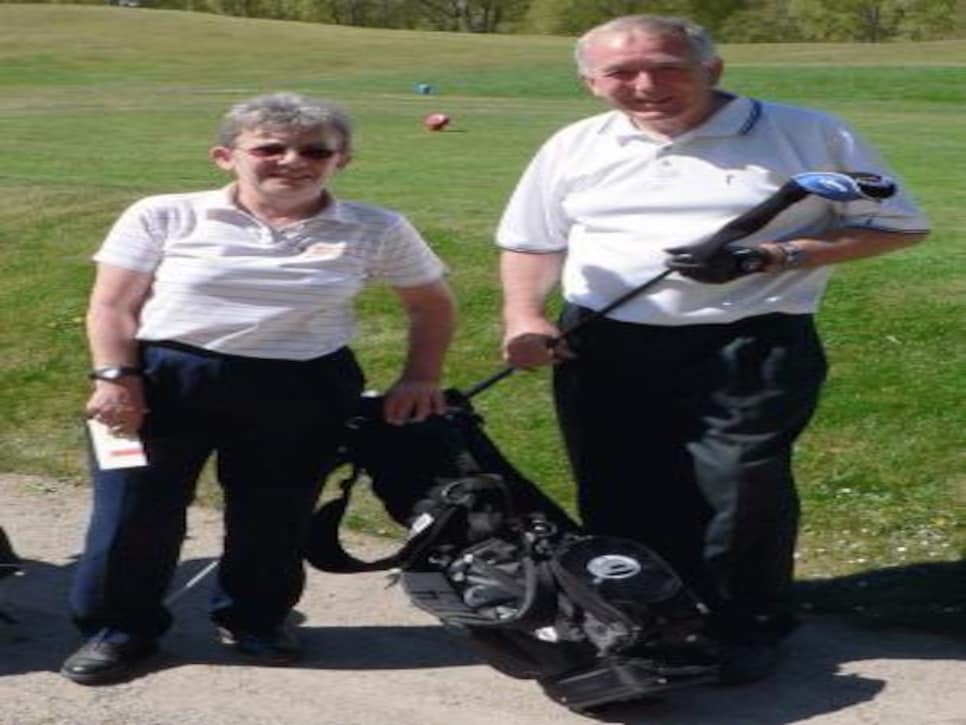 Andy had lured Pat to the course by assuring her that it was flat, and he did penance for this untruth by pulling her trolley up the steeper hills, of which there were many. (He had already lightened his own load by leaving eight of his golf clubs at home.) This hole is called Gully: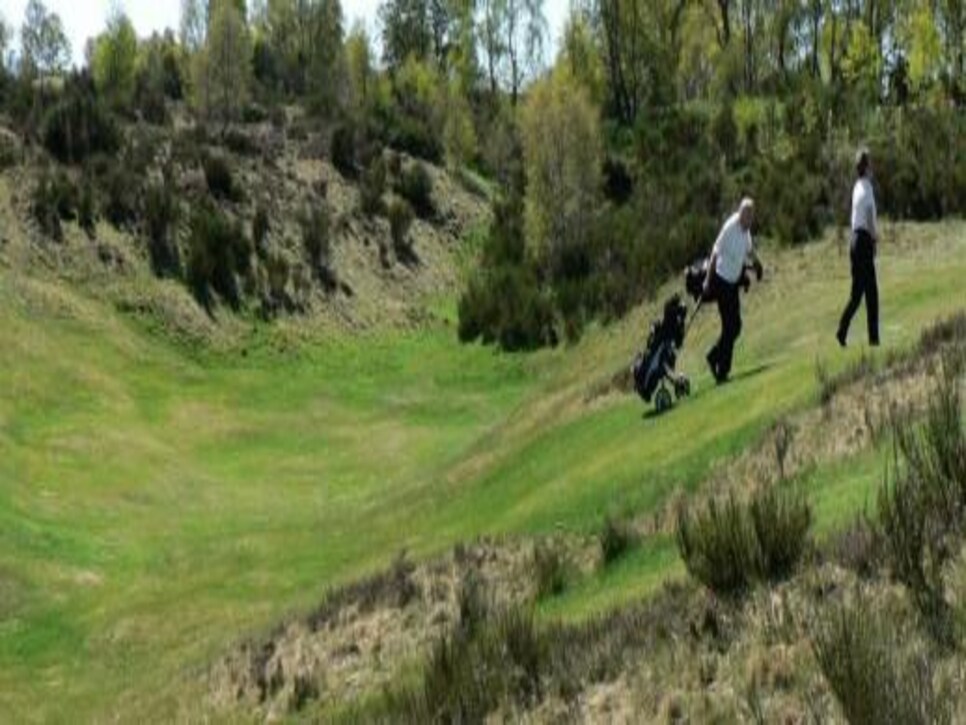 On the tenth, we got stuck behind a slow foursome, and Andy told me that an American group had once visited his home club, Stonehaven -- a seaside, cliff-top course with spectacular views, 15 miles south of Aberdeen -- and had played so slowly (five hours) that the club secretary asked them never to come back. I apologized for my countrymen, and didn't point out that the golfers holding us up at that moment were Scottish.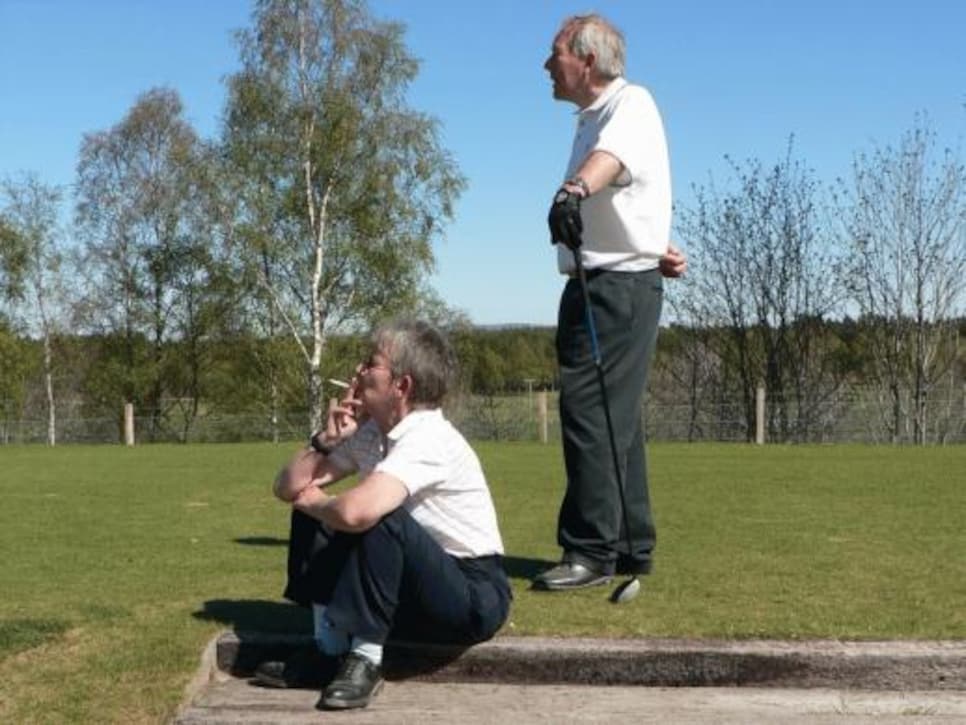 We waited on the next tee, too, and as we did an old man on a tiny, one-person motorized golf cart came up behind us. He was wearing a broad-brimmed hat, leather boots, a green jacket, brown plus-fours, and long yellow socks. "That may be Willie Auchterlonie himself," Andy said. I asked him how long he'd been a member. "Fifteen years," he said -- a deeply disappointing answer, Andy and I agreed later.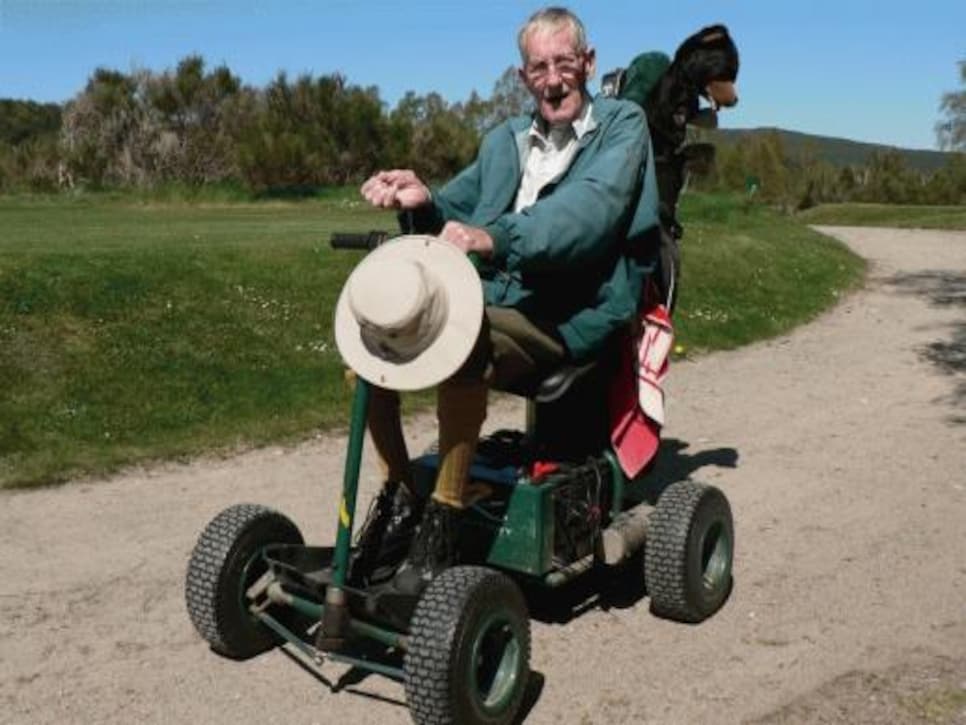 Andy and Pat were playing a match. Pat had a low, flat swing with a big lift at the top, but she hit the ball a long way. On one tee, she asked Andy what he was waiting for, then looked up the fairway at the group ahead, maybe 200 yards away, and said, "Oh -- them?" and gave a great throaty smoker's cackle. She was three down with three to go and won the last three holes with pars. Good pars, too.