Courses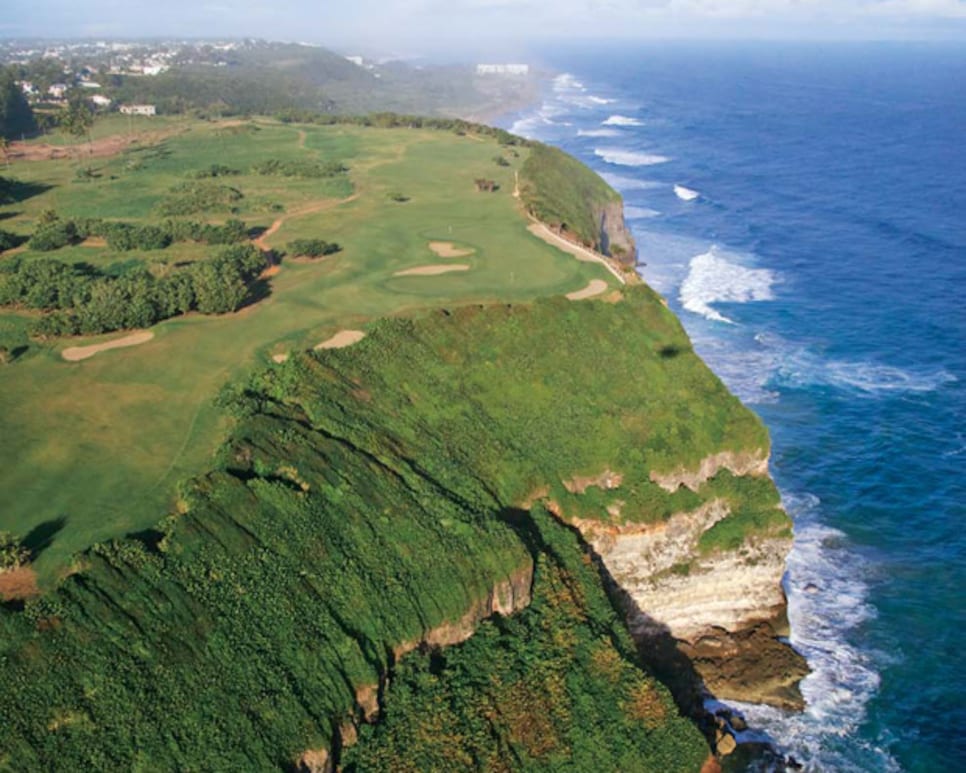 Scotland in the tropics? Royal Isabela's back nine plays like a links next to the Atlantic Ocean. The 12th and 14th holes share a green.
In an era when news is delivered instantly and satellite imagery makes it possible to spy down on nearly every nook of planet Earth, you can't help but ask one question as you make your way along the inward nine of the Golf Links at Royal Isabela in Puerto Rico: "Why doesn't everyone know about this place?"
With its impeccably manicured fairways and greens routed along rugged cliffs and through lush vegetation, dramatic ocean views and the sound of waves bashing the coast, the scene here borders on surreal and is reminiscent of several world-class golf properties. Bandon Dunes
immediately come to mind.
Yes, Royal Isabela is that good. But you can count its daily traffic on your fingers and toes, so again, you wonder, How can a course this spectacular be built with so little fanfare?
"It was ready in 2009, but we wanted to keep it low-key until the time was right," says Charlie Pasarell, the former tennis star who, with his brother Stanley, built Isabela on the northwest corner of the island, about 70 miles west of San Juan. "But now we're ready for the world to see it."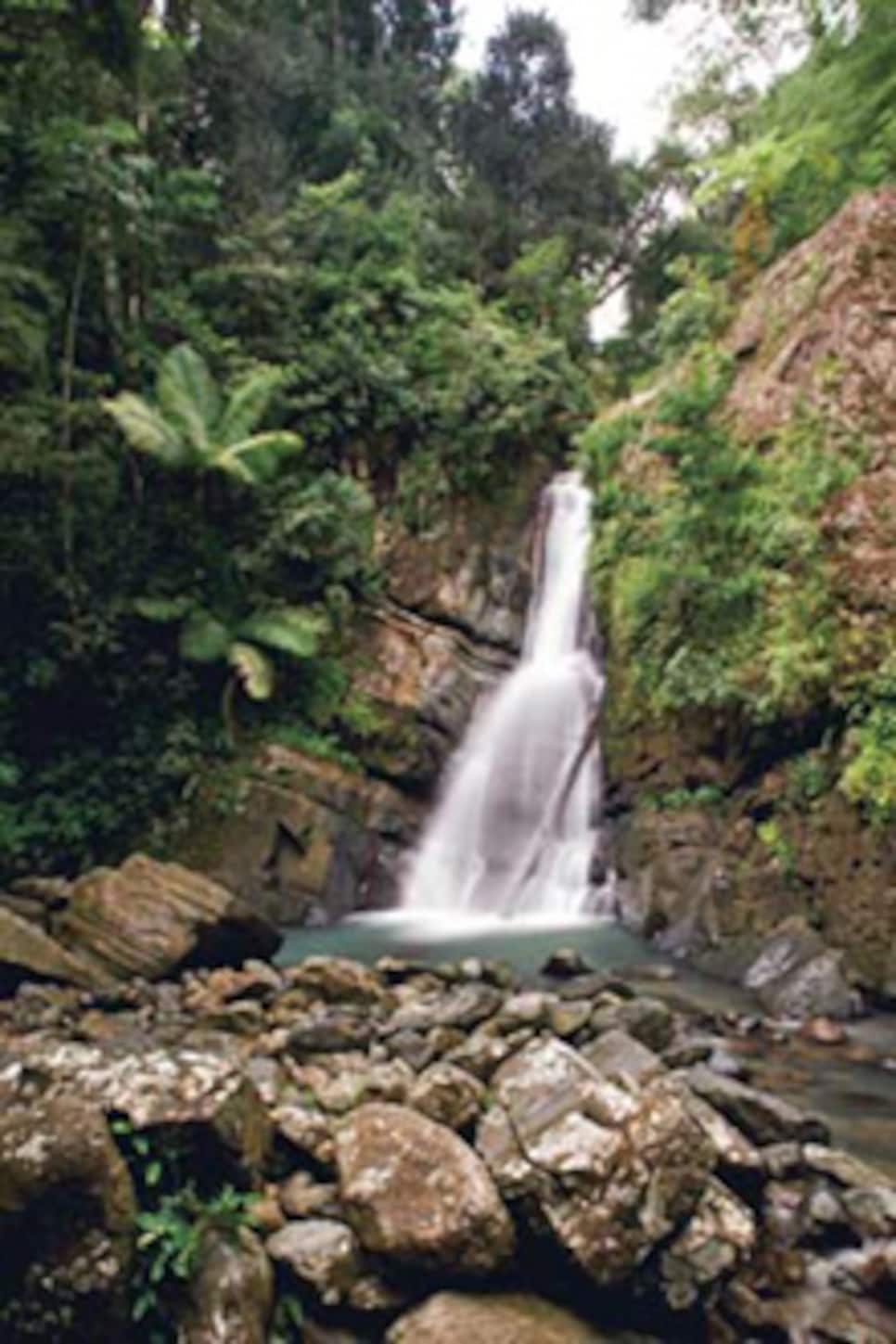 Here's the best part: You can play it for free -- that's right, free. Until the Pasarells open a 20-room lodge later in 2011, they aren't charging anything. Eventually, the green fee will be $150-$200. For now you can play it by requesting a round from the brothers through their course's website, royalisabela.com. If you're thinking about a golf trip to Puerto Rico anytime soon, make the request.
For a lot of travelers, the island serves as a transfer station to other Caribbean destinations. Why more Americans don't make Puerto Rico the destination is baffling considering you don't need a passport to go to there (it's a U.S. territory). You also don't have to stand in customs or immigration lines. Some Caribbean nations actually have a departure fee, forcing you to pay to get off the island, but not Puerto Rico. Another bonus: Duty-free shops in the airports are open to anyone leaving.
Most of the island's best courses are located east of San Juan's Luis Muñoz Marín International Airport -- including Bahía Beach Resort & Golf Club, refurbished in 2007 by Robert Trent Jones Jr. But if you want to play Royal Isabela, consider flying into Rafael Hernández Airport in Aguadilla, which is 20 minutes from the course. It offers direct flights from the New York City area and Orlando. Be warned: It's a fairly rustic locale, and your best hotel option is the Courtyard Marriott next to the airport. But it's still good enough for a night or two. Then, once you're done playing Isabela, trek the two-plus hours east by car past San Juan, where there are six good resort courses within 30 minutes of each other.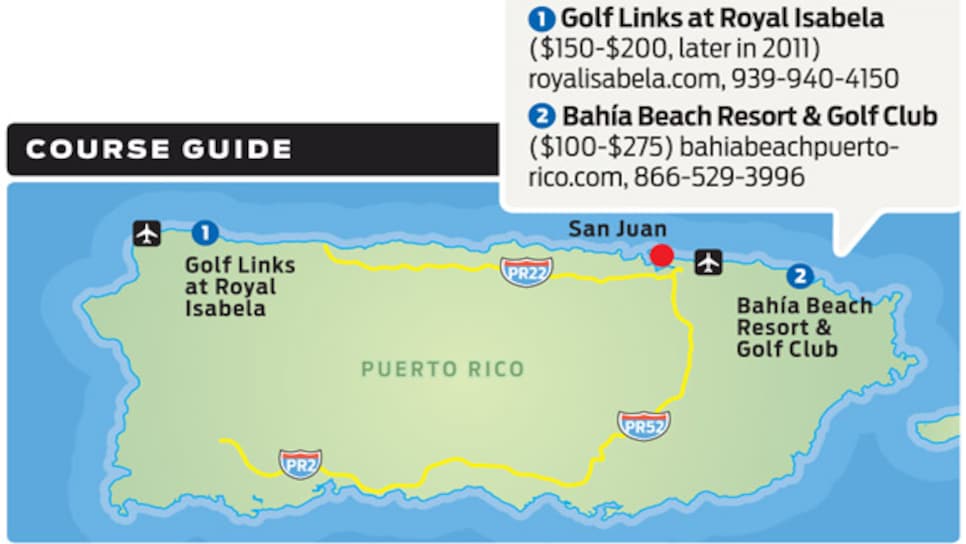 Wherever you begin your trip, be sure to bring a camera -- especially for Isabela. The front nine is inland, hilly and framed by waist-high native grasses and tropical vegetation. The back nine resembles a links, with deep bunkers, wind-swept fairways and massive greens routed along three miles of cliffs, 150 to 350 feet above the water. The Pasarells hired Pete Dye disciple David Pfaff to design the course, but Pfaff says the course designed itself. The rolling farmland, the tropical vegetation and, of course, the cliffs helped route holes as well as any computer program could. Just like the Dominican Republic's Teeth of the Dog, which Pfaff helped build with Dye, most of Isabela's holes are recallable long after playing. The course is either par 72, 7,538 yards or par 73, 7,667 yards, because the sixth hole has two fairways and two greens. The brothers couldn't decide on a routing, so from the same tee boxes you either play a par 4 up the right fairway or a par 5 up the left. Perhaps the scariest tee shot in the Caribbean is on the 200-yard 17th. There's no bailout between you and a smallish green on a jut of land above dense jungle. If you've ever seen the work of artist "Bud" Chapman, you'll swear you're playing one of his infamous Fantasy Golf Holes.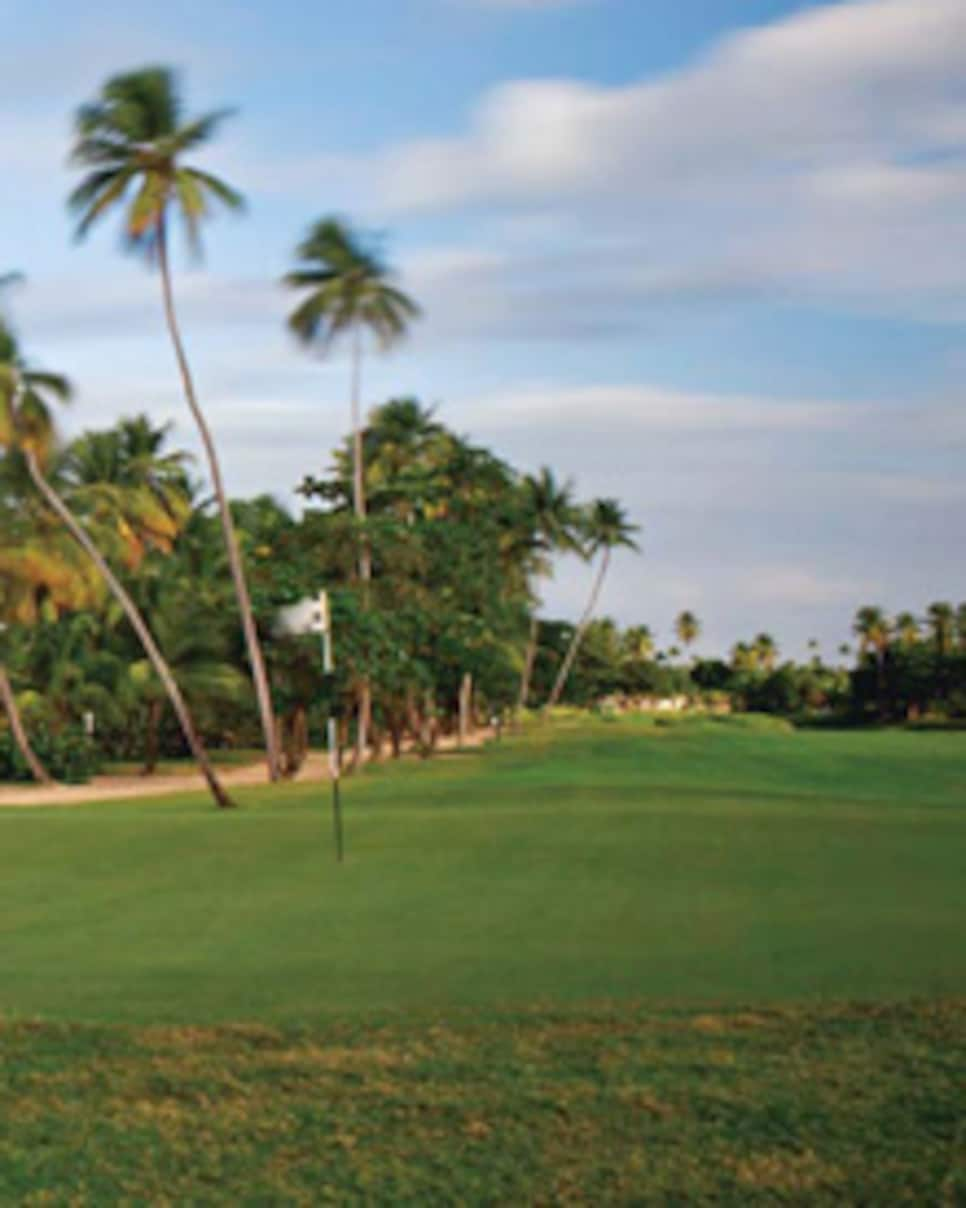 Although Isabela is linksy, the par-72, 7,014-yard Bahía Beach feels like it's routed through a jungle -- especially because the nearby El Yunque National Rainforest and its tallest peak -- El Toro -- are your background for most of the round. You don't need a machete to play, but you do have to slalom your golf shots over and around tall coconut palms, lagoons and tropical underbrush. Miss a fairway and your ball is likely gone for good. The course's signature holes are the final three -- a par 5, par 3 and par 4 -- which play along a crescent-shaped beach and are defended by a strong right-to-left breeze.
Unlike Isabela, Bahía is completely developed with several lodging options, including multi-bedroom villas that foursomes can split in-season for $259 per person a night, including golf and continental breakfast. There's also a new St. Regis Hotel on property that villa guests have access to, but the villas are much better-suited for golfers, both in proximity to the course and in amenities. Each has its own kitchen, and you can arrange to have staff grocery shop or cook for your group.
Once inside the gates of Bahía Beach, you're in a tropical paradise. The staff has taken an eco-friendly approach to the property, so it's like vacationing in a nature preserve. If you keep a window open, you'll soon learn that the sweet chirp you hear all night long comes from the tiny coqui frog. It's as good a lullaby as you'll ever have.