The Loop
Austin Rivers' girlfriend owes him a huge apology after he made it rain at MSG Wednesday night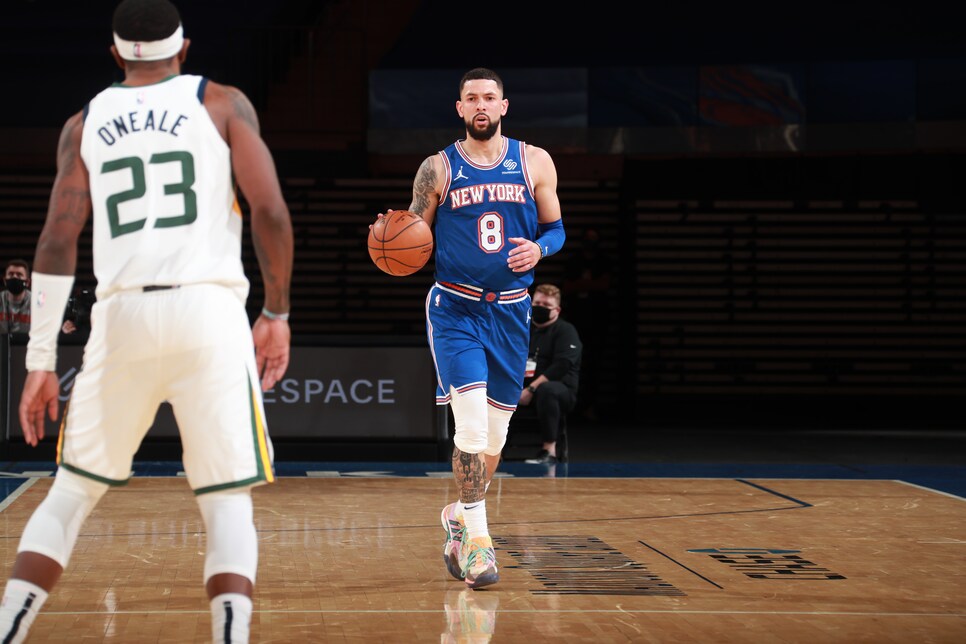 In case the New York Knicks fan(s) in your life haven't brought you up to speed yet, the New York Knicks are back. Not only are they back, they might win the damn NBA Finals. If that wasn't unbelievable enough for you, one of the team's bright spots so far this season has been ... Austin Rivers???
Yes, that Austin Rivers, son of Doc and now ninth-year NBA veteran. Outside of two decent years with the L.A. Clippers, Rivers has been nothing more than a servicable bench player, a far cry from his days at Duke where he was the No. 1 guy.
He's been more than serviceable in his four games as a Knick, though, and it could be thanks to his tireless work ethic. On Tuesday, a video Rivers took of his girlfriend scolding him for going to practice went viral. The reason: it was his off day and she wanted to spend time with him, but Rivers wanted to get extra work in. "You did this on f---ing Christmas. You did this on CHRISTMAS," says Audreyana Michelle in the hilarious video:
While we feel bad for the poor girl, the internet can't thank Austin enough for having the presence of mind to start filming this rant. In an incredible turn of events, Rivers made it rain at Madison Square Garden the following night, helping the Knicks win their third straight game. In the 112-100 victory over the Jazz, Rivers scored 14 straight points in the fourth quarter:
Rivers finished with 23, going 9-of-14 from the field and 5-of-7 from the three-point line. The Knicks outscored the Jazz 68-44 in the second half, helping them improve their record to 5-3 on the year. They're currently the fifth-seed in the Eastern Conference, three spots ahead of the big bad Brooklyn Nets, and Rivers is one of their top scorers. What a ridiculous string of sentences to type. Go New York, Go New York, Go, and also, Pray 4 Audreyana, who owes Austin an apology.