News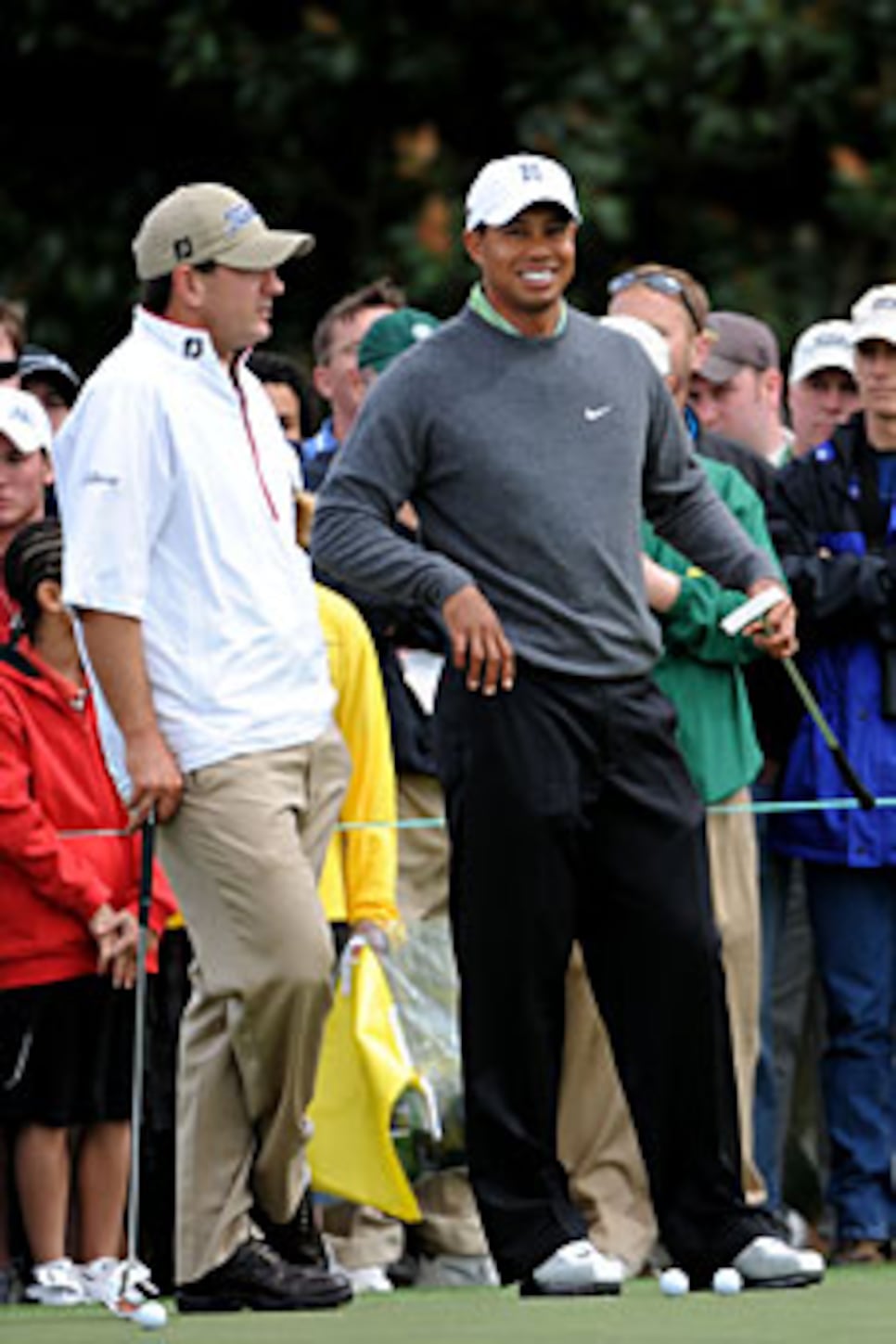 Tiger Woods wasn't the only notable player to turn up for a practice round on a brisk day at Augusta National.
AUGUSTA, Ga. -- Masters week started off with a cold front and showers Monday at Augusta National Golf Club. By late morning, the sun came out, but so did the wind, with gusts of up to 35-miles per-hour.
That didn't stop most of the field from playing practice rounds, though the majority were bundled up in sweaters and wind shirts. Two of the notable pairings were Ian Poulter and youngsters Ryo Ishikawa and Danny Lee, and Greg Norman, Adam Scott, Vijay Singh and Tim Clark.
Four-time winner Tiger Woods arrived Sunday to play 18 holes. Former winner Mark O'Meara joined him for several holes. Woods didn't come to the course until mid-afternoon on Monday, and worked in only a few holes. Teen sensation Rory McIlroy is making is Masters debut and is soaking up the atmosphere.
"It's a huge thrill to be here," McIlroy said Monday. "It's been a dream of mine for a long time to play in the Masters, and for that dream to come true is a pretty special feeling."
"There's so many people around," he said. "It's pretty crazy, just to think this is Monday of the golf tournament, but there's already a great atmosphere. I played the back nine, which was cool. I got to skim it across the water on 16 and did all that, which is cool."
How popular is the tournament? At 4 p.m., a signed was held up near the big scoreboard next to the first fairway that said the wait to get into the merchandise store was 12 minutes.
Admittedly, the course will be a challenge.
"It's different than any other golf course because you have to play so many shots," said McIlroy. "You have to bump it up hills or you might have to land it on top and try and spin it or get it so stop. There's so many different variations, and I think you have to have a good imagination for it, as well."
The extended weather outlook for the tournament is breezy and cool Tuesday, with temperatures in the mid-50s and winds up to 25-miles-per-hour; mostly sunny and warmer Wednesday and Thursday, with winds up to 15-miles-per-hour; scattered showers and possible thunderstorms on Friday; scattered showers on Saturday, turning sunny by noon; and mostly sunny on Sunday with a high temperature of 75 and 15-mile-per-hour winds.
What it means: Players say Augusta National is in perfect condition, although it is probably softer than tournament officials would like due to heavy rain last week. That could change quickly if the wind keeps blowing.
Birdie of the week: Mat Every, competing in the second round of the Nationwide Tour's Stonebrae Classic in Hayward, California, fired an 8-under 28 on the front nine. The stretch included birdies at 3, 4 and 5; a hole-in-one at 6; and an eagle at the par-5 seventh. Every shot an 8-under-par 63 on greens that make Augusta National look tame.
Bogey of the week: Phil Mickelson for shooting 77-76 at the Shell Houston Open and missing the cut in Houston. Think he was looking ahead?
Runner-up: The Golf Channel for referring to the Stonebrae Classic in "Frisco Bay." Granted, the course is 20 miles from San Francisco, but NOBODY with local knowledge calls it "Frisco." Next time, try City by the Bay or S.F.
Shot of the week: Brittany Lincicome's hybrid second shot to four feet on the par-5 18th hole Sunday, setting up an eagle and a one-shot victory in the LPGA's Kraft Nabisco Championship.
__Runner-up:__Geoff Ogilvy, who short-sided himself on the par-3 16th on Friday in the right bunker and holed out a tough bunker shot for birdie to take the outright lead in the Shell Houston Open.
Runner-up: Jose Maria Olazabal. The Spaniard has a masterful short game and proved it again Thursday in the first round of the Shell Houston Open. Faced with a 70-yard fairway bunker shot on the par-4 12th hole, he punched a low iron shot at Redstone Golf Club about nine feet past the flag and converted the birdie putt. It was a thing of beauty.
Quote of the week: "While it might not have appeared so on television, I have enjoyed every minute of it." Colin Montgomerie, who played in his 500th European Tour event last week.
Standup guy: Padraig Harrington, who guns for his third-consecutive major title at the Masters Tournament, has not let success go to his head. At the Arnold Palmer Invitational and Shell Houston Open, he spent considerable time signing autographs after his rounds.
Just wondering: Who will finish higher in the Masters Tournament -- Sergio Garcia, who has missed the cut three of the last four years; or Anthony Kim, who is playing for the first time?
Ouch: Granted, it was a windy week on the professional circuits, especially in Houston and Rancho Mirage. But did you see some of the scores? There were six rounds in the 80s at the Shell Houston Open; eight at the Nationwide Tour event; and more than 20 at the Nabisco Championship, including two 81s by Michelle Wie.
Chip shots: John Senden's PGA Tour-leading streak without a three-putt finally ended Sunday at the Shell Houston Open. After going 292 holes, he four-putted the 16th hole from 63. His last three-putt was the 11th green in the final round of the Buick Invitational … Defending champion Trevor Immelman of South Africa will not announce what he is serving at Tuesday night's Champions Dinner at Augusta until his press conference earlier in the day.
Mark Soltau is a contributing editor to Golf Digest and the editor of TigerWoods.com.