News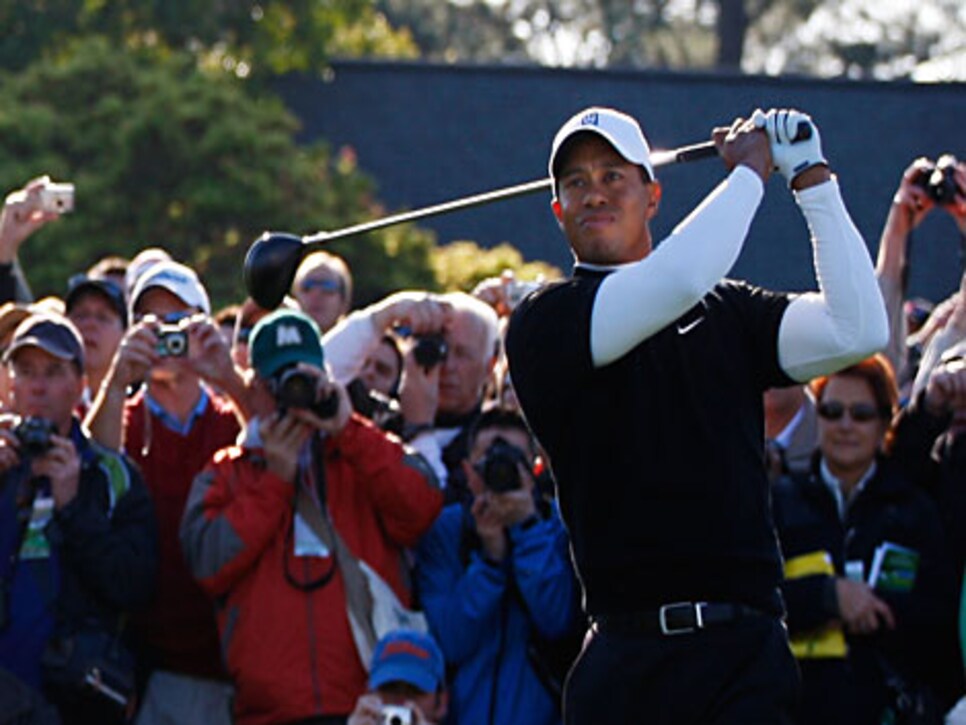 Tiger Woods was able to mix in a final tune-up before Thursday's first round.
AUGUSTA, Ga. -- It's Wednesday at Augusta National, the day before the start of the 73rd Masters. The weather has finally warmed up and there is a flurry of activity, on and off the course.
As he hinted he would on Tuesday, Tiger Woods broke his major routine by playing early with long-hitting Bubba Watson. Woods seldom plays the day before a major, choosing to practice and rest. However, cool temperatures and gusting wind limited him to six holes Monday and zero Tuesday, and he wanted to get a better feel for how the course was playing.
Woods, the only four-time winner in the field -- excluding honorary starter Arnold Palmer -- tees off Thursday at 1:52 p.m., local time in the second-to-last threesome with Stewart Cink and Jeev Milkha Singh. Phil Mickelson, who could claim the No. 1 ranking with a victory, starts at 10:45 a.m. with Camilo Villegas and Jim Furyk.
While players went through their final warm-ups and mobilized family members for the Par 3 Contest, those with clubhouse badges jammed tables at the outdoor dining area on the lawn in front of the clubhouse. For most of the week, it had been too cold to sit outside.
One of the busiest places at the club was the chipping area adjacent to the practice area. Range rats say K.J. Choi has been wearing the place out. Wednesday, Padraig Harrington and Robert Allenby were working overtime grooving shots off the tightly-mown surfaces.
"I want you to win that green jacket," shouted a patron to Harrington, who is seeking his third-straight major title.
"You better," added the patron. "We've got money on it."
Allenby left two pitch shots short of the green and they plugged in a bunker, drawing hisses from the fans. Then he holed out his third shot. Smiles all around.
Another hotspot was the yellow-flowered replica of the U.S. with an Augusta National pin and flag placed in Georgia. Patrons line up for photo ops, and just behind them, they can also shoot Magnolia Lane. Given that Wednesday is the final day patrons can bring cameras, there was a big line for both. Under the big oak tree, the popular meeting place for the who's who in golf, industry executives gathered to share pleasantries, as the occasional player strolled by to the locker room. It really is quite a scene. If you're anybody in the game, this is the place to be.
Callaway Golf was well-represented. The big buzz?
"Phil is going to carry three drivers," cracked Callaway club designer Roger Cleveland.
Seriously, Lefty is going to wear new white crocodile golf shoes. Stay tuned for a fashion critique from Golf Digest colleague Marty Hackel, a.k.a. Mr. Style.
Back on the course, many players used white rubber putting cups to simulate pin positions. The greens are firming up nicely, and even predicted rain Friday night or early Saturday won't prevent tournament officials from getting them up to speed. The weekend looks dry and warm, which should translate into good scoring.
Other marquee pairings? How about Vijay Singh, Geoff Ogilvy and Ernie Els? Or defending champion Trevor Immelman, Adam Scott and U.S. Amateur champion Danny Lee of New Zealand. Or Masters rookies Anthony Kim, Rory McIlroy of Northern Ireland and Ryo Ishikawa of Japan, who drew the last time Thursday at 2:03 p.m.?
Looking for some sleepers? How about Ben Curtis, Nick Watney and Miguel Angel Jimenez?
Tom Watson, Ian Poulter and amateur Steve Wilson? Steve Wilson? He's a 39-year-old gas station owner from Mississippi.
What advice would Woods give him?
"Hit it straight, hit it on the green and make putts," laughed Woods.
Mark Soltau is a contributing editor to Golf Digest and the editor of TigerWoods.com.