News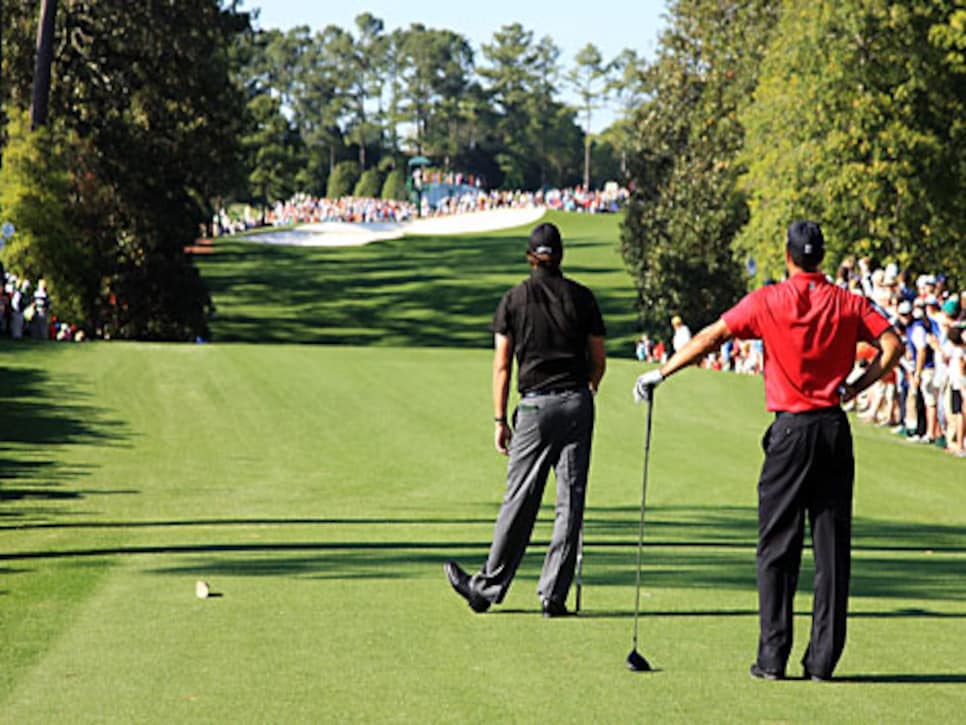 The contrast between Tiger Woods and Phil Mickelson was apparent on Sunday at Augusta National.
AUGUSTA, Ga. -- On the last day of the Masters, Tiger Woods and Phil Mickelson started out together. That's probably nice, because they didn't end it that way, unless you want to count the bookend bogeys they made on the 18th hole Sunday at Augusta National Golf Club.
They wouldn't have won anyway -- they were too far behind. But as far as exit scenes go, the ones played out by Woods and Mickelson, in distinctly different performances, were a study in contrast.
Woods answered two questions at the back of the green and then, under a heavy security escort, grimly bolted through the back door of the clubhouse and disappeared. His wife, Elin, waited in a golf cart in the driveway, just steps from the front door. His agent, Mark Steinberg, waved away anyone who might want to talk to him. The driver of the cart looked like he was anxious to peel rubber.
And then, about 10 minutes later, there was Mickelson, walking the same path, but in a very different way. Mickelson turned and smiled when fans called out his name. He did a series of interviews with the media. He took the hand of his wife, Amy, and they both stopped to chat with a couple who waited by the door of the clubhouse.
"Hi, there, how are you doing?" Mickelson asked.
Let's see, probably a lot better than Tiger.
You can understand why. Woods didn't hit it great, he lost the 73rd Masters tournament and he got beat by Mickelson.
That's a triple-whammy, all right. Woods shot a final-round 68, remarkable even with back-to-back bogeys at the 17th and 18th, and wound up tied for sixth. Mickelson was better. The two-time champion was fifth alone, closing with a 67 after scorching the front nine with a 30 that equaled the Masters record.
While Kenny Perry, Chad Campbell and Angel Cabrera were still out there trying to nail down the green jacket, Woods and Mickelson were already down the road.
The worst you can say is that it was great theater while it lasted. It just didn't last long enough.
Here's the way it began on Sunday. The cover of the Masters playbill looked like great box office:
Woods and Mickelson, No. 1 and No. 2, playing together in the same group, going head-to-head in the final round of a major, and for only the third time.
Judging from the size of their gallery, it was a colossal hit. And as Woods and Mickelson made their moves, what they produced was classic.
Paired together, yet different, Woods-Mickelson is a study in contrasts. So they acted like it.
They weren't close, even on the driving range, separated by four other players getting ready for the last round.
It was sort of like the preamble to the introductions at a prizefight. In this corner, it was Woods, caddie Stevie Williams and swing coach Hank Haney, who was looking on intently with arms crossed. And in this corner, it was Mickelson, caddie Jim MacKay and swing coach Butch Harmon, who was looking on just as intently with his arms crossed.
Mickelson beat Woods to the first tee, which was surrounded by a gallery at least 30 deep. Woods made it with two minutes to spare, walking between the white gallery ropes that stretched from the putting green to the back of the first tee.
The players and caddies shook hands. That's about as near to each other as they got the rest of the day.
When Cabrera and Perry teed off in the last group, it was in front of a subdued gallery about four deep. They weren't the show. That role was left to Woods and Mickelson, their differences making them unique.
It's probably natural that Woods and Mickelson aren't soul mates. In this case, opposites don't attract. Maybe it's the natural competitive rivalry between the top two U.S. players of this era. Maybe it's Tiger's laser beam intensity and Phil's chummy come-ons simply not meshing. Or maybe it's history. After all, Williams did say earlier this year he didn't care for Mickelson and used a specific body part to describe him, one that rhymes with what kind of yellow road Dorothy traveled in the Wizard of Oz.
At the 2004 Ryder Cup, Woods and Mickelson were infamously put together as a team and they got waxed in what turned out to be the most lopsided U.S. defeat in history. All they had in common was the color of their shirts.
And then there was Mickelson a few years back, creating a mini-furor, marveling how Woods could continue to win tournaments while using "inferior equipment."
Woods and Mickelson . . . that's what we had Sunday at the Masters, one of the grandest platforms in golf. Woods and Mickelson. It's a rare combination that touches nerves, moves needles, and inspires their fan bases that seem to be growing in opposite directions. Just like the players.