News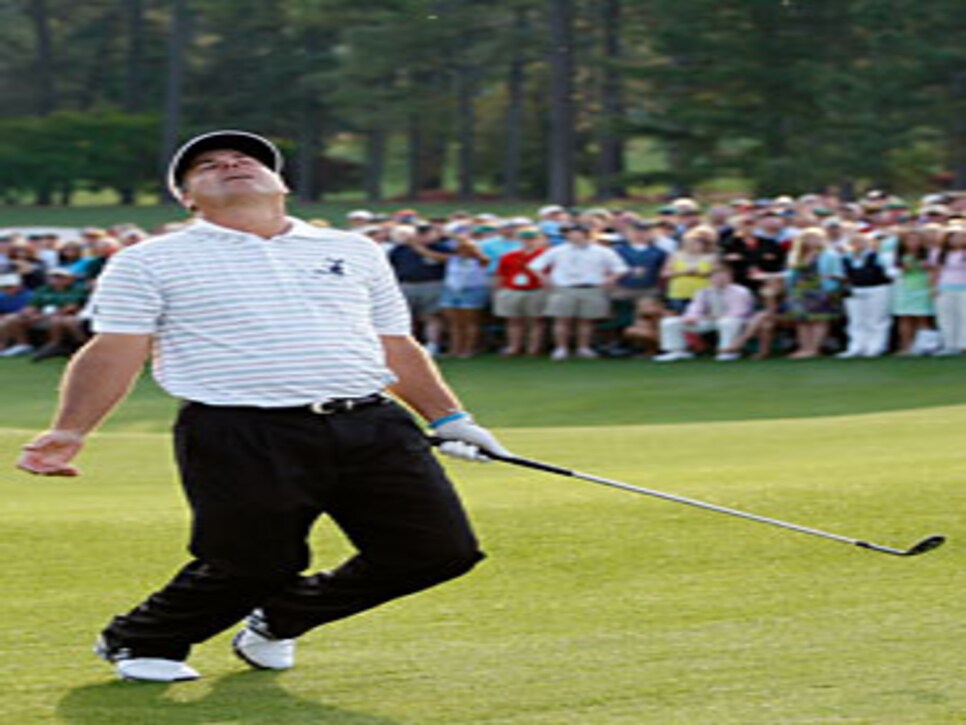 Kenny Perry said all the right things after letting the Masters slip away on Sunday, but the pain from that day is likely to stay with him.
In growth, goes a Buddhist saying, there are tears.
One forgets how sad golf can be until a finish like Sunday's. For all the joy of Angel Cabrera's victory, and the equanimity in an Argentine winning -- he dedicated his win to Roberto De Vicenzo, of course -- there was that desolate look on Kenny Perry's face that darkened the day.
It's easy to say that no one "has" an event until he completes it, but Kenny Perry will always believe that this Masters was his, and we will always agree with him. We shared in a small way the grief that overtook him as his second shot on the second playoff hole bounded down to the left of the 10th green, to the place where Len Mattiace's dream died, where recovery was almost an impossibility.
Having seen his family react in shock to his collapse at 17 and 18, we felt for them, too, and imagined the black hole that they would inhabit for days, even weeks. Kenny Perry talked in a press conference early in the week about the toughness his father Ken had taught him. "He says, 'I'm going to beat you until I die.' He was relentless. He was ruthless. He was a smart man. He knew it was going to make me tough." But enduring this would take toughness beyond anything that Ken imagined. And one wonders if Ken anticipated that his son would ever have to be tough enough to endure this.
Granted, it's not the despair of losing one's job. It is not the grief of losing a loved one. Life will go on. But what happened to Perry is profoundly sad nonetheless, especially because the victory that vanished would have been the perfect culmination of a career of a man who'd only recently thrown off the label of journeyman. And because that achievement evaporated as the world watched and his family stood by. To see him magnanimously endure post-round interviews, trying to explain the end to us and to himself, giving credit to Cabrera each time, was painful.
In 1987, during the British Open at Muirfield, I spent the better part of the week with Paul Azinger's coach, John Redman, who had been doing instruction tips with us, and with whom I was to take a playing trip to Ireland following the Open. Each day we followed Azinger, who led for almost every hole of the four rounds and still led on Sunday with just two holes to play. When he parred the long, difficult par-3 16th, and had a seemingly comfortable one-shot lead with two holes he'd played under par all week, the par 5 17th and the par 4 18th -- I gave my inside-the-ropes armband to Redman so he could walk with Paul to his first major victory.
From outside the ropes I then watched as Paul drove into bunkers on both 17 and 18, bogeyed each hole and lost to Nick Faldo, who made 18 consecutive pars that day, by a shot. As Azinger struggled, the crowd that had welcomed him as the next Tony Lema now embraced Faldo -- at least most of them did -- and cheered his Zinger's missteps like race fans lusting for a crash. I was biased, of course, but it felt unseemly. To them, this was just entertainment. For Faldo, who had endured the slurs himself -- he was El Foldo up until then -- it was a breakthrough paid for with the kind of pain that Azinger was now going through.
John didn't join me on the trip to Ireland. Paul, like Kenny Perry yesterday, put up a brave front, but I doubt the awful feeling he felt that evening left him until he expunged it with his PGA victory at Inverness six years later.
I was reminded then, and again yesterday, that golf, for all its gentility, is an awfully cruel sport, all the more so for its solitariness. It's hard not to hope that Kenny Perry gets another chance.