News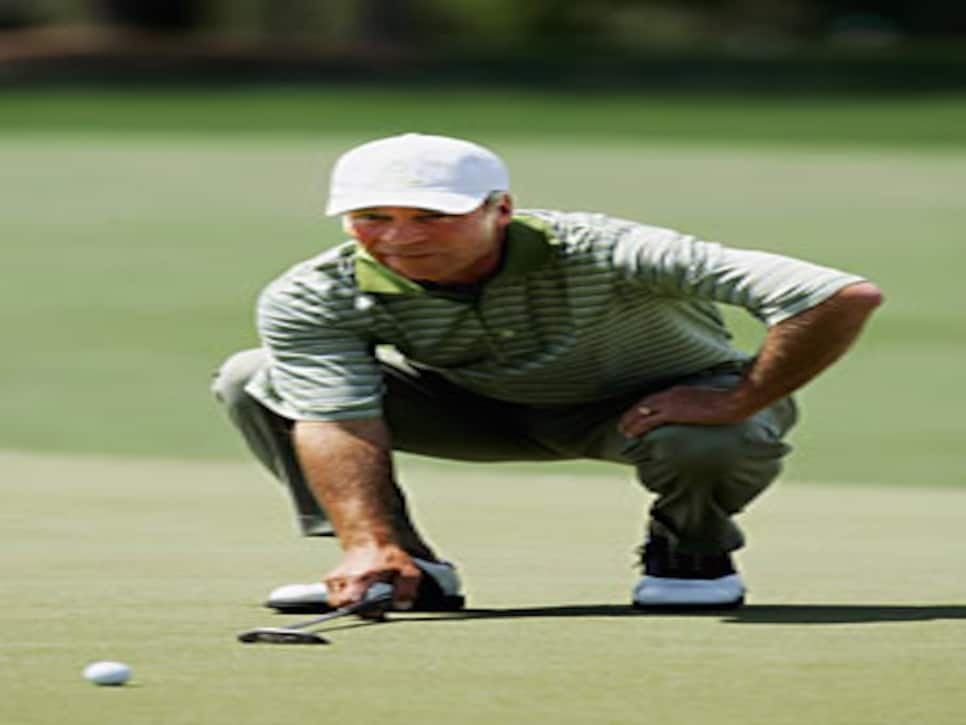 Ben Crenshaw would surely be included in any discussion of great Masters putters, but he also knows plenty about his fellow champions.
Over the years, there have been a bunch of theories launched about the best way to prepare to play the greens at Augusta National for the Masters. Some have been unorthodox, such as rolling marbles in a bathtub, or putting a ball while standing on the hood of a car.
Many other ideas tend to be slightly more conventional. They range from cramming information culled out of books and magazines, picking other players' brains for useful tips, or piling up enough time actually playing on the greens so that you've got some local knowledge in your favor.
Maybe that way you can pull back the club with a slight degree of confidence and not become distracted by the sounds of your knees knocking, your teeth chattering or your stomach calling for a plumber.
In short, it takes some skill, some talent and some nerve to tame to those big, bad, fast, rolling greens of Augusta National. You figure out how to get that done and you're going to give yourself a powerful advantage ... at least that's the line of thinking that Ben Crenshaw says works.
Crenshaw is a learned student of golf history and golf courses and probably knows as much about the greens at the Masters as anyone. In any discussion of the best putters ever to set foot on Augusta National's putting surfaces, he must be mentioned prominently.
You need two things, Crenshaw said.
"Knowledge and imagination. They're such wide-breaking putts. You have to respect those contours. Certain putts you can't believe until you putt them."
Crenshaw, 57, played his first Masters in 1972 as an amateur, he won it 11 years apart, in 1984 and 1995, and he's coming back to play it for a 37th time next month. If Crenshaw hasn't seen it all, he's heard about it.
The best putters in the history of the Masters?
Crenshaw has his list, and in no particular order, it would go something like this:
Jack Nicklaus (Winner 1963, '65, '66, '72, '75, '86):In his last Masters victory at age 46, Nicklaus closed with a 65 and needed just 122 putts for the week.
"He always followed the best advice that I've heard, which is to put your approach shot into position. You don't necessarily shoot at the flagstick."
Tiger Woods (Winner 1997, '01, '02, '05):He didn't have a single three-putt when he shot 18 under and won his first one by 12 shots as a 21-year-old. Crenshaw, who also didn't three-putt when he won in 1995, respected that.
"Most putts are so slippery, you try to cover yourself, try to do something else, so as not to three-putt."
Tom Watson (Winner 1977, '81):In his second victory, by two shots over Nicklaus and Johnny Miller, Watson required just 123 putts -- the first Masters played on bent-grass greens.
"The safest way to putt is to imagine a very high line," Crenshaw said. "And if you have a putt that is in the same direction as the bottom of the golf course, it's going to be a lot faster than you think."
Jackie Burke (Winner, 1956): After Hogan and Snead, before Palmer and Nicklaus, Burke was in the right place at the right time when he won, coming from a record eight shots back on the last day. But even when he didn't win -- he played 21 other Masters -- he had the right idea on the greens, Crenshaw said.
"He possessed that imagination and nerve. To this day (Burke is 86), when he gets over a putt, he looks like he's going to make it."
Horton Smith (Winner 1934, '36): The first great Masters putter, Smith won the debut of the tournament by holing a 20-foot birdie putt on the next-to-last hole to beat Craig Wood by one shot. Byron Nelson regarded Smith as the best putter and chipper of his generation. Smith co-wrote a book called "The Secret of Holing Putts," and Crenshaw believes he knew the secrets he was writing about.
"His reputation was well known, and what a touch he had."
Before Augusta National was stretched from its long-time length of 6,905 yards to its current length of 7,405 yards, most experts said the course's only defense was its greens. With added distance, a first cut, tighter fairways with more trees and reconfigured bunkers, greens aren't the whole story anymore. But they were in 1984, when the 32-year-old Crenshaw made three consecutive birdies on Sunday, featuring a monstrous 60-footer at the 10th and won his first Masters.
He only had 113 putts for the week. But Crenshaw will always point out it's not easy on the greens. "You have to be spot-on. You hope to heck to see a putt the type you can go ahead and make a strike at. I won on a completely different golf course in 1995 -- tighter and longer. Out there, lag-putting, that's a great putt to have, to cover yourself with the mistakes you make going into the green."
So who does Crenshaw look to make their marks on Augusta's greens this time?
"I am always looking for Tiger and Phil, especially Tiger. When his putting is on, it's hard to beat. It's served him in good stead. I think he realizes the calamity of those greens."
Calamity Greens? It's not exactly Amen Corner, but it fits.