News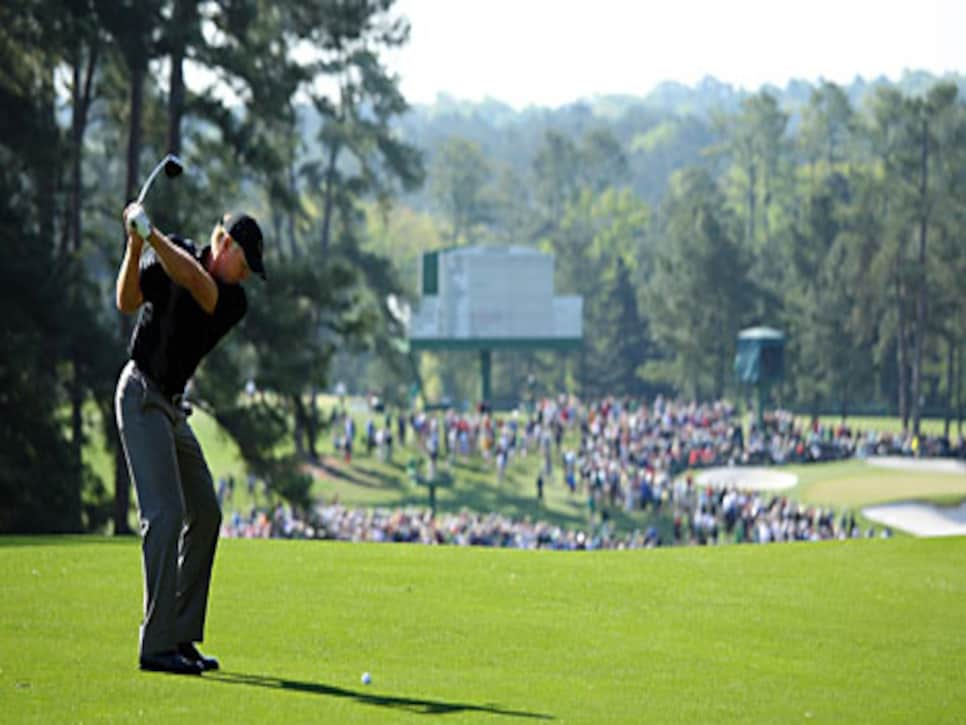 With an opening 70, Greg Norman was only one of several seniors to impress on Thursday.
AUGUSTA, Ga. -- The first round of the 73rd Masters is now in the books. Who flourished? Who faltered? Let's take a closer look with our rundown of birdies and bogeys.
The Green Jackets: Say what you want about the club's, ahem, inflexibility, but chairman Billy Payne and Co. still took recent criticism of the Masters to heart. If the low scores Thursday were mostly a reflection of good weather, they were also a result of a favorable setup.
The old guys: When you consider the trio of teenagers in the field, "old guy" could be referring to 33-year-old Tiger Woods. But here we're talking about the likes of Larry Mize, Greg Norman, and Bernhard Langer. At 50, more than two decades after his landmark win in his hometown, Mize is just two strokes off the lead after his opening 67. Meanwhile, the guy Mize beat for that Masters win in 1987, Norman, 54, shot 70, to pull even with two-time champion Langer.
The even older guys: At this rate after his opening round 78, Gary Player is almost a lock to play his final round in the Masters on Friday afternoon. But the 73-year-old three-time champion still held it together, playing the front nine in 1-over, while playing up to the crowd the whole time. Throw in Arnold Palmer striping it down the first fairway with his ceremonial opening tee shot, and the graybeards were well represented.
Padraig Harrington: The Paddy Slam lives another day. The winner of the past two majors opened with a 69, another suggestion that he is shaking off the cobwebs of a sluggish start to the season.
Todd Hamilton: You remember him. Tall guy, won the British Open in 2004 and pretty much fell of the map soon after. Hamilton has made just two cuts in nine events this season, but now finds himself near the top of the leader board. In a Masters preview story for GolfDigest.com, Hamilton said he'd like tournament organizers to hold an open qualifying for players not already exempt. If he keeps going this week, maybe he'll never have to worry about it.
Tiger Woods: The four-time Masters champion still hasn't registered a score in the 60s during an opening round here, but on Thursday, he turned an indifferent opening round into a productive one, with birdies on three consecutive holes during the back nine en route to a 70. What was that jacket size again?
Juli Inkster: Huh? The LPGA Hall of Famer attended her first Masters on Thursday. Inkster walked the fairways during the morning, talking with patrons and graciously signing autographs. Asked how her game is, Inkster replied: "My putting stinks. Thank god I'm not out on these greens playing today."
Phil Mickelson: Perhaps all that renewed rivalry stuff is getting to Lefty. After stumbling to a missed cut in Houston, Mickelson posted a 73 on a day he admits was ideal for scoring. At least give him points for honesty. "I played terribly," he said.
Phil's White Belt: We'll leave it to Marty Hackel, Golf Digest's Mr. Style -- "If you're older than your waist size, you should only wear a white belt if it has a holster."
Sergio Garcia: Not that Garcia didn't see an opening-round 73 coming. Before the tournament, Garcia remarked to reporters that he was dealing with personal problems and didn't expect to play well. If it's something serious, Garcia deserves some slack. But for a player who continues to draw criticism for coming up short in majors, he was still giving himself an out before he reached the first tee.
Chad Campbell: How can a guy who's leading the tournament be taking heat? Easy when an opening 65 could have been a few strokes lower. At 9-under on the 17th tee and arguably within reach of a major championship record of 62, Campbell threw it all away with bogeys on the final two holes.
-- John Marvel and Sam Weinman