The Loop
Gary Player recalls his first Masters victory
AUGUSTA, Ga. -- Having arrived on the grounds a half hour earlier, Gary Player hadn't taken three steps out of the Augusta National clubhouse Monday afternoon before the first well-wisher approached, reaching out his hand to say hello. Quickly a receiving line formed the envy of any bride, everyone wanting to pay their respects to the three-time Masters champion.
"This place is special for so many reasons," said the 75-year-old, still a bit jetlagged from a weekend flight from South African. "I'm just glad I can get back each year."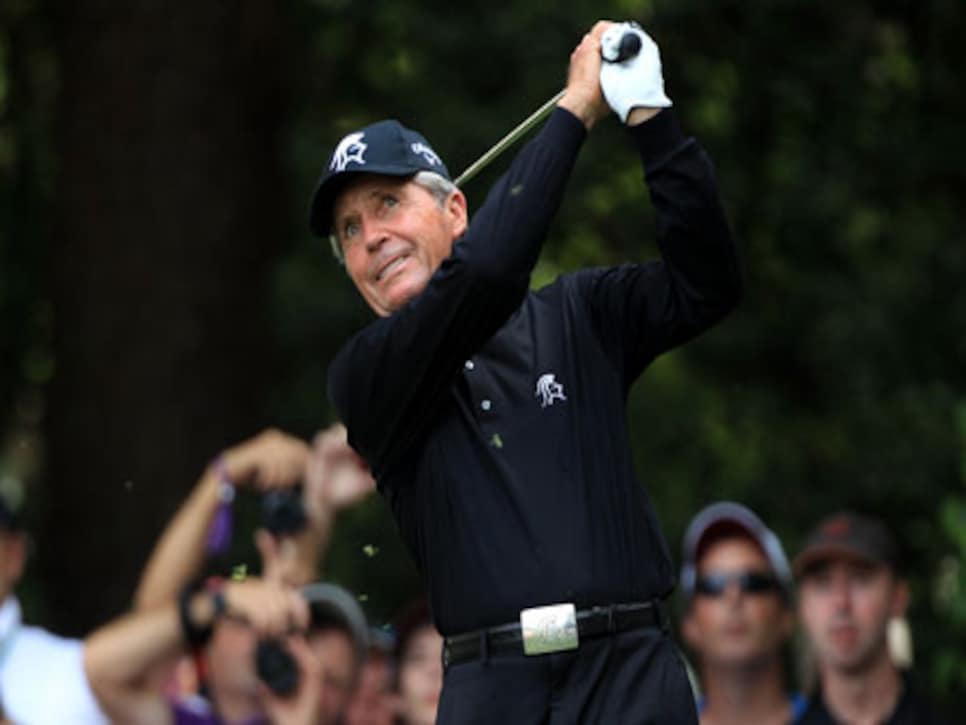 Gary Player hits a shot during the Par 3 Contest prior to the 2010 Masters Tournament. Photo by David Cannon/Getty Images
This year's tournament marks a milestone of sorts for Player. It was 50 years ago that the South African won the first of his Masters titles, the first time an international player had put on the green jacket.
Player recalled how the crowds were polite but partisan, pulling for Arnold Palmer to repeat as the champion. His underdog status ultimately served as motivation. "I said the more they cheered [for Arnie], the more I'm going to beat him," he said. "I had the right ingredients to win."
"It was such a big moment in my life," Player continued. "Winning here was a very significant thing."
Suffice it to say, Player helped usher in a new era to the game, showing you didn't have to hail from the U.S. to be a champion golfer. Since Player's 1961 victory, Augusta National has seen 10 other international players become Masters champions.
Still as fit and trim as in his prime, Player continues to espouse the virtues of physical fitness and health eating. Yet told he looked like he could tee it up this year, Player smiled but shook his head, grateful for his career but comfortable with its conclusion.
"I thought I would miss it passionately, but really I don't," Player said. "The best way I can explain it is that it's like when you sit down at a table and you have a feast. When you leave the table, you've had enough. I've played 52 times, won three times, had so many great memories. But I'm OK with stepping away from the table."