News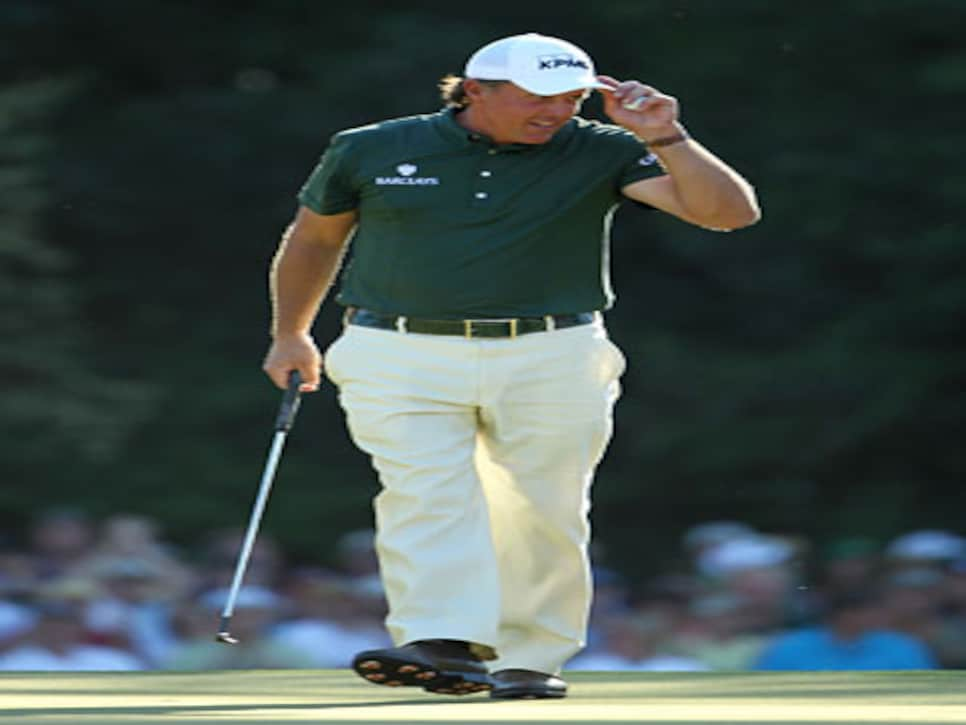 Phil Mickelson gets a birdie for his thrilling play on the back nine on Saturday.
AUGUSTA, Ga. -- The third round of the Masters is in the books, and if you're at all like us, you're going to need a second for your ears to stop ringing. Who were the winners and losers on Saturday at Augusta National? Let's break it down with a "Moving Day" edition of birdies and bogeys.
BIRDIE: Phil Mickelson -- What's wrong with Phil? Apparently nothing at all. The most electric of back-nine runs -- consecutive eagles and a birdie -- has vaulted the two-time Masters champ to within a shot of the lead. You know things are going well when you're in the middle of the fairway and you're still thinking eagle. We've been there, man. (Actually, no we haven't).
BOGEY: Tiger Woods -- The missed putts are one thing, but Woods' profanity-laced outbursts on the sixth and seventh holes -- perfectly audible on TV -- are not exactly positive steps in the whole image rehab process.
BIRDIE: CBS -- Give the network credit for at least addressing Woods' tirade immediately afterward. While not quite probing journalism -- Jim Nantz asked Nick Faldo about it, Faldo gave some cursory reference to how Woods is "going to fail at times" -- it was still preferable to pretending it didn't happen.
BIRDIE: Lee Westwood -- Lost in the glare of Mickelson's pyrotechnics was the remarkably solid play of Westwood. Although not as dramatic as Phil The Thrill, Westwood was equally effective, with five birdies against a lone bogey for a 68. Remember, this is a man with three top-three finishes during his past seven majors. Just because he hasn't won one doesn't mean he's not a big-time player.
BIRDIE: Tiger Woods -- Just when you're about to chalk up his Saturday struggles to the long overdue signs of rust, Woods scraps his way back into the mix with a stretch of four birdies in six holes. If only we could all be so rusty.
BOGEY: Chad Campbell -- We know, we should care less about a guy who barely made the cut. But when you go 79-68-80, we're going to throw the flag. Chad, if you were going to do this you may as well have missed the cut Friday and saved yourself some time.
BIRDIE: Bill Haas -- The first-time Masters participant helped steady a patron, who started to fall as Haas walked the 10th hole. "I think she was ill," said Haas, who finished with a 71 and is at three-under for the tournament. "I think she laid down because she wasn't feeling well."
BIRDIE: Fred Couples -- Come on, admit it. After Couples shot 75 yesterday you thought he was done. OK, we admit it -- we thought he was done. But Freddie came back with a 68 and is doing the old guard proud. We'll shut our mouths now, Fred.
BOGEY: Ian Poulter -- The 36-hole co-leader was in light enough spirits heading into the day to throw up a handful of amusing posts on Twitter -- we won't give it away, but one involves a very large dog -- but his mood likely darkened once he started fading on the leader board. As countryman and playing partner Lee Westwood went low, Poulter headed in the other directon, and with a 74, ended up with the worst score of anyone in the top 20.
BIRDIE: Golf -- Played out in front of an audience that likely extended well beyond the core golf fan, the game sparkled -- birdies, eagles, roars -- all on a golf course so pristine it looks like computer animation.
BOGEY: Golf -- The only problem is a tournament such as this risks spoiling you. Sometimes you get an electric day at Augusta. Sometimes you get a rain delay in Memphis.
BIRDIE: Augusta National's leader boards -- Yes, at times they can be frustrating because they only list 10 players, but the scores put up by hand on the big boards around the course are a Masters tradition. Nowhere was that more evident than Saturday when one heard a massive roar and then waited with anticipation for Phil Mickelson's eagle score on No. 14 to be posted. Although the event needs no added drama, these charming, retro-style boards add some.