The Loop
ATHENS, GA.—When it comes to the Auburn women's team and the Liz Murphey Collegiate Classic, apparently the 13th time is the charm. That's how many appearances the Tigers had made in the tournament's 35 years before finally coming away with the team title.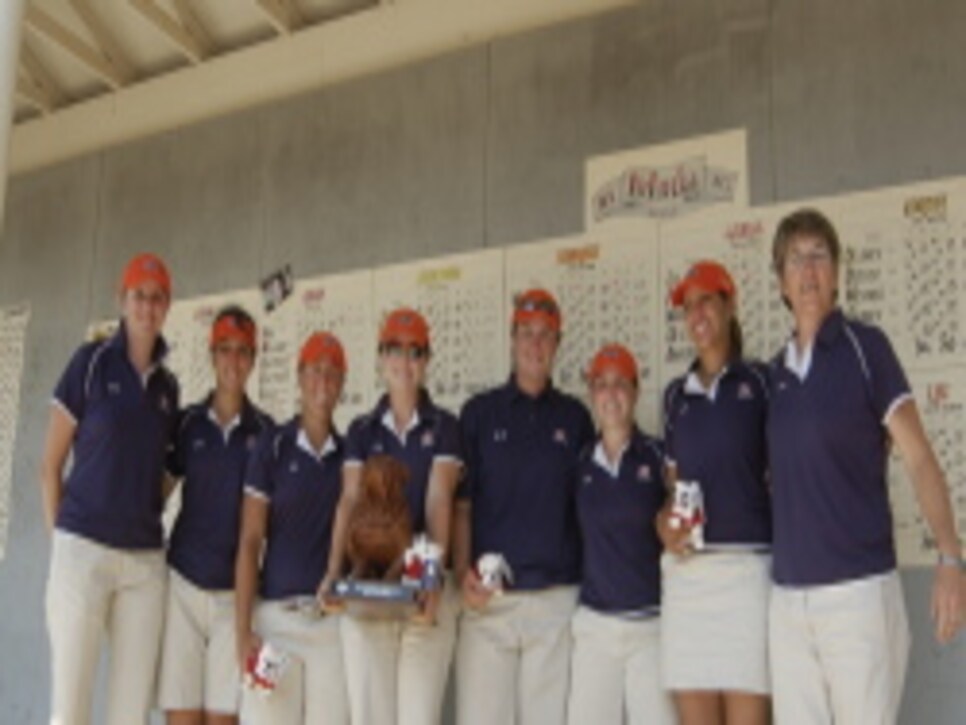 When Evans reflects on the win this week, there are any number of positives she can take away, beginning with the fact that all five of her starters finished in the top 20 individually (T-6, Margaret Shirley; T-10, Nicole Hage; T-12, Abigale Schepperle; T-16, Candace Schepperle; T-19, Marisa Milligan). The Tigers might not have a superstar (a la Duke's Amanda Blumenherst or Florida State's Caroline Westrup) but they  have arguably the deepest team in the country.
Secondly, Auburn is starting to hit its stride at a pretty advantageous time. Having opened the spring with a victory at the Lady Puerto Rico, this marks the second tourney title in three spring starts (The Tigers were third at the LSU/Cleveland Golf Classic). With one more regular season event (Bryan National), the team is getting sharp just in time for the postseason.
Thirdly, and perhaps most importantly, the Tigers haven't peaked yet. "I've never had a team that's worked this hard," Evans explained Sunday afternoon. "But for this team there is more work to be done. We've gotten better, but we can get better still and I think everybody knows that and believes that." That's particularly important when you consider that top-ranked Duke wasn't in the field this past week in Georgia.
Other observations from Athens:
• Virginia "fourth year" Leah Wigger didn't need a college title to validate an impressive collegiate career, but the fact she managed to finally break through at such a prestigious event seems fitting. The two-time All-American shot a even-par 71 in the final round, including a bogey on her final hole, to finish at two-over 215 and in a tie with Purdue sophomore Maria Hernandez. On the first playoff hole, both golfers were in perfect position in the fairway. Hernandez, winner last week at the Betsy Rawls Longhorn Invitational, hit her approach on the par-4, 397-yard hole over the green right while Wigger stiffed a 8-iron from 140 yards to six feet. Hernandez chipped to five feet, but it became academic when Wigger rolled in her putt.
• It was nice to see Arkansas junior Stacy Lewis in the lineup for the Razorbacks this weekend, despite the fact she is going to be teeing it up at the LPGA's Kraft Nabisco Championship come Thursday. Lewis, who finished T-10, was scheduled to return to campus with her teammates this evening, then leave on a early A.M. flight to Palm Springs, Calif., Monday morning. This is in contrast to Georgia sophomore Taylor Leon, who also is in the field at the Kraft Nabisco but chose to fly out to California today and thus skipped playing in the Liz Murphey altogether. No doubt the Bulldogs could have used Leon's help as they finished in eighth place overall, 26 back of the victorious Tigers. It was the first time all year Georgia didn't finish either first, second or third. I appreciate the Kraft Nabisco is an important event and you want to be as best prepared as you can when you play in it, but it's also important not to let down your team in such situations.
•  Re-opened last December after a six-month renovation done by Davis Love III's firm, the University of Georgia GC proved to be an impressive test of golf and will be a challenging site for the women's East Regional schedule for here in 2008. The greens, despite being only three-months old, were pure if a little slow, and much more undulating than in previous years. Golfers played lift, clean and place through the greens because of fairways still growing in, but when the course is overseeded for regionals, watch out.
• Granted, the course played tough (average score: 77.63) but pace of play throughout the week was horrendous. Sunday's shotgun start took nearly 5½ hours to complete, which was about the pace for most groups during Friday and Saturday's play as well. I'm sorry, but a round of golf shouldn't take as long as it does to fly from Los Angeles to Atlanta. It's not even that things took so long to finish up this past weekend … it's that the players have almost grown accustom to this speed of play. Come NCAAs, however, they will be forced to play faster, and if they don't, they will be accessed penalty shots. Slow play now might cost players come the post-season.