News
As Stewart Hagestad can attest, it was a bad day for past champions at the U.S. Mid-Amateur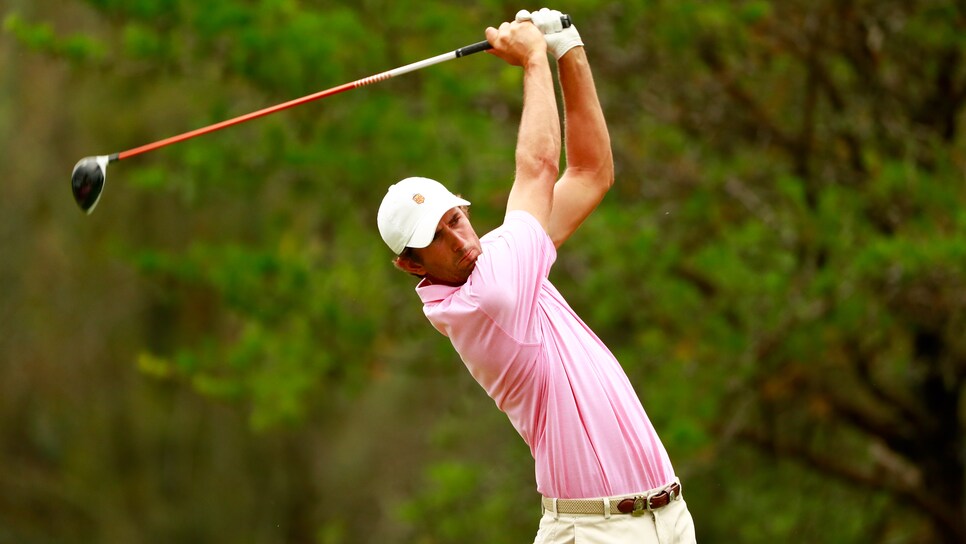 Copyright USGA/Chris Keane
Tuesday's play saw defending champion Stewart Hagestad, who shot a 64 in the second round of stroke play to grab the No. 4 seed, upset by the 61st seed, Dusty Drenth, 3 and 1. Despite not making a birdie all day, Hagestad held a 2-up lead through six holes. But Drenth, a 29-year-old from Davenport, Iowa, playing in his first USGA championship, calmed his nerves and won four of the next five holes, three of them with birdies, to run off with the match.
Drenth's day was a long one as he started it by weaving his way through a 25-golfer-for-16-spot playoff to get into match play. The 6-foot-4 former NAIA All-American at Iowa's St. Ambrose University then faced the similarly lanky Hagestad, the 26-year-old coming off one of the most impressive seasons a mid-amateur has had in recent memory after finishing T-36 as the low amateur at the Masters, qualifying for the U.S. Open and helping the U.S. win the Walker Cup. Yet Drenth was unfazed.
"I knew his resume," Drenth said. "My goal was to make match play and then from there, just—I've always been a very good match-play player—from there, just hit driver, and if I made double, I only lose one [hole]. … I can birdie with the best of them. So that was my mindset: Get in today and just make a ton of birdies. I was able to do some of that."
"It's a dream come true to be able to represent the USGA the way that I have had the opportunity to do so in the last year," Hagestad said. "It's motivating to try and earn my way back. There is always next year, but I'm going to be able to rest easy knowing that I've had the chance to be a USGA champion before, and hopefully we'll be back."
Also falling on Day 1 of match play was four-time winner Nathan Smith, who reached match play for the 12th time in 13 Mid-Amateur starts but subsequently suffered one of his worst losses in the championship when he fell to Jason Anthony, 6 and 4. Anthony, a 34-year-old reinstated amateur from Fairfield, Calif., made six birdies on the day while Smith could only muster one.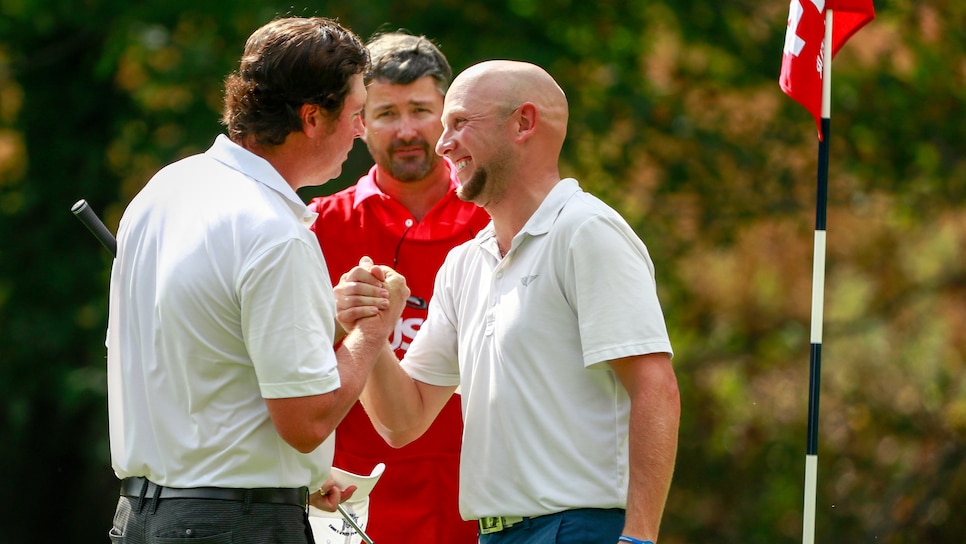 Copyright USGA/Chris Keane
Coincidentally, the two had been paired together during their two rounds of stroke-play qualifying. Anthony suggested that having a familiarity with Smith and his game might have helped keep the pressure to a minimum when facing the five-time USGA champion head-to-head.
"Walking up to the first tee without knowing who he is and just his resume might have been a little bit more intimidating," said Anthony, who helps run his family's 12-store car-wash business. "Got to play with him, got to know him as a good guy, and we just had a good time and I played well."
Anthony, who lost to Hagestad a year ago in the round of 16, says that working six days a week and competing in 15 to 20 golf tournaments a year leaves little time for practice. "I just play golf," Anthony said. "I hit about anywhere from eight to fifteen balls on the range and just go out and play." He'll if the strategy can continue to pay off when facing this year's medalist, Bradford Tilley, in the second round on Wednesday.
Before day's end, 2014 winner Scott Harvey, another golfer who survived the large playoff in the morning, also was bounced from the event, losing to fellow North Carolina native Chad Wilfong, 3 and 2. Wilfong, 37, led after the first round of stroke-play qualifying and wound up with the 10th seed overall.
With Michael McCoy (2013), Sammy Schmitz (2015) and Steve Wilson (2008) all out during stroke-play qualifying, that left just Lewis, the record holder for the oldest Mid-Amateur champ when he won in 2011 at age 54, remaining. The Alma, Mich., resident beat Trent Peterson, 1 up.