The Loop
Artist Lee Wybranski takes us through his latest artwork at Baltusrol for the PGA Championship
SPRINGFIELD, N.J. -- If you've walked the fairways at a major this year, there's a strong chance you spotted an artist at work.
Lee Wybranski has taken a different approach to his artwork in 2016. The artist has captured some of the world's best golf courses, including his work producing the official tournament posters since 2008. This year, however, he has decided to take his palette and easel to the golf course.
And at Baltusrol, he continued his work by capturing scenes from the PGA Championship -- as they unfold.
"Originally, I wanted to get out of my comfort zone," he told us this week. "Working from the studio all the time working off images, your art tends to get meticulous and methodical. I'm just trying to stretch a little bit and work a little quicker and be out here."
TV broadcasts have featured Wybranski for his work this year, so it hasn't been unusual for fans to recognize him as he works.
"Talking to people while I work is fun," he said. "People will come up to me and say, 'Are you that guy from TV?' So that's new for me, that's pretty nifty. I've met a lot of people out here this week and it's fun."
Here he is at Royal Troon -- capturing Stenson and Mickelson playing the Postage Stamp on Sunday.
Here's his work from Oakmont this year, where he was also featured by Golf Digest contributor Geoff Shackelford on Golf Channel.
Wybranski has his umbrella out as the rain continues to come down here at Baltusrol on Sunday. He's committed to being out on the course two times a day to capture some of the best scenes of the event.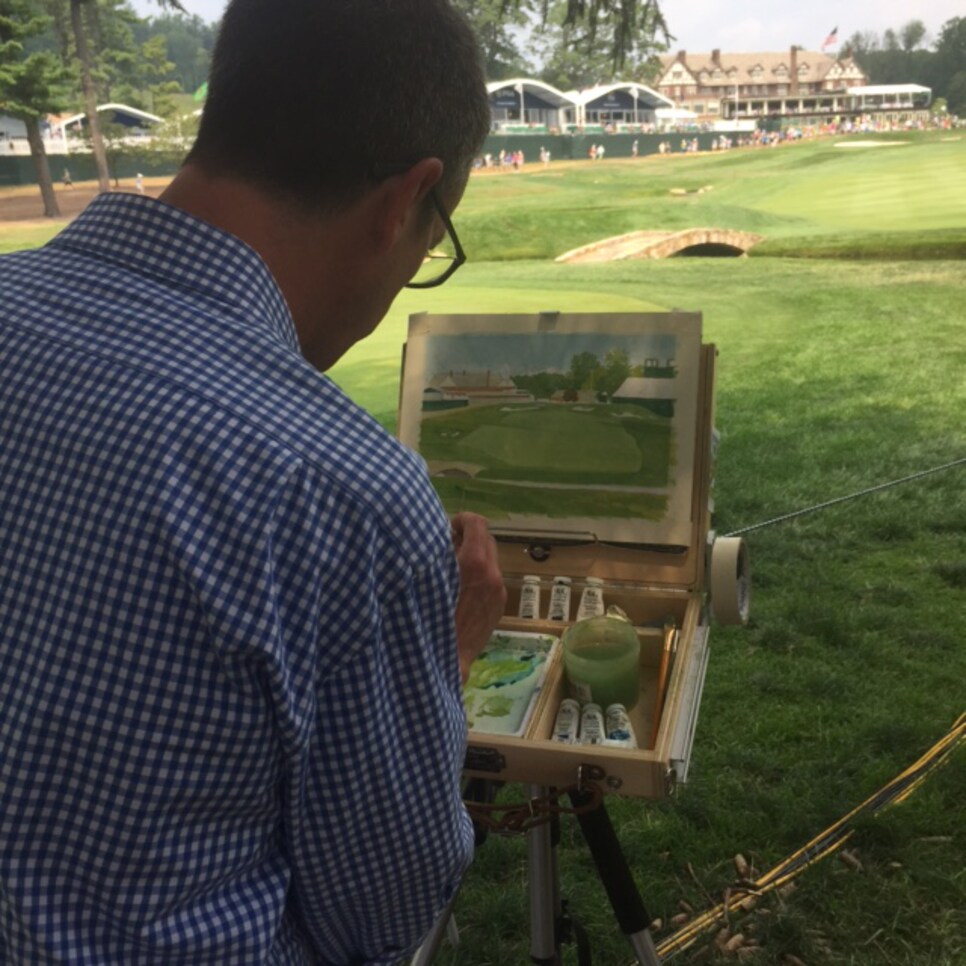 We're excited to see his finished products from Baltusrol.