The Loop
Arnold Palmer Course at PGA West might soon see end of bighorn sheep grazing there
Bighorn sheep wandering down from Santa Rosa Mountain to graze at the Arnold Palmer Private Course at PGA West in La Quinta, Calif., during the Humana Challenge were always a star attraction on the tournament telecast.
But they also are at the center of a debate over whether an eight-foot tall fence, 9 ½ miles long, should be erected to keep them off the Palmer Course as well as four other La Quinta courses — the Quarry, SilverRock Resort and Tradition Golf Club.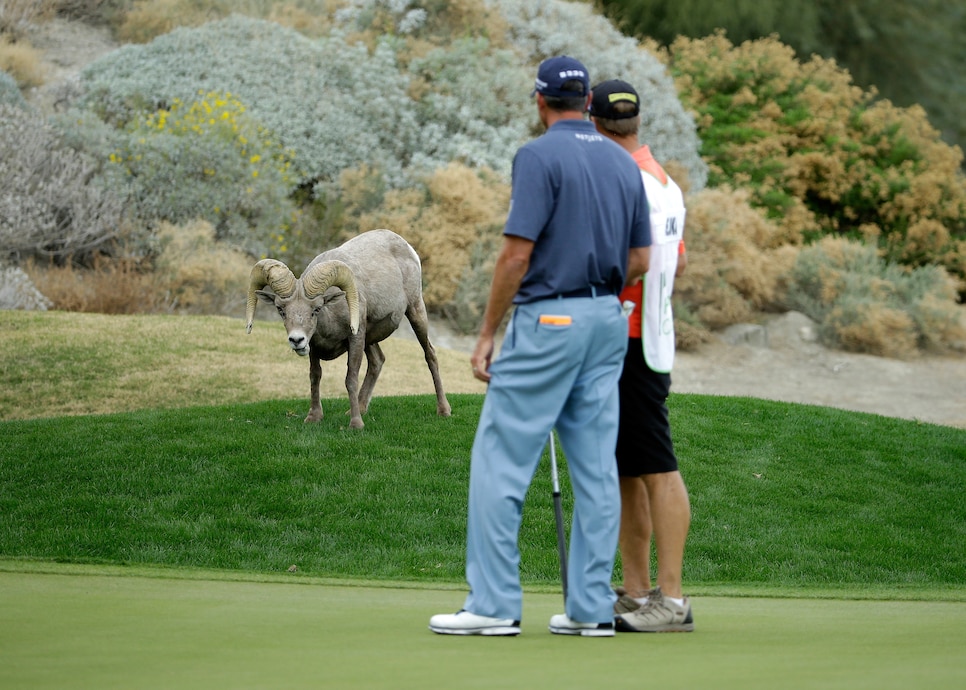 Peninsular bighorn sheep, as they're officially known, are endangered, and the courses, as well as the streets adjacent to them, have proven hazardous to them. One sheep died from oleander poisoning at PGA West and four have drowned in the Coachella Canal that runs through the Palmer Private Course and SilverRock, Katie Barrows, director of Environmental Resources for the Coachella Valley Association of Governments, said.
"The concern is that there is disease potential for sheep that live in a dry environment, eating in a moist place where more disease might be present," Barrows said. "We're looking for the best way to protect bighorn sheep."
In February, 2014, the U.S. Fish and Wildlife Service and the California Department of Fish and Wildlife sent letters to the city of La Quinta and the Coachella Valley Conservation Commission demanding the fence or "a functional equivalent" be provided.
It is not known where golfers stand on the issue, though it is unlikely there is an objection to the presence of the bighorn sheep on their courses.
"They're not a nuisance at all," said Randy Duncan, general manager and director of golf at SilverRock, the one public course of the four on the periphery of Santa Rosa Mountain. "Actually, they're a big attraction for our guests and golfers. Their mannerisms are almost like deer. There's a buffer; they'll let you get close, but that's it. They've never been aggressive. And they've never done any damage. They might go through a bunker occasionally, but their hooves are such that they don't ruin a green."
The four courses all feature fairways and greens that abut the base of the mountain, where the fence would have to be built.
"We have several holes that are right at the base at the Santa Rose mountains," Duncan said. "I don't know exactly what the fence would look like, but if it came to that I would hope that it would be a decorative fence that would blend in."
The number of Peninsular bighorn sheep is not known, though La Quinta mayor Linda Evans told the Desert Sun that there at least 50 in the La Quinta area.