The Loop
Arnie Did It Before Tiger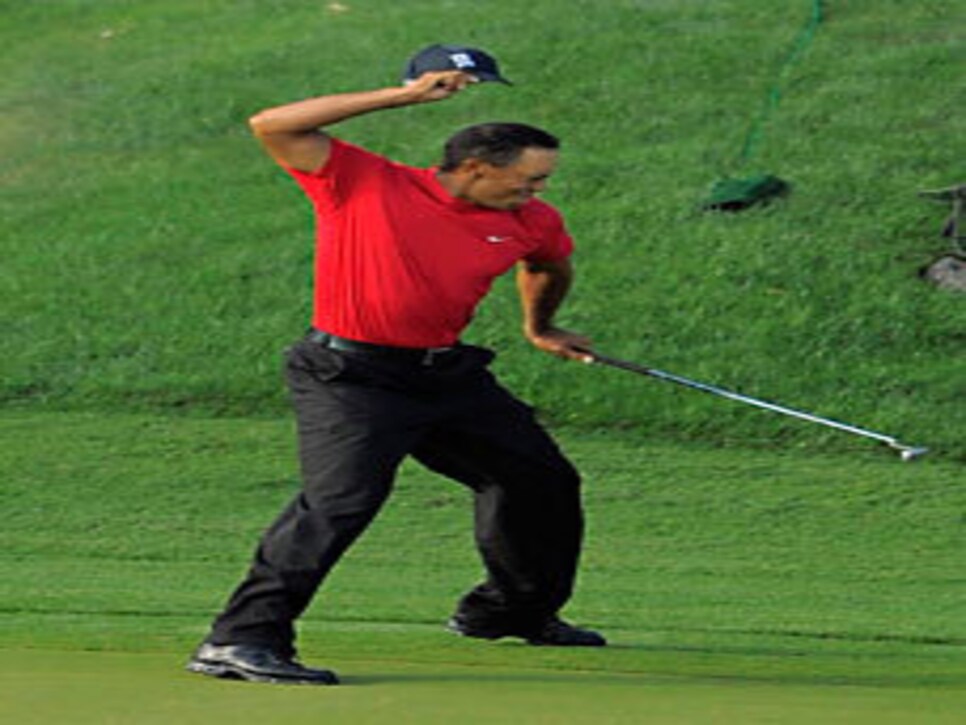 MIAMI -- Tiger Woods has never shied away from showing his emotions on the golf course but have you ever seen him throw his hat to the ground the way he did when he birdied the 72nd hole to win the Arnold Palmer Invitational? Does anyone remember seeing Arnold fling his visor deep into the patrons around the 18th green at Augusta National? In what was no doubt an inadvertent homage 24 years apart, the only difference was the direction. Palmer launched his visor into the air, sending an entire sport into orbit on the final hole of the '64 Masters while Woods drove his down into the fringe of the 18th green at Palmer's own Bay Hill Club like he was planting his personal flag and, once again, claiming the sport for his own.
"I was knocked at how off I went," Woods said of his Bay Hill celebration at the CA Championship at Doral Golf Resort and Spa. As familiar as Woods is with golf history, however, if it wasn't intentional, it was probably subconscious. "I didn't think it was really that bad until I saw it. I got pretty excited there, didn't I? The whole week I was trying to make sure I didn't leave myself a second putt on those greens. The only hole I did that on was the 10th hole on Sunday. I ended up three-putting. I didn't want to have that happen again on 18. I just really concentrated on my speed and once the green started taking that putt sideways, it looked pretty good from where I was."
If the video clip from '08 will inevitably be associated with the one from the '64 Masters, it was also a kind of anniversary present to Woods' caddie, Steve Williams. Bay Hill marked the 10th anniversary the duo began working together. "Did you get him diamond earrings or anything?" Woods was asked.
"He would look interesting with diamond earrings," the best player in the world said of the Kiwi caddie/auto racer.
(Photo: Scott A. Miller/Getty Images)**