Bermuda Championship
Arjun Atwal finds out he's in Bermuda field 25 minutes before tee time, promptly shoots 63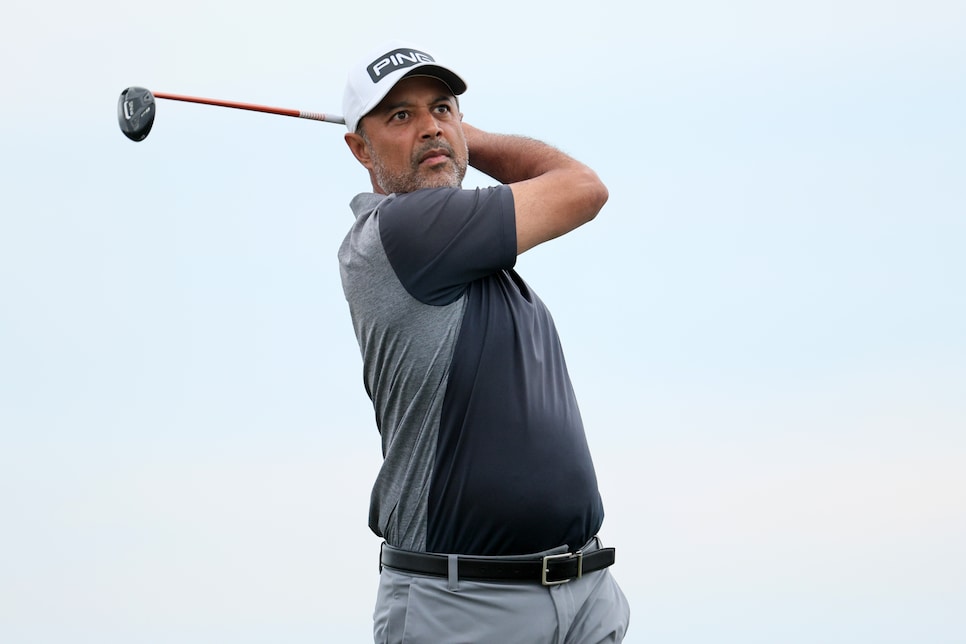 Unlike Bermuda Championship leader Austin Smotherman, who came into the week well-prepared, Arjun Atwal was coming in ice cold. Three months ago, the 49-year-old from India lost his father, the first death of an immediate family member that Atwal had experienced. During the mourning period, Atwal put the clubs away, not playing a single round of golf until last Friday at Isleworth in Florida. As of a 8:45 a.m. Thursday morning, he wasn't even in the Bermuda field.
As an alternate, though, Atwal still made the trip to Bermuda just in case someone withdrew. Someone did Thursday morning—Nicholas Lindheim, who cited a back injury. That opened up a spot for Atwal, who got to the course early but still had no idea he'd be playing until 25 minutes before his tee time.
"I figured be here before the first tee time, so I got here around 7:30 [a.m. local time]," Atwal said. "Hit a few wedges and then went in to eat breakfast and about 8:45 my caddie texted me. He's like, 'oh, 9:10 we might have a game.' So I left my breakfast, came out, hit a few drivers and off we went. It was fun, started with three birdies in a row."
The "game" his caddie was referring to was actually Atwal's first competitive round since July 22, when he was disqualified from the 3M Open after shooting rounds of 73 and 78. Prior to that, he had made just six PGA Tour starts during the 2021-22 season, missing the cut in four and tying for 71st and 63rd in the other two.
That was all ancient history after Atwal's early birdie binge, which he followed with four straight pars and then a birdie-birdie finish for a front-nine 30. His lone slip-up came at the par-4 10th, where he made bogey, but Atwal made up for it with four birdies over his last eight holes to finish with an eight-under 63, his lowest round on the PGA Tour since he shot a first-round 65 at the 2011 (!!) RBC Heritage.
"The only thing I could see was hopefully I could get around this place walking," Atwal said. "Because I haven't played much golf. I lost my father about three months ago in India, so I went over there. You know, I just haven't played golf, and forget walking. I played 18 holes at Isleworth last Friday in our Scotch game in a golf cart and it's not the same as this place, as you guys know, so I'm really pleased I got the 18 holes in and I'm not worn out as such."
Walking and not being worn down are now the least of Atwal's worries. Barring some serious afternoon fireworks, he'll be in at least a tie for second by day's end, which puts him firmly in the mix heading into Friday. As Atwal sees it, though, he's just enjoying the ride.
"The game's just a game," he said. "I take it for what it is now, you know, and I have nothing to prove to anybody. I've won out here [2010 Wyndham Championship], I've won on the European Tour, the Asian Tour and I'm looking forward to the 50 tour next year after March, that will be fun."
For now, the PGA Tour Champions will have to wait (Atwal turns 50 next March). He's still hanging with the young guys despite them having no idea who he is.
"I'm just really looking forward to playing out there with my buddies because I really don't know too many people on this tour anymore," he said. "There's so many kids and they're like, they see me walking around like, 'Who's this old dude?'"