News
Arizona State, Northwestern complete improbable comebacks to advance to finals of the NCAA Women's Championship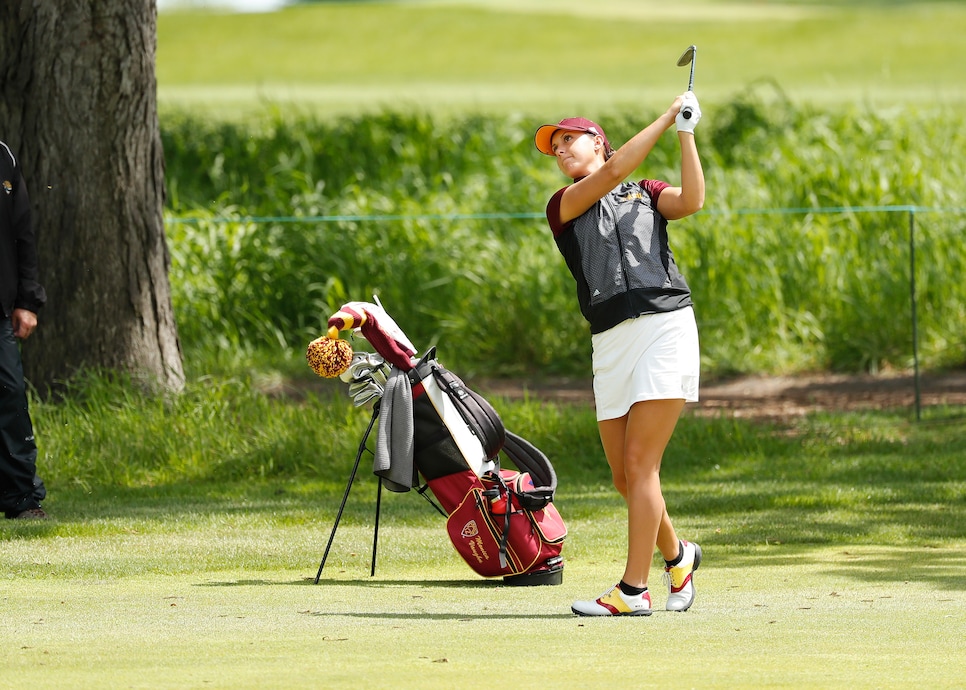 Who says there are no time outs—or Hail Marys—in golf?
When Arizona State senior Monica Vaughn, 1 down to Stanford's Albane Valenzuela with both players safely in the fairway on the par-5 18th hole, decided not to play on as darkness fell Tuesday at Rich Harvest Farms, it was a bit of a desperation play.
The hope was that returning on Wednesday morning to complete her NCAA Women's Championship semifinal match would be the reset she needed after the newly crowned NCAA individual champ had lost three of five holes and seemed to see the Sun Devils hopes of advancing as a team to the NCAA finals slip away. Stanford had already won 2 points, and if Valenzuela could close things out, the Cardinal would move on to the finals for the third straight year.
As it turned out, the decision to wait a night paid off. Back at the course on Wednesday morning, Vaughn birdied the 18th to win the hole and extend the match, then won the 19th hole with a par to steal away the win. Then ASU's Linnea Strom won the 19th hole of her match with Stanford's Madeline Chou, to secure the third point and an improbable comeback win to send the school into the championship match on Wednesday afternoon.
"What I said to the whole team this morning was, 'We made it to May 24.' This was our goal all year," said ASU women's coach Missy Farr-Kaye. "We achieved our goal. So we can't make any mistakes, let's relax, let's go play. I'm so proud of them win or lose. I really wanted them to feel relaxed. They have enough pressure on themselves that they weren't going to get an ounce of that from me. I said, 'Let's go play, let's go see what we can do, we have a great opportunity let's just go see what we can do with it.' "
In the finals, ASU will face Northwestern, the hometown team that earned the top seed after stroke-play competition, which knocked off USC in their own weather-delayed semifinal comeback, 3-2. The Wildcats earned the first two points with victories by Sarah Cho and Hannah Kim. But the Trojans' Tiffany Chan and Muni He knotted things up, leaving everything up to the Gabby Then-Janet Mao match.
Two down with three holes left, Mao won the 16th and 18th holes to extend the match before making a 15-foot par putt on the 19th hole. Then had a seven-foot par try to extend the match, but the putt came up an inch short, sending the Wildcats to the title tilt.