News
Ariya Jutanugarn made it look easy on a hard day at the U.S. Women's Open, leads by four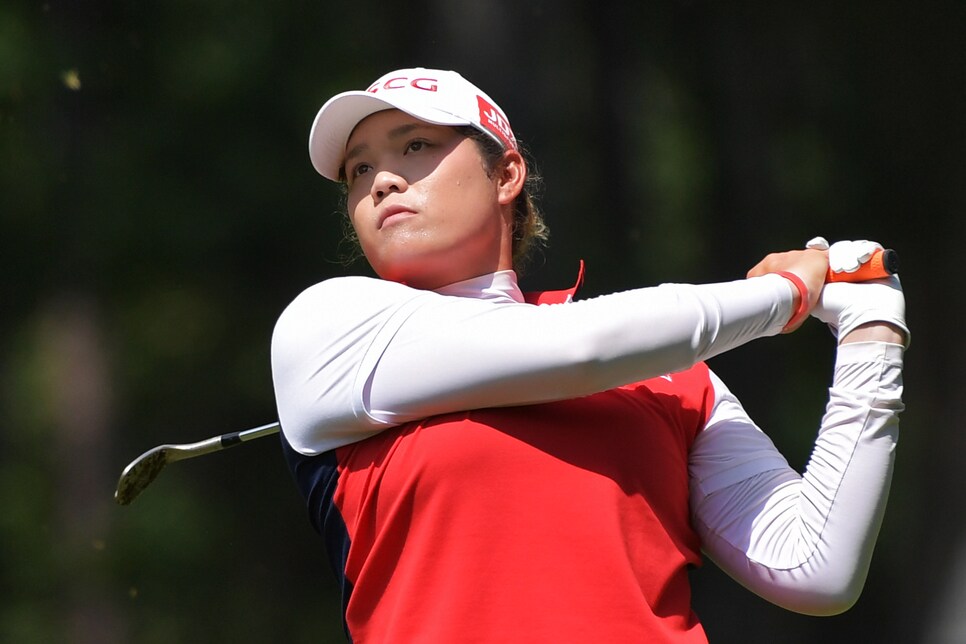 BIRMINGHAM, Ala. — On a day where Shoal Creek was playing hard, Ariya Jutanugarn made it look easy. Jutanugarn started the third round of the U.S. Women's Open three shots behind Aussie Sarah Jane Smith. By the end of the day, she was on top of the leader board, ahead by four.
The drastic flip-flop hadn't come from an implosion by Smith, either—she shot 74, which, while not spectacular, was the field's average. The shift came from Jutanugarn's dominant play.
There were 238 bogeys made by the field during the third round. The 22-year-old from Thailand was responsible for one of them. With a five-under 67, she vaulted to 12 under for the tournament. With a comfortable lead and what appears to be complete control of her game, a second career major title isn't a certainty, but it's close.
Surprisingly in a career where she has ascended to World No. 1 and won eight LPGA Tour events, this is only the second time she has made the cut at a U.S. Women's Open. When asked if she has any weaknesses after the third round, Jutanugarn said of course, everyone has weaknesses. But what might those be? Jutanugarn struggled to identify a specific one.
"I mean I have—wait," Jutanugarn said, smiling. "I'm thinking. I'm not sure what—but I'm pretty sure I have [weaknesses]."
It might have been hard for her to come up with any because, at the moment, there really aren't any.
She's averaging 243 yards off the tee this week—and she doesn't carry a driver. She hit 13 greens in regulation in the third round, and only needed 27 putts. The only issue you could point to would be accuracy off the tee. She missed five fairways. Even then, with her power, missing the fairway isn't a significant penalty.
What makes her push on Saturday even more impressive is that Jutanugarn looked to be at a disadvantage before the day began. Her second round had been interrupted by a thunder storm—as were those of the 77 other players in the afternoon wave. She had to wake up at 4 a.m. to get back to the course early Saturday to finish the second nine holes of her second round. Then she had to turn around and play another 18 holes on the hottest day of the week, while Smith was able to rest. An exhausted player is usually not the one you'd pick at the U.S. Women's Open, but Jutanugarn hung tough throughout the marathon of a day.
That's not to say she didn't feel it. She literally stumbled while walking on both 17 and 18, the obvious effects of exhaustion after playing 28 holes of championship golf in one day. The one benefit of the grueling day? She's should sleep on the lead just fine.
As for the rest of the players, they have their work cut out. Looking on the leader board for a player who could make a move on Jutanugarn, it would likely be Inbee Park, the current World No. 1. She has the ability to go low, and has the experience of having won eight major championships. But she's T-5, eight shots back. It would take a strong effort—but she says she's feeling good with her putter lately, which is always dangerous.