The Loop
Are Forse and Nagle better architects than C.B. Macdonald?
Ron Whitten on the design team of Ron Forse and Jim Nagle; their work at Bedford Springs, Lancaster Country Club and the East Course at The Broadmoor:
Spent two days last week catching up with golf architects Ron Forse and Jim Nagle, the principals of Forse Golf Design, who specialize in remodeling and restoration from a base in western Pennsylvania. They're the perfect odd-couple team. The red-haired freckle-faced Forse, in his mid-50s, has always looked like director Ron Howard (his childhood nickname was Opie) and is a bundle of nervous energy. Nagle, in his early 40s, looks like a suave leading man from one of Howard's movies, and is so cool in every situation, I'd never want to play poker against him.
Forse graduated from West Virginia in 1979 and after practicing landscape design for a decade, established his course design business in 1989. His first design associate was Bruce Hepner. Nagle, likewise a WVU grad (14 years after Forse) became Forse's associate in 1998.
Forse has always been a student of classic architecture. He studies green contours the way a bettor studies a racing form and can describe in remarkable detail the size and shape of a Ross or Tillinghast or Flynn putting surface that he hasn't seen in half a dozen years. Nagle is the technician of the team. He makes sure a green patterned from Forse's memory will work under today's technology.
We played their Bedford Springs course in Bedford, Pa., where they rescued a resort 18 from a runaway floodplain and years of neglect. I had previously walked it back in 1997, when it was closed and overgrown. It had been a mediocre layout, despite bearing a pedigree of both A.W. Tillinghast and Donald Ross. Forse and Nagle revitalized it by rebuilding every hole. They retained a few jewels like Ross's "Volcano" par-3 fourth and Tillie's "Tiny Tim" par-3 14th (pictured below), but mostly they created new holes in existing corridors that look, feel and play like classic oldies.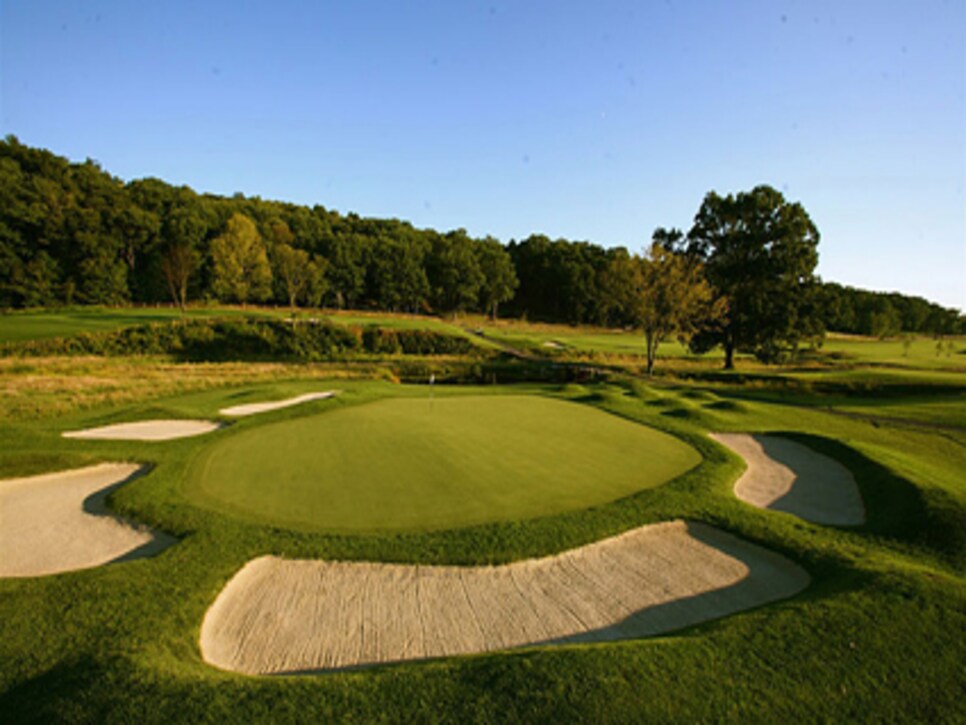 Of course, that begs the question: do I consider Forse and Nagle better architects than C.B. Macdonald? Of course not, but they're great at what they do, and part of what they do is borrow from Macdonald's playbook.  On the par-5 13th at Bedford, for instance, they decided the second landing area needed a bunker, so they built one patterned after the Hell Bunker at St. Andrews. Not as deep, not as frightful, and off to the left side, but still recognizable to golf design fans as Hell Bunker. C.B. would be proud.
Next day we played famed Lancaster Country Club (a former 100 Greatest Course), which Forse and Nagle have been renovating by removing hundreds of trees and adding several bunkers. I'll withhold any judgment on the William Flynn design (considered one of his best), in part because I played so poorly and in part because the greens were not up to snuff. The club will be gassing and regrassing the greens in Augusta, with Forse Design overseeing the process, all in preparation for the 2015 U.S. Women's Open. (That'll be the second Women's Open this decade that Forse and Nagle will have prepared, although they received absolutely no publicity or credit during this year's U.S. Women's Open for all the restoration work they did on the championship East Course at The Broadmoor. I told Forse he needs to start billing himself as the female Open Doctor . . . That came out wrong.)
In Lancaster's clubhouse after our round, we scanned the walls of old photos and documents and came across a framed handwritten note from Ben Crenshaw, which read in part, "I want to congratulate Ron Forse for doing such a diligent job in the restoration. Protect this course!"Forse turned to Nagle and said, "Jim, this is great. We should get a copy of this and post it on our website."
Jim just shook his head. "Ron, we already did that," he said. "We even include a copy of it in presentations we make to other clubs."
Nagle, as I said, is the detail man.
*Interested in playing the Old Course at Bedford Springs? The resort is roughly two and a half hours from Pittsburgh, Baltimore and Philadelphia. Guests can play the Old Course for $115 during the week (Sun.—Thurs.), and $135 on weekends (Fri. and Sat.). Non-resort guests pay $125 and $145 respectively. The twilight rate of $79 starts at 3:00 p.m. Carts and range balls are included with every rate. **
*Lancaster Country Club is private, and does not allow outside play.