America's Pastime
Anthony Rizzo struck out Freddie Freeman and everybody shared some Cracker Jacks and had a good laugh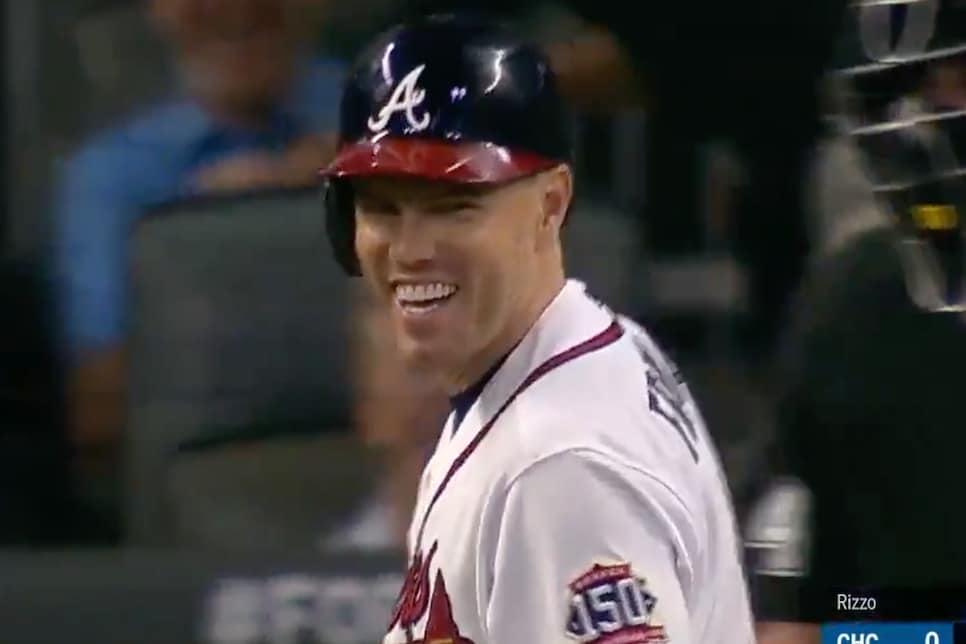 Have you ever thought about baseball? Like actually sat there and thought about it? It's in the top five weirdest sports ever. There's cricket, curling, skijoring, golf, and then our national pastime, where a guy stands on a little dirt hill and throws a ball at another guy who tries to hit it with a stick and if he does he then runs around a diamond in sequential order, unless of course he goes backwards, which is allowed in some cases. And that's just the tip of the novelty batting helmet sundae.
We don't have time nor space to get into the rest of the game eccentricities, but we can say this with some certainty: Last night, baseball got even weirder. It happened in the bottom of the 7th inning in a 10-0 Braves blowout of the Cubs. Looking to save some bullpen arms late in a lost game, the Cubbies sent first baseman Anthony Rizzo to the mound to face reigning NL MVP Freddie Freeman. It was as lopsided a battle as we've seen in the majors this year, and yet, with the count at 2-2 and the pressure on (JK, the stakes couldn't have been lower), Rizzo served up some stinky 61-mph cheese to strike out Freeman as Truist Park erupted in a roar of what can best be described as bemusement.
Here's what Freeman, notoriously one of the nicest guys in the game, had to say about the K that will haunt him for the rest of his days after the game.
Just a couple of guys enjoying a couple laughs. Baseball may be a weird sport—and Thursday night's scenario even stranger—but don't get bogged down in the details. At the end of the day, this is what it's all about.