ANA Inspiration: Ha Na Jang, In Gee Chun in contention, rift continues
RANCHO MIRAGE, Calif. – Caddies have nicknames for everything. The incident at the Singapore airport involving Ha Na Jang and In Gee Chun has been dubbed "Luggage-Gate."   What happened is this: Jang and her father were at the top of the escalator and Chun was at the bottom. Jang's father lost control of a suitcase and it wiped out Chun, injuring her back and forcing her to miss several tournaments.   While it's not exactly Tonya Harding and Nancy Kerrigan – that dust-up between the two figure skaters in 1994 was a paid hit – it does seem as if the Jang and Chun families are not going to sit down for dinner anytime soon.   While neither family is talking about the incident, the word on the range is that the Chun camp does not feel the apology offered by the Jang camp was all that it could be.  And in a culture that is all about ritual that's a big deal.   On Friday at the ANA Inspiration, Chun and Jang were off the same tee in consecutive groups but as they warmed up on the range at Mission Hills CC they were about as far away from each other as they could be, Jang to the extreme right and Chun to the far left.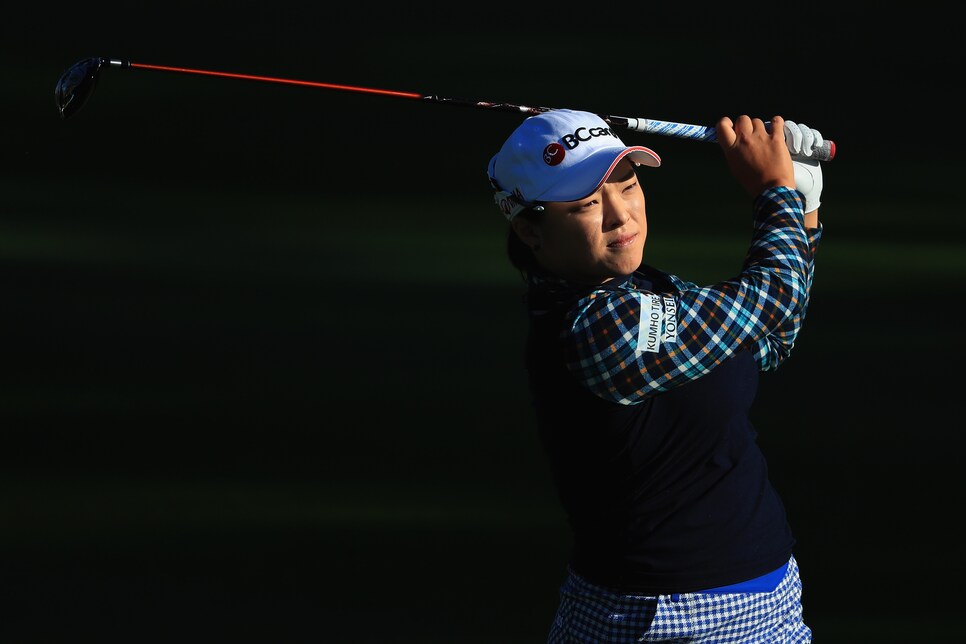 Then they both went out and played some serious golf with Chun, the reigning U.S. Women's Open champ, posting a 69 to finish 36 holes at six under par, one stroke behind midway co-leaders Lexi Thompson and Ai Miyazato .   Jang shot a 70, making a bogey on the final hole when she found the water, and was at five under par as she and Chun barely missed being paired together for Saturday's third round.   But perhaps the golf gods are saving that bit of drama for Sunday.   Luggage-Gate was such a big story back in South Korea – where women's golf is hugely popular – that two major media organizations sent top news reporters to the California desert along with their golf writers.   The whole thing is made even more complicated because of the intense competition to be one of the four Koreans in the women's golf competition at the Olympics in August.   Right now, Jang is No. 3 in that ranking and Chun is on the outside looking in at No. 5 – ninth in the Rolex Rankings, one spot behind Amy Yang.   While Jang is the only two-time winner on the LPGA this year, Chun is currently the heartthrob of golf fans in her homeland. Her fan club, know as the Flying Dumbo has about 6,300 members who show up at her tournaments wearing yellow hats, just like Dumbo the Disney elephant did.   Chan says her back is "about 90 percent," but her coach for the last five years, Won Park, paints a more cautious picture.   "There is no pain when she is walking or when she hits shots," he says. "But if she is sitting for more than 20 minutes it tightens up. It is something we are going to have to keep an eye on it for a month or two."   Chun made no bogeys in the second round and was an absolute tiger when she was in trouble. She missed six greens and played those six holes a remarkable one under par.   And that points toward the most impressive part of her game: Her relentlessly upbeat attitude. When she missed a short birdie putt on No. 11 she bumped fists with Park and smiled broadly walking to the next tee. Truly, she smiles on every hole no matter what happens.   Her caddie, Irishman David Jones, speaks to her in English and she writes phrases like "I played well today," and "I'm looking forward to tomorrow" in her yardage book to prompt her to respond to reporters in English.   Chun appears to be the real deal. So does Jang. Maybe that's what this first major of the year is supposed to be all about: Sorting out Luggage-Gate.