The Loop
An unforgettable Ryder Cup, Tiger Woods parties with Paulina Gretzky, and poppin' bottles (sort of) with Team USA
Welcome to another edition of The Grind, where we are still wiping the champagne off after Team USA's impressive Ryder Cup triumph. No, seriously. We got doused.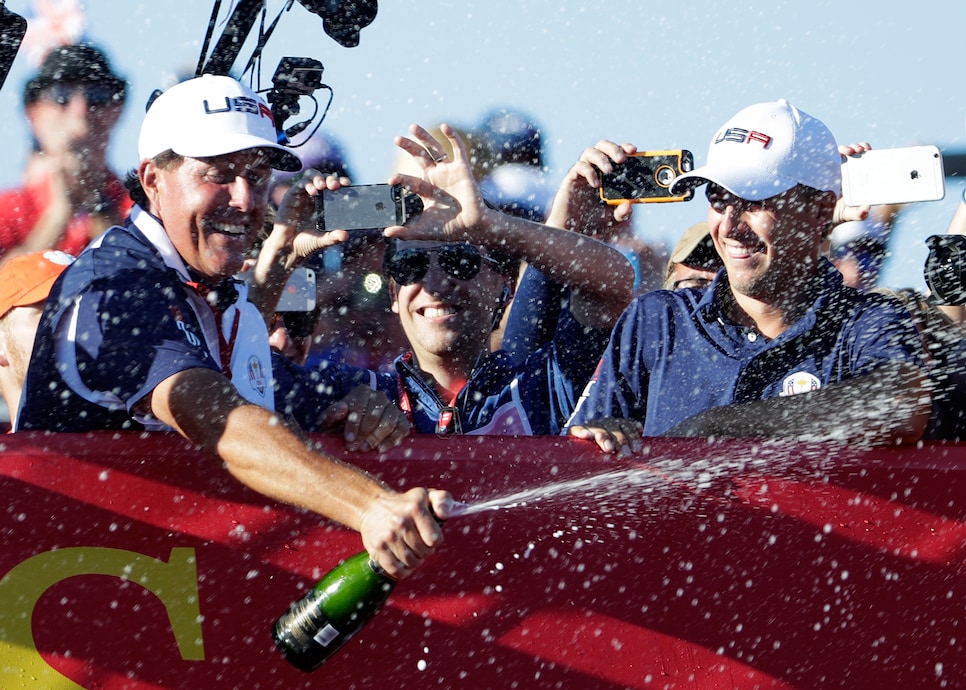 Yep, that's me in between Phil Mickelson and Jordan Spieth, wearing a pair of sunglasses that, to be kind, have drawn mixed reactions. And if you ever wondered what it's like to spray champagne on thousands of screaming fans, here you go:
So cool. Although, only a pair of golfers would have that much discussion about how to celebrate. In any event, there's so much to talk about after this epic "Brawl By The Mall (Of America)." Let's get to it.
Patrick Reed: For a second straight Ryder Cup, this guy was Team USA's best player and biggest sparkplug. Reed earned a team-high 3.5 points and also earned the nickname "Captain America" from Jordan Spieth. The screams. The fist pumps. The finger wags – this time, quieting his opponent and not the crowd. It's only fitting his name has three syllables because by the end of Sunday it seemed that "PAT-RICK-REED!" had replaced "U-S-A!" as the fans' favorite chant.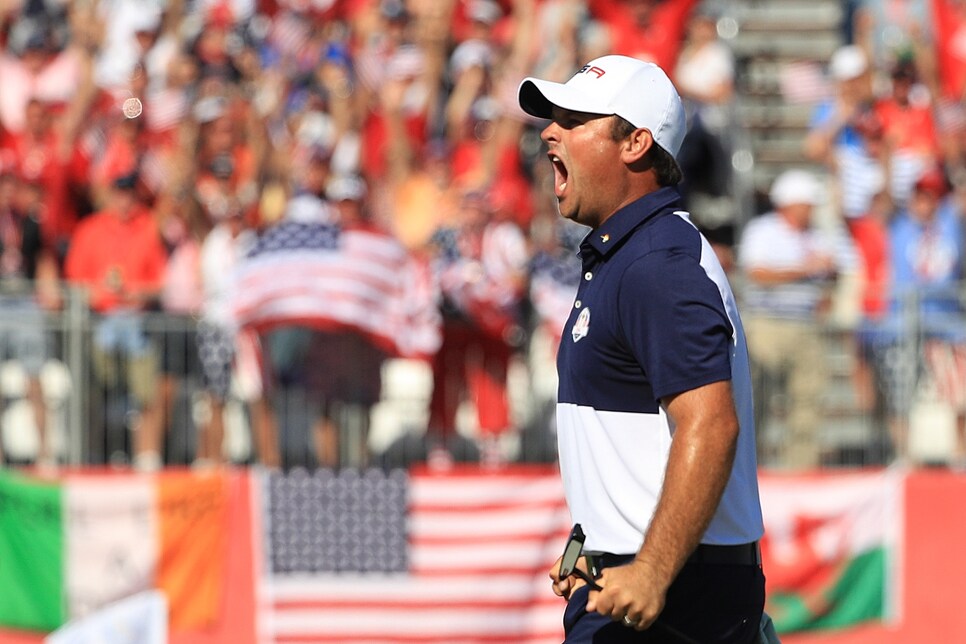 PGA of America via Getty Images
Rory McIlroy: The four-time major champ lost his major showdown to Reed on Sunday, but he was still a pleasure to watch all week. Rory played jaw-dropping golf, flapped his gums at the "hostile" Hazeltine crowd, and actually took bows for his performance. What a show.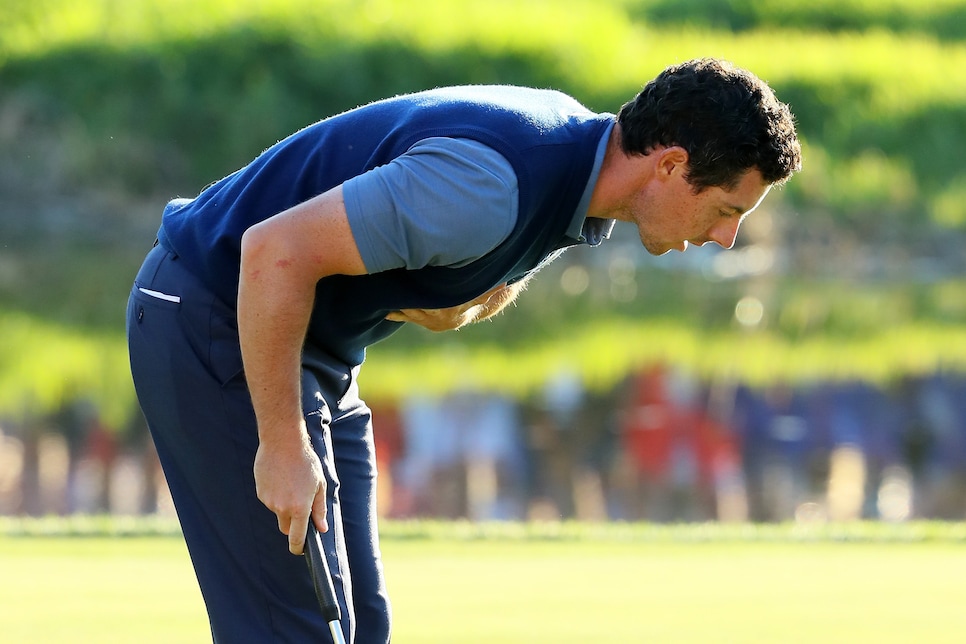 Phil Mickelson: If you're going to throw your previous captain(s) under the bus, you better produce and Mickelson did just that by going 2-1-1. And that half was one of the best rounds of his life, making an incredible 10 birdies against Sergio Garcia on Sunday, the last of which prompted this leap jump hop that recalled his win at the 2004 Masters.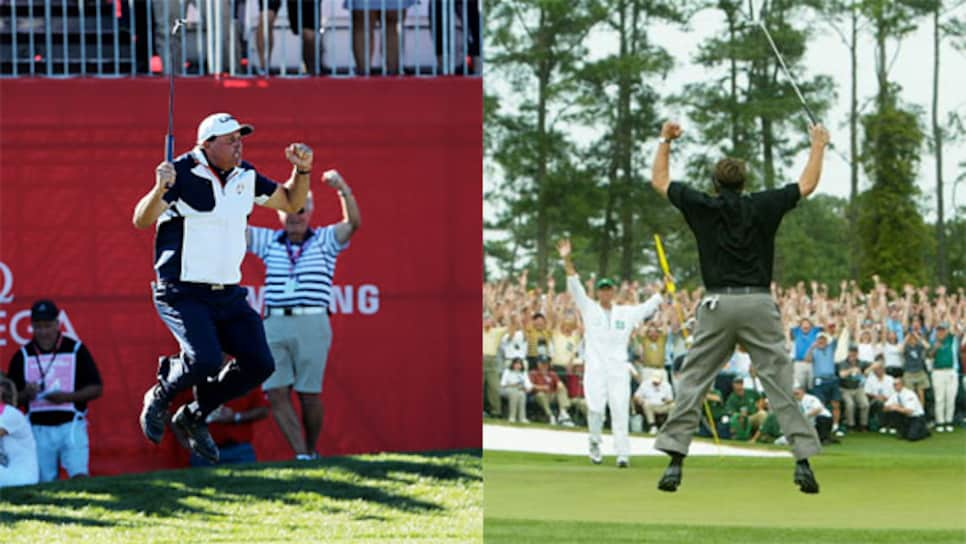 Savvy move by the veteran to pull his knees up to make it look like he got more air this time.
The Ryder Cup: I've always ranked the four majors above this biennial match-up, but this was the best sporting event I've ever seen in person. And what happened on the eighth hole of the Reed vs. McIlroy match is the greatest thing I've ever witnessed up close (Well, other than that champagne celebration. Did I mention, I was RIGHT there?!). Anyway, how good was this? I'm still getting chills watching it.
Nasty fans: Unfortunately, this became such a big story that by Sunday the PGA of America was issuing warnings of a no-tolerance-of-negativity policy. Look, cheering bad shots happens on both sides of the pond in this event, but there's no place for lewd taunts and interrupting players as they're about to hit a shot. Also, the silent treatment when the Europeans hit great shots was embarrassing.
Danny Willett's week: Yes, it started with his brother's over-the-top criticism of American fans, but Danny didn't do much to turn things in his favor. He lost all three of his matches and then didn't let things die with some parting shots on Twitter. NOT the Ryder Cup debut he was hoping for.
Darren Clarke: He didn't hit a single shot, but when you're the captain of the team, you get the lion's share of the blame. (That's also why we're giving so much credit to Phil for winning... heyooo!) But seriously, two of Clarke's three captain's picks, Lee Westwood and Martin Kaymer were utter disasters. Even worse, Clarke kept playing them.
Justin Rose: Even in defeat, the Europeans were as great as usual in their post-tournament presser, but Rose looked bad when he ripped Hazeltine's setup. Specifically, he said the pin placements were too easy (17 was "a joke") and that the course had a "pro-am feel." It's funny because Rose was only one under in his singles loss to Rickie Fowler. Last time we checked, that would be a dreadful pro-am score.
We finally get a bit of a break, and boy, do we need it after the craziest Tour Championship and Ryder Cup in recent memory. There is an important tournament going on, though, and that's the Web.com Tour Championship. Good luck to those trying to earn PGA Tour cards for the season that starts. . . next week.
Random tournament Minnesota fact: I kept thinking I was lost or going crazy when I'd see the same store in the Mall of America more than once. Nope. This place is so big, for example, there are five Lids in there. FIVE! OK, so we were also lost at times, too. . .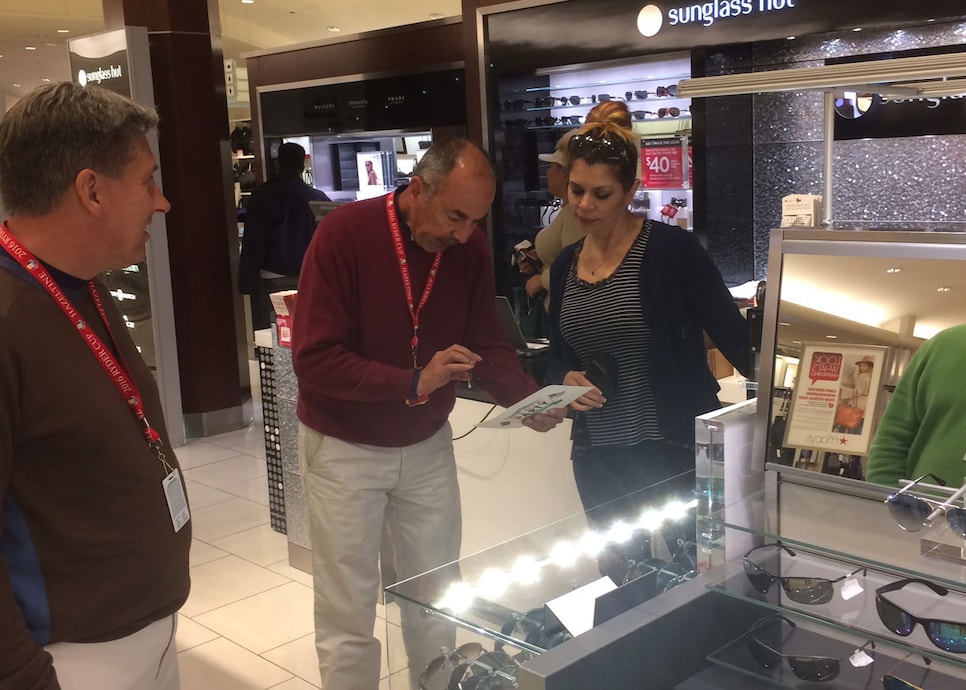 RANDOM PROP BETS OF THE WEEK
-- Danny Willett will ever go on vacation in Minnesota: 10 MILLION-to-1 odds
-- Patrick Reed sleeps on American-flag sheets: Even odds
-- We'll be seeing highlights of Reed and McIlroy on the eighth hole as long as the Ryder Cup exists: LOCK
PHOTO OF THE WEEK (NOT INVOLVING ME IN THE MIDST OF TEAM USA'S CHAMPAGNE CELEBRATION)
There were so many great photos from the week, but Rickie Fowler as Team USA's 23rd wheel is an instant classic.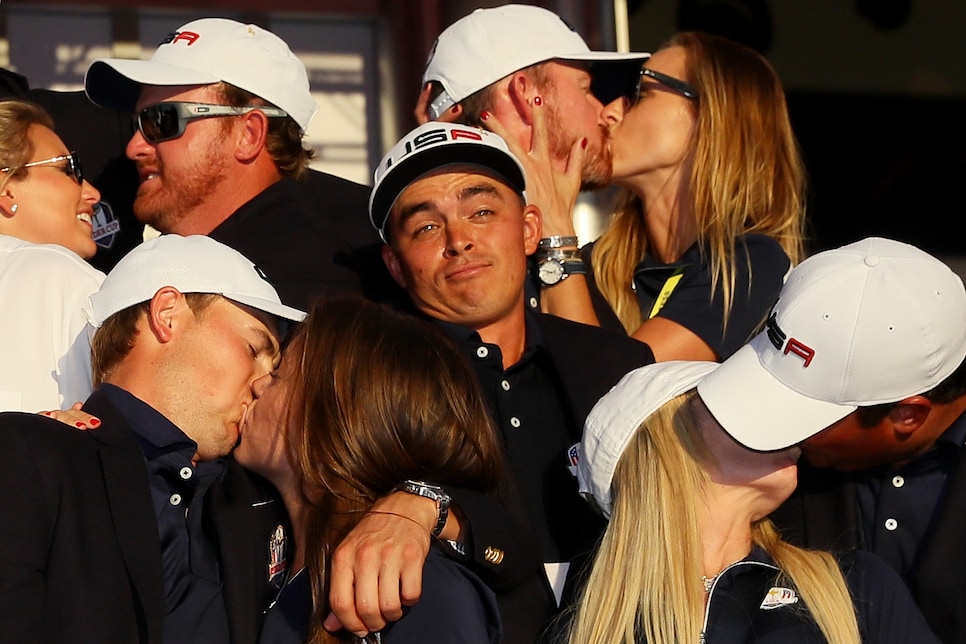 VIRAL VIDEO OF THE WEEK (NOT INVOLVING ME IN THE MIDST OF TEAM USA'S CHAMPAGNE CELEBRATION)
David Johnson became part of Ryder Cup lore when he was plucked out of the crowd by Henrik Stenson after heckling some European players during a practice round. Johnson was challenged to make a putt and he did by using Rory McIlroy's putter to win $100 off Justin Rose.
What a putt. What a celebration. David Johnson is an American hero.
This was the scene at Latrobe Country Club on Thursday just after Arnold Palmer's ashes were spread there.
"Sh*!" – Danny Willett when asked to describe his Ryder Cup week. Then after the laughter calmed down, "I can only be honest. Sorry, would you like me to elaborate? It was really sh*!" Well said, Danny.
THIS WEEK IN PAULINA GRETZKY-DUSTIN JOHNSON-TIGER WOODS PUBLIC DISPLAYS OF AFFECTION
The Ryder Cup brings everyone together. And of course, there was PLENTY of PDA between Paulina and DJ as well -- and it always drew big cheers from the crowd.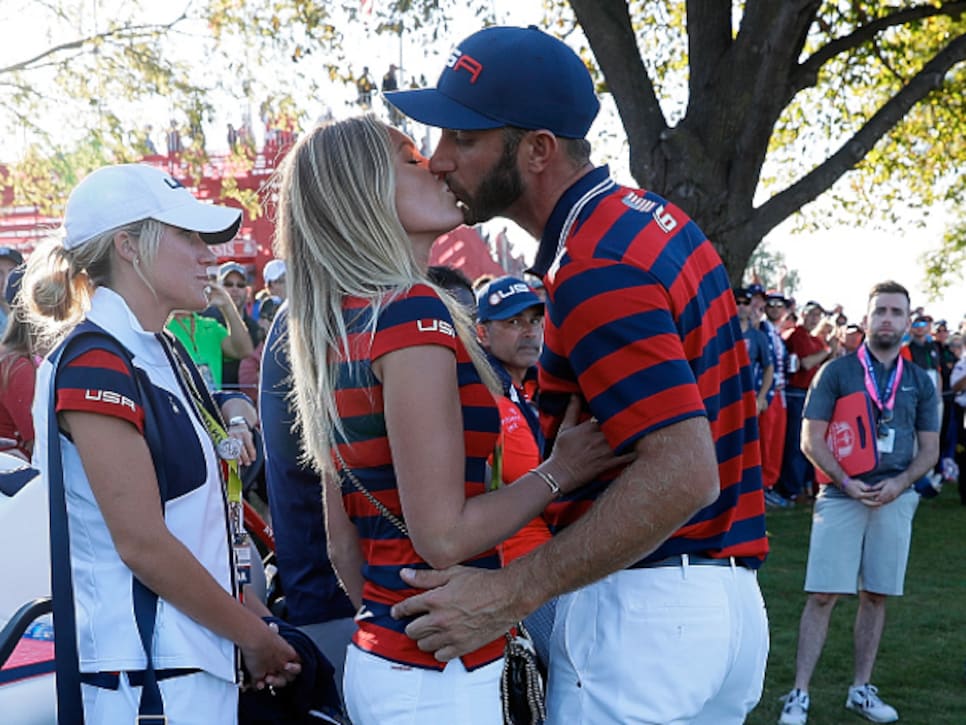 THIS WEEK IN PAIGE SPIRANAC BEING PAIGE SPIRANAC
Ryan Moore clinched the winning point for the U.S. less than a week after being named the team's last captain's pick. Another victory for the Ryder Cup Task Force! . . . Antonio Brown wore special "The King" cleats in Arnold Palmer's honor in Sunday night's Steelers game. He scored two touchdowns. . . . The one negative of the week? I was so caught up in being at the Ryder Cup I forgot to check my fantasy team and lost my match-up against Billy Horschel because I had two players on a bye (There are byes in Week 4?!). Anyway, you're welcome, Billy. . . . And check out this bag of chocolate-covered almonds I brought back from Minnesota for my wife: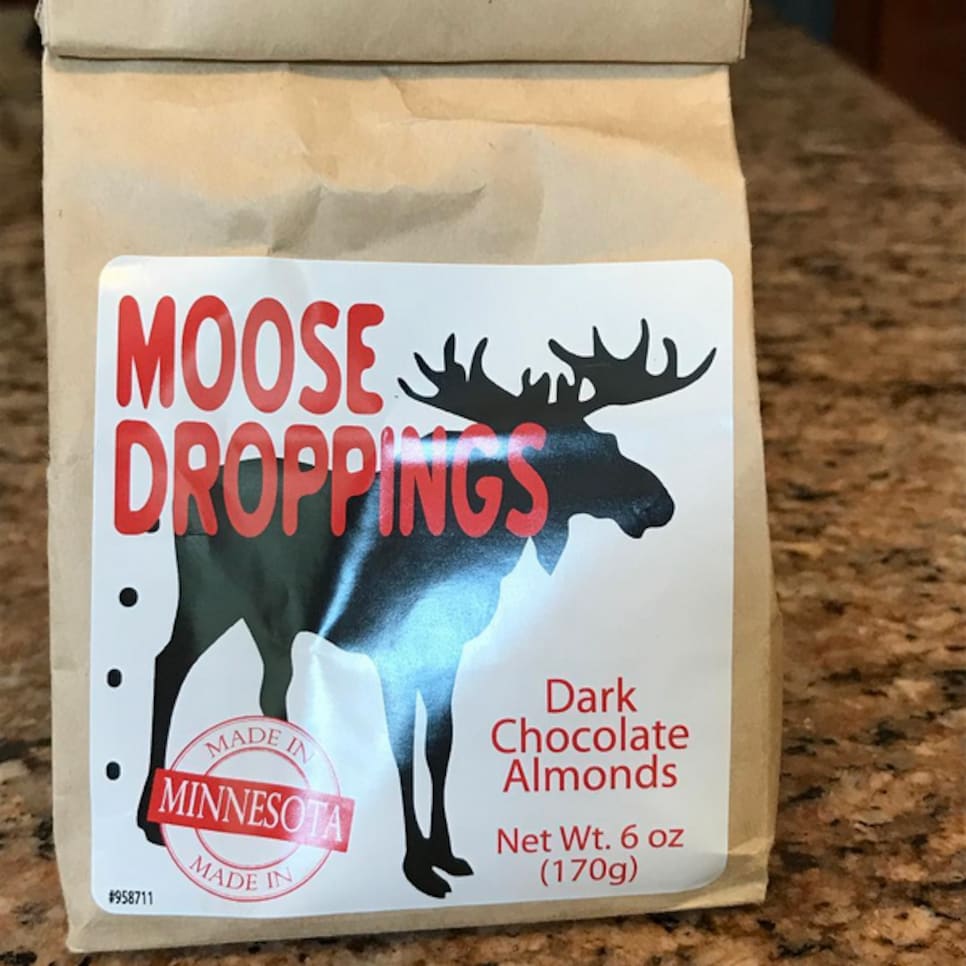 Yep, I really spoiled her this time.
RANDOM QUESTIONS TO PONDER
How has Patrick Reed never even contended at a major?
Will Rickie bring a date to France in 2018?
Will I ever wash the pullover I was wearing on Sunday?