The Loop
An ageless wonder, a terrific new team format, and Vegas bachelorette party shenanigans
Welcome to another edition of The Grind, where we are going to say something we never thought we'd say: We can't wait for the Zurich Classic! Of course, it doesn't compare to our annual anticipation of the Masters, but who could have imagined another April golf tournament grabbing this much attention? A switch to a two-man team format has this event standing out in a year-round schedule that often seems to blend together. And the formation of two super teams -- Jason Day/Rickie Fowler and Henrik Stenson/Justin Rose -- has us imagining other fun possibilities. Dustin Johnson and Tiger Woods? Rory McIlroy and Patrick Reed? Rory and Tiger?!!!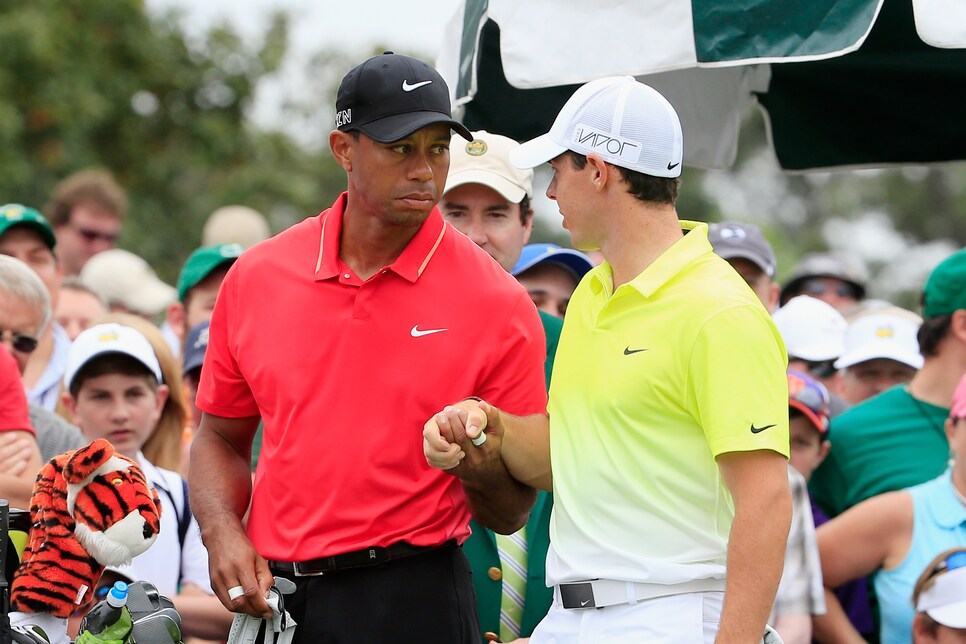 Let us dream, at least, for a few months. Regardless of who plays, we look forward to watching – and seeing some great matching outfits (we're recommending matching outfits, by the way). April can't get here soon enough, but in the meantime, here's what else has us talking.
Pat Perez: In his third tournament back from surgery on a torn labrum, Perez looked better than ever. He shot 14 under over his first 27 holes of the weekend to emerge with a two-shot victory at the OHL Classic at Mayakoba. For Perez, 40, it was his second career PGA Tour title and his first in 182 starts. We like his odds of not having that long of a drought before his next win. And look at that hair!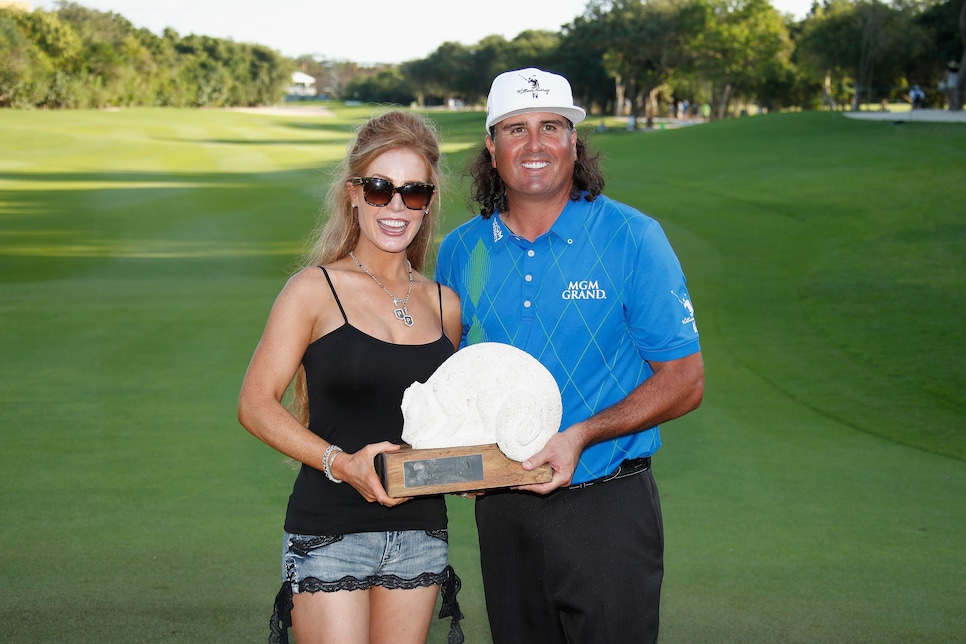 To be clear, we're not talking about Perez's wife, Ashley. No, Pat is rocking a mane right now that would have impressed a young John Daly.
Bernhard Langer: The German didn't win the PGA Tour Champions season finale (Congrats, Paul Goydos!), but he did enough to win the tour's season-long Charles Schwab Cup. He always does. Langer, 59(!!!), captured the tour's top prize for a third consecutive year and more impressively, he's led the senior circuit's money list for eight of his nine full seasons since turning 50. Go easy on the old guys, Bernhard!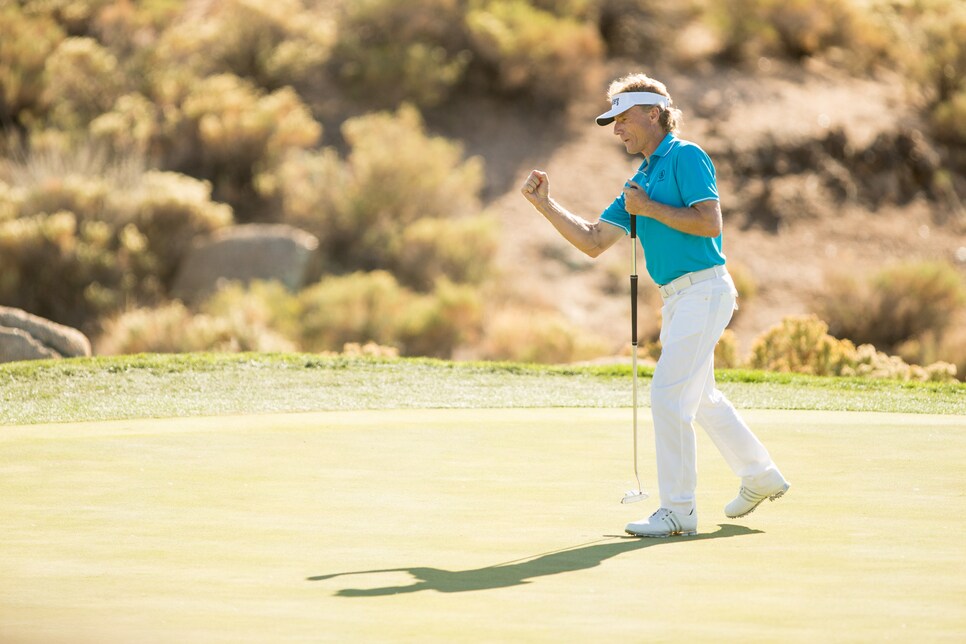 Alex Noren: OK, this is getting ridiculous now. With a six-shot romp at the Nedbank Golf Challenge, the Swede who was a Ryder Cup afterthought has now won four times in the past four months. The 34-year-old has doubled his career total of European Tour titles in that span and has climbed all the way to No. 9 in the Official World Golf Ranking.
Steven Spieth: Jordan Spieth's little brother is a stud, also. OK, so little might not be the best word. Let's go with younger to describe the 6-foot-6 senior at Brown. In his team's second game of the season, Spieth narrowly missed posting the third triple-double in Ivy League history with a 27-point, 10-rebound and nine-assist performance in a win against Niagara. Kid's got game.
Jay's Music: As in, this local Augusta, Ga., music store recently sold its property to a real estate company affiliated with its neighbor, Augusta National Golf Club. While the owners didn't want to move, it seems holding out at least paid off. According to public records, the $5.35 million price tag is more than eight times what the property is assessed for. Augusta National doesn't mess around if it wants something.
Gary Woodland with a lead: It's hard to ever be upset with a runner-up on the PGA Tour, but Woodland is making a bad habit of failing to convert 54-hole leads. He's now 0-for-5 in stroke-play events, although he did hold the lead at the 2013 Barracuda Championship, which uses modified stableford. Perhaps the former college basketball player is more comfortable when points are involved, but unfortunately, that's not usually the case.
Golf Cart DUIs: Former Playboy Playmate Ashley Mattingly has been charged with four misdemeanors involving an incident in which she allegedly hit four parked cars.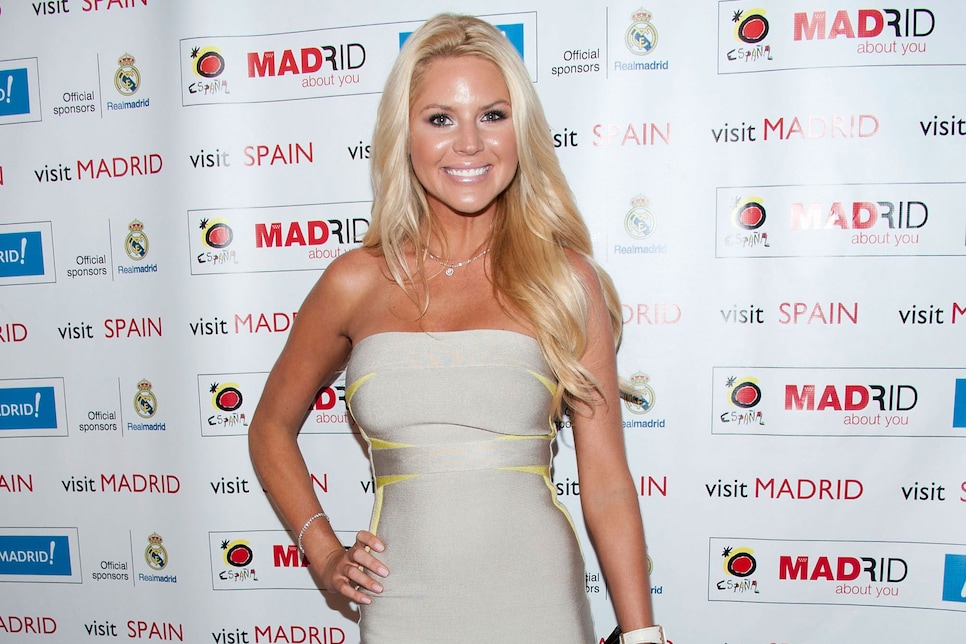 We can only assume she did some damage to her sweet ride, too.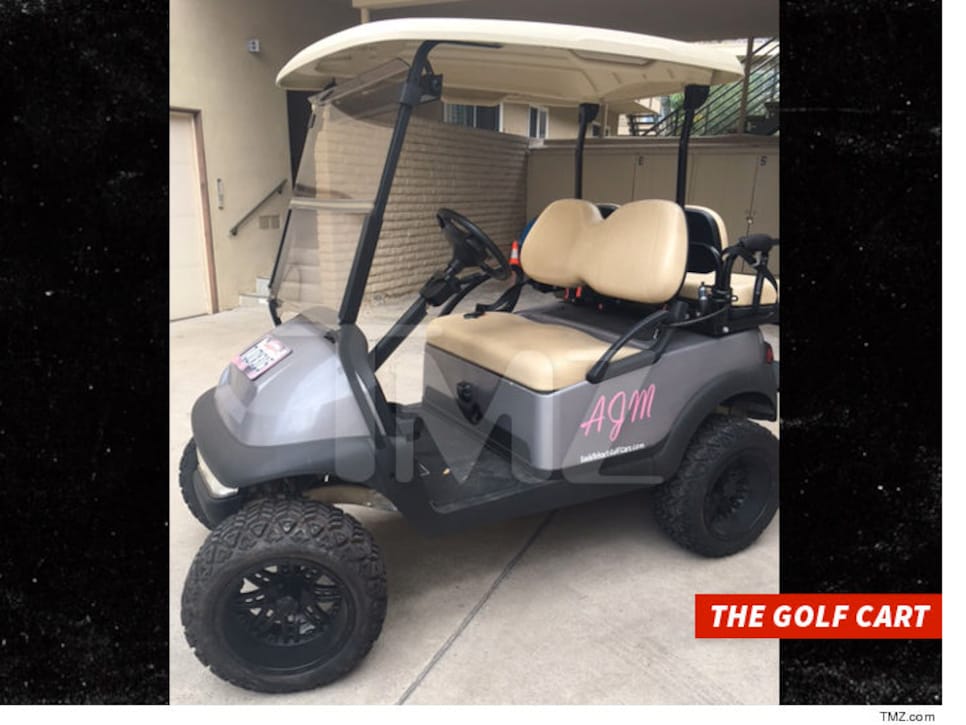 The PGA Tour heads to the RSM Classic, aka that tournament Davis Love III hosts at Sea Island.
Random tournament fact: Davis Love III has never won this event. That's called being a gracious host.
RANDOM PROP BETS OF THE WEEK
-- Augusta National is done buying up real estate/taking over the world: 1 MILLION-to-1 odds
-- Pat Perez will win the 2017 Masters: 500-to-1 odds (Actual odds. . . value!)
-- Other PGA Tour events are kicking themselves for not switching to a team format first: LOCK
How about Team Justin (Rose and Timberlake) reeling in a HUGE fish:
I want to hang with Team Justin.
Check out this pack of mongooses (mongeese?) running onto a green at the Nedbank Golf Challenge in South Africa and not disturbing the golf balls in play:
If only all human fans at golf tournaments could learn that.
"The guy's a super hero. I don't get it. Seems like he should get older. . . . I mean, he's getting better. It's his best year and he's 59. He's amazing." -- Paul Goydos on Bernhard Langer. We couldn't say it any better ourselves, Paul.
THIS WEEK IN PAIGE SPIRANAC BEING PAIGE SPIRANAC
Paige was on hand for the inaugural Topgolf Championship in Las Vegas.
If there was a heels-only competition, she'd have to be a heavy favorite.
THIS WEEK IN KEEGAN BRADLEY-JILLIAN STACEY PUBLIC DISPLAYS OF AFFECTION
Like Paige, Jillian was in Vegas also, but for her bachelorette party. Looks like she had a good time.
Especially with these fun/frightening Keegan cutouts:
THIS WEEK IN DUSTIN JOHNSON-PAULINA GRETZKY PUBLIC DISPLAYS OF AFFECTION
Finally! A music video from these two!
Now that's putting the off-season to good use.
Darius Rucker is now a golf agent. Yes, that Darius Rucker. Serenading potential clients with "Hold My Hand," might be a bit much, though. . . . After going nearly 100 starts before getting her first win, Carlota Ciganda now has two wins in four starts. Keep this up and we're going to have to start calling her the Alex Noren of the LPGA Tour. . . . Congrats to Doug Letson for advancing to the final stage of Web.com Tour Q School less than a week after getting married. We're just impressed his wife gave him permission to play in the event. . . . And finally, this was ESPN College GameDay's winning sign this week at the University of Washington:
We always appreciate a good Shooter McGavin reference.
RANDOM QUESTIONS TO PONDER
How did Bernhard Langer not win more before he turned 50?
How much golf will Donald Trump play as President?
What did that sign have to do with a college football game?