NEW RANKINGS
An inside look at the Best New and Best Renovated Courses of 2021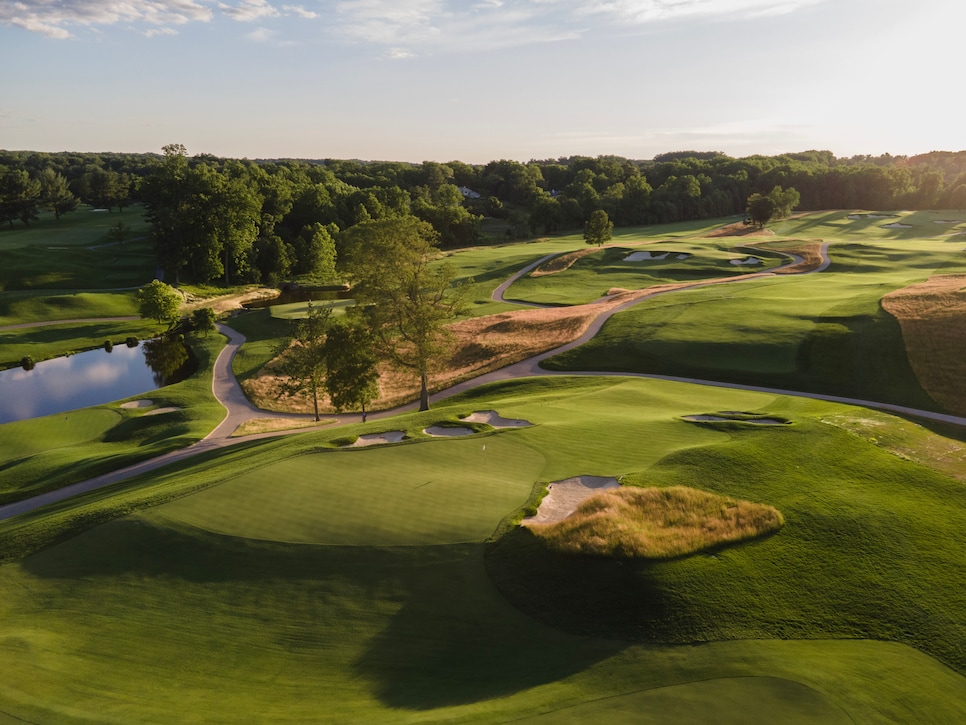 The end of the year is a time for reflection, an opportunity to look back and remember the paths that led us to this point, hopefully in celebration. It's also a time to count the votes.
From roughly March through the middle of September, select members of Golf Digest's course ranking panel traveled the U.S. and Canada to conduct evaluations of 58 new and newly renovated courses from 2020 and 2021. Sixteen of those fell into the New Course category, though only nine were built on undeveloped land, including this year's winner (the others were new designs constructed over existing golf properties).
Renovations and remodels, large and small, have been keeping designers busy since the rapid decline of original course development in 2009. This is where the vast majority of architectural work is being done, and to better honor it, Golf Digest has chosen to divide remodels into two broad but distinct categories. (For more on our new distinctions, click here.)
2021 will be remembered for the depth of the renovation category. Four America's 100 Greatest Courses stalwarts underwent prominent renovations—Baltusrol's Lower Course, Congressional's Blue Course (opening photo), Muirfield Village and Oakland Hills' South Course—while a number of other historic properties including Beverly Country Club in Chicago (Donald Ross), Bloomfield Hills near Detroit (H.S. Colt), Fox Chapel in Pittsburgh (Seth Raynor), Hillcrest Country Club in Los Angeles (William Watson) and Shady Oaks in Dallas (Robert Trent Jones) also saw improvements by contemporary designers.
With another year remaining on the magazine's two-year evaluation cycle (the 2021-2022 America's 100 Greatest ranking can be found here), it's still too soon to tell where the Best New winners will land, or whether these substantial renovations and remodels at existing clubs will significantly elevate their status. For reference, we've included their post-renovation scores from evaluations taken in 2021, though bear in mind these numbers don't include the Conditioning category since most new work needs extra time to heal.
WINNER: CAPROCK RANCH GOLF CLUB, VALENTINE, NEB.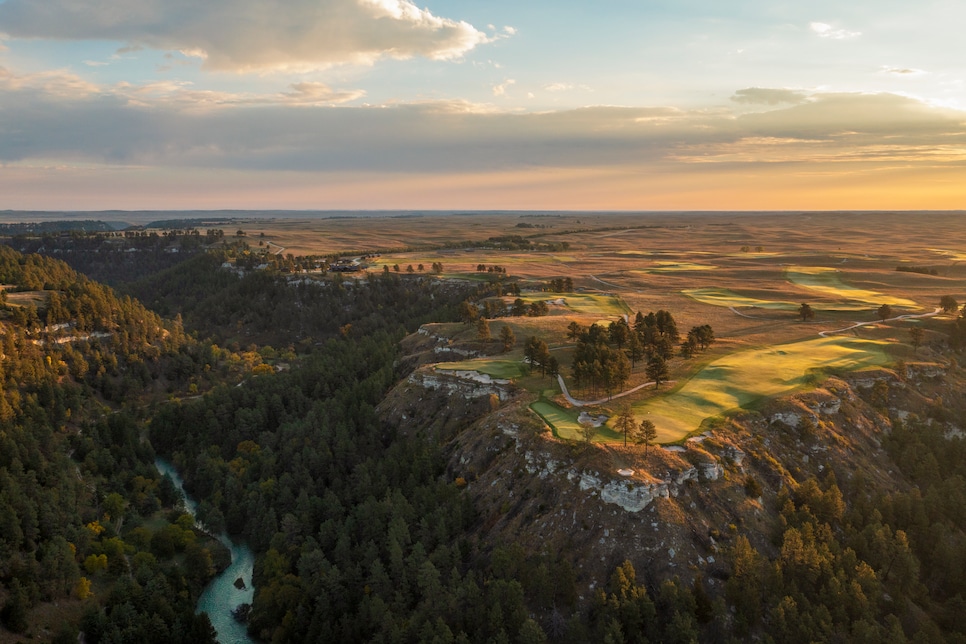 Gil Hanse and Jim Wagner; 6,998 yards, Par 71; Score: 53.9253
The original owner of this property in north-central Nebraska first contacted Gil Hanse to design the course in the early 2000s. It took nearly 20 years—and different ownership—to complete the task, but the wait was worth it. Opened Summer 2021, the members-only CapRock Ranch is the latest addition to the golf wonderland that is the vast Nebraska Sand Hills, where architects dream of going to do as little as possible. Half the course explores the gentle, grass-covered dunesland, and the other seven holes frolic along the rim of the Snake River Canyon, dropping 100 feet or more to the bottom. Scoring in both splash and sublimity, CapRock is uncommonly diverse and picturesque, a meeting of melodic minimalism and intense moments of orchestral wonderment.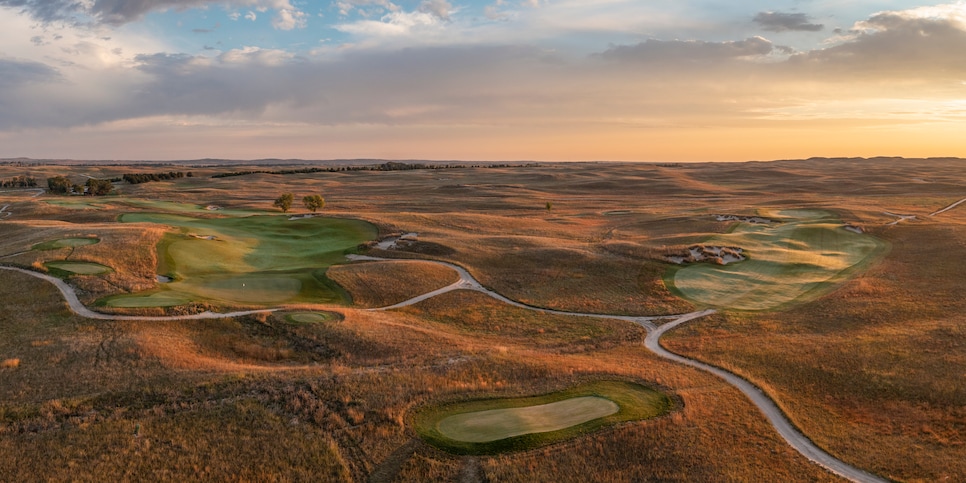 Panelist Comments: "The combination of the dramatic, picturesque holes along the rim of Snake River Canyon and the prairie holes is certainly one of the most unique course designs both in the sand hills and the United States…While the breathtaking holes on top of the Snake River Canyon will garner most headlines, the holes played through the chop hills hold their own…#9 is a hole like I have never seen before with such a dramatic change depending on where the tee box is for the day…Possibly one of the most intriguing and best routings I have ever witnessed…Many times you need to choose the correct side of the fairway to hit to in order to have a look at the green…There are multiple ways to play each shot on each hole whether it be with trajectory on an approach shot, angles to take off tee boxes, chip shots around the green - there are options."
We were the first to capture drone footage of CapRock Ranch—watch the below video:
SECOND PLACE and WINNER, BEST NEW PUBLIC: PAYNE'S VALLEY AT BIG CEDAR LODGE, HOLLISTER, MO.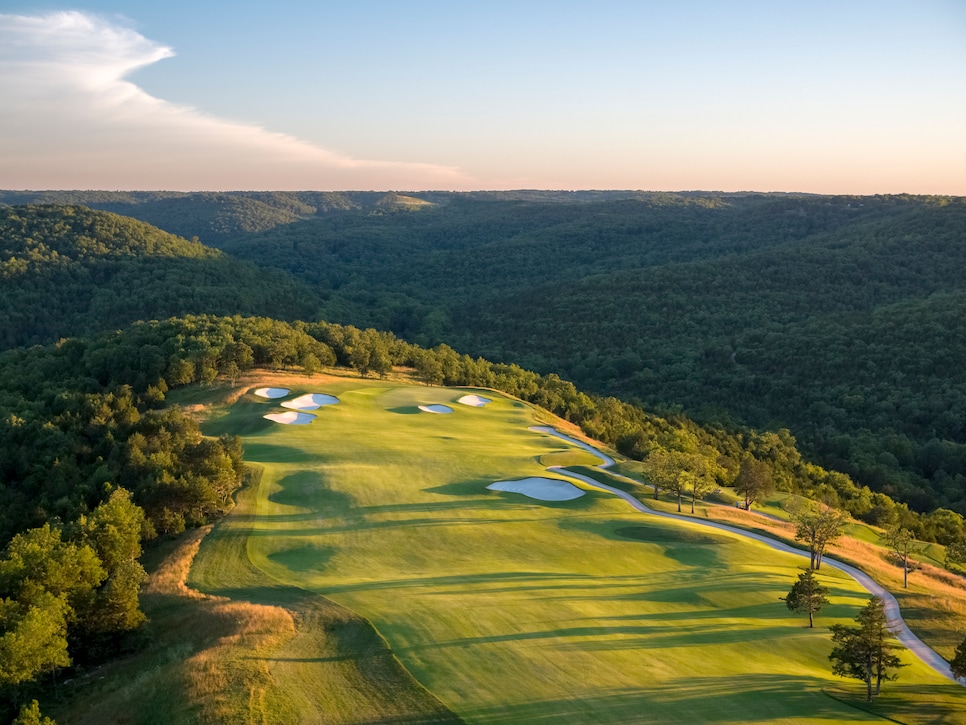 Tiger Woods and Beau Welling; 7,370 yards, Par 72; Score: 50.0248
Payne's Valley is the third regulation 18-hole course at this growing golf destination in southern Missouri, part of Johnny Morris' ongoing vision quest to showcase the outdoor splendor of his beloved Ozarks. It's also the first Tiger Woods-designed course open to the public and the latest to reveal his architectural inclinations. If Payne's Valley is an indication, and before that Bluejack National in Texas, Woods' future designs will lean heavily on playability, flexibility and soothing aesthetics. Though the property features dramatic elements including drop-offs into ravines, cross-valley views and limestone outcroppings, the golf features are generally subdued and inviting, offering plenty of width and ways to maneuver the ball around the ground. This is off-set by the 18th hole that dashes into a rising amphitheater of rock replete with an island-green 19th hole, all of it ensuring no one walks away impassive.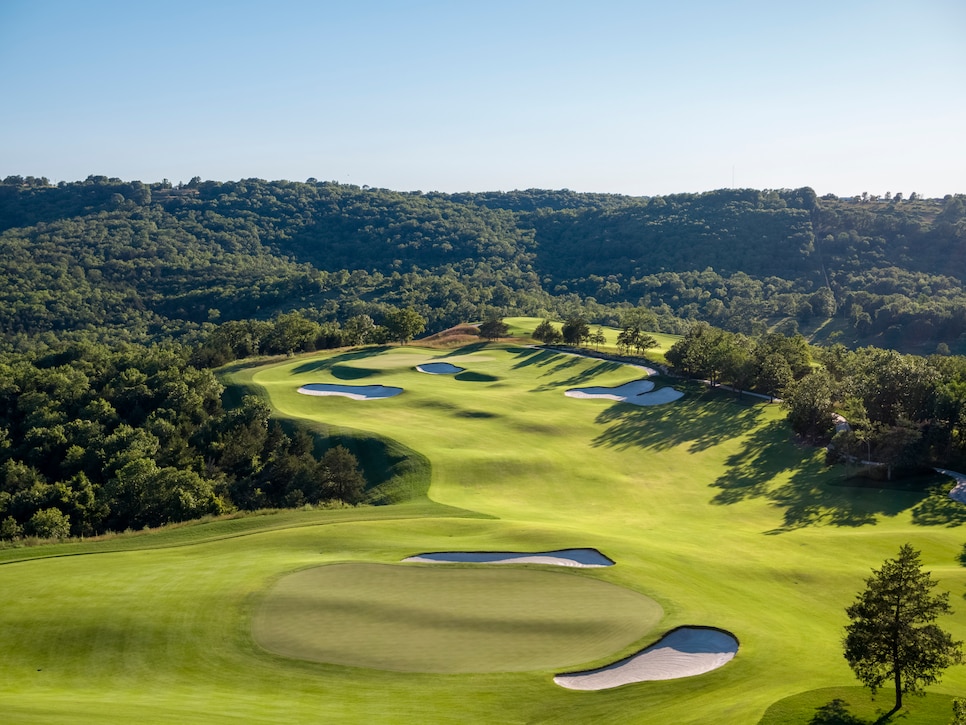 Panelist Comments: "Very impressive piece of land that was adroitly used by the Woods design team to carve out something that is VERY big…The design really pushes things to the edges of the available land to take advantage of the vastness of the property and the site…Huge--wide open fairways. This is a course about the approach shots…The grounds are in very good shape and there is a lot of elevation change, but the layout is fairly generic…I would have liked to see more risk-reward options, especially off the tee…The par 3s are beautiful and have some of the courses grandest water features, including lakes, streams and waterfalls along with significant elevation changes."
THIRD PLACE and SECOND PLACE, BEST PUBLIC: BIRDWOOD GOLF COURSE AT BOAR'S HEAD RESORT, CHARLOTTESVILLE, VA.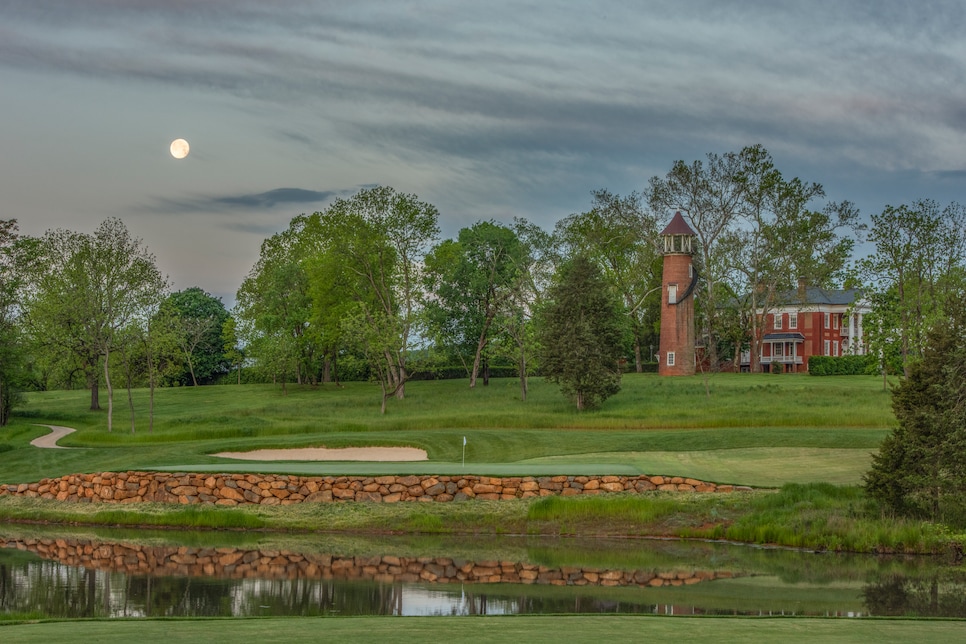 Stephen Ellis Photography/Courtesy of Boar's Head Resort
Love Golf Design; 7,116 yards, Par 71; Score: 48.9537
Birdwood is a unique course that typifies the multi-purpose direction that future golf developments would be wise to study. Located about 10 minutes from downtown Charlottesville, it's a convenient, upscale public course (green fees: $75-$125) that serves as an amenity to an adjacent resort, with a walkable routing across interesting and varied land. It's also the home course for the University of Virginia golf teams boating state-of-the-art practice facilities, including a new par-3 course called "The Nest." Originally opened in 1984, Davis Love III, along with brother Mark and lead designer Scot Sherman, re-routed and re-engineered the entire course, forging new holes out of previously unused forest. Rolling across the attractive northern Virginia countryside with long fescue grass buffers, the holes are infused with references to Pete Dye and classical-era template presentations.
Panelist Comments: "Wonderful redesign on great piece of ground—can be real tough for back tees (with) some long carries…It is the most impressive and complete renovation of a golf course that I have seen…The mix of holes is outstanding, with both very long and drivable par 4s, and par 5s that push 600 yards as well as par 5s that can be reached in two by most golfers…Several of the greens were very long and narrow even though there was room to make them wider, but the architect chose to try to squeeze roll-off chipping areas in as many places as possible, even if that meant creating a narrow green with few solid pin placements."
FOURTH PLACE and THIRD PLACE, BEST PUBLIC: AMERICAN DUNES GOLF CLUB, GRAND HAVEN, MICH.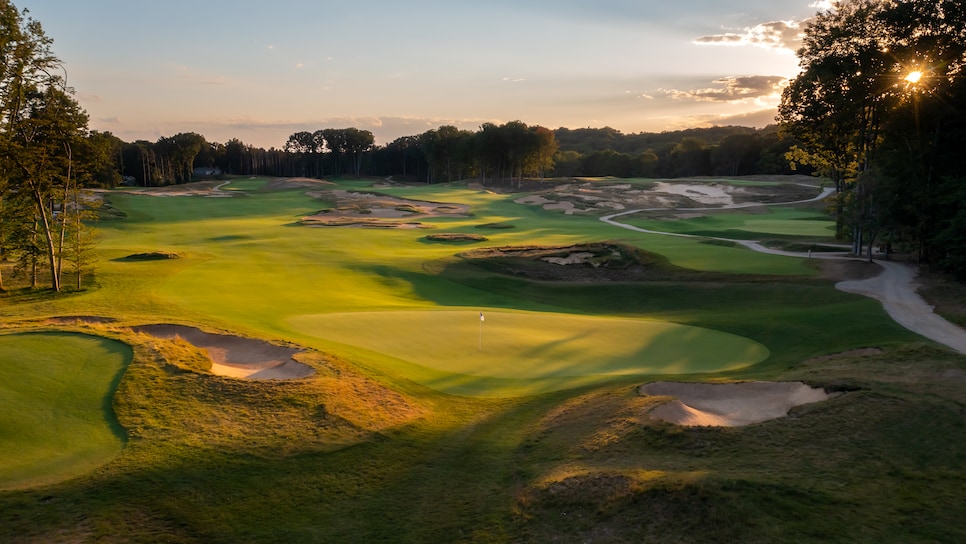 Jack Nicklaus/Nicklaus Design; 7,213 yards, Par 72; Score: 48.7629
Like Birdwood, American Dunes is a total reinvention of an existing course. In this case, Nicklaus took a wooded, decades-old course and nearly cleansed it of trees, opening up views across a lunar surface of heaving sandscapes that separate the holes. Extreme topographical variety has replaced a succession of narrow, repetitive golf holes with circular greens, and players now face enticing tee shots that must skirt sand barrens and putting surfaces shaped in all manner of size and pitch. Created by Lt. Col. Dan Rooney, whose family used to own the property, much of the course's proceeds are donated to Folds of Honor, a charitable foundation that supports injured veterans, their families, and awards scholarships to children of wounded or killed military men and women.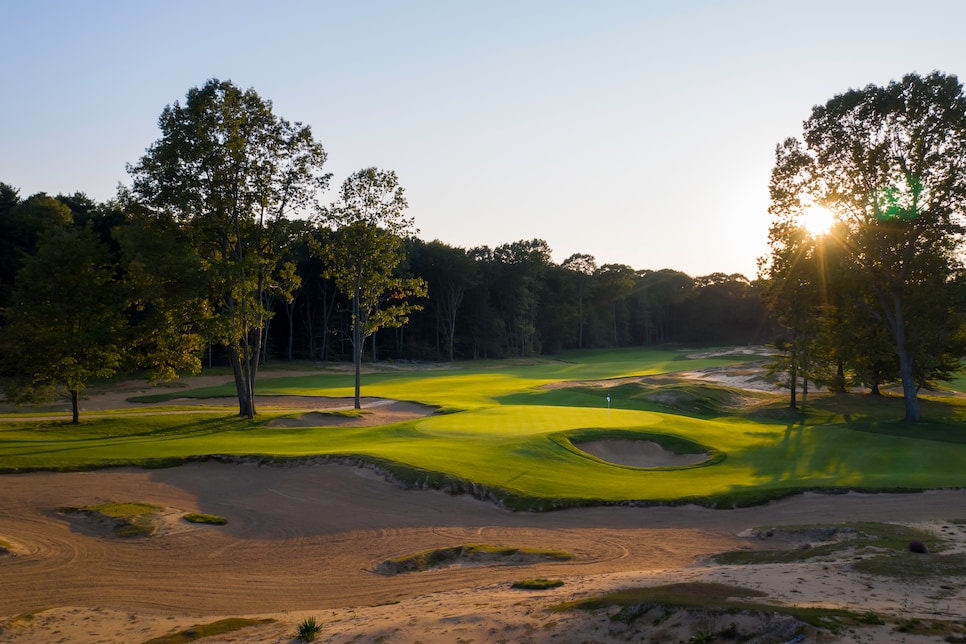 Panelist Comments: "From the first hole there are homages to the United States Military, from the walkway tribute to fallen soldiers, the unique clubhouse with massive fighter jet models and artwork donning the walls…This place is humbling—the respect shown to veterans and those who gave their lives for their country is beyond comparison…Distinctiveness and layout variety stand out as no two holes are similar and the variety of green complex design and routing of the course are exceptional…The par 3s as a collective were excellent, but because of the pin positions the day I played it – I hit a 6-iron on each hole and my playing partner his 7 iron on each…The dunes replacing the trees as a hazard provides an excellent visual off the tee and throughout the round. However, the dunes as currently landscaped create a great deal of plugged lies off tee shots and approach shots. I was advised to play all dunes and dune grass as lift, clean and place, which is the right decision given the current condition of the dunes."
FIFTH PLACE and SECOND PLACE, BEST PRIVATE: THE CLUB AT HOLLIDAY FARMS, ZIONSVILLE, IND.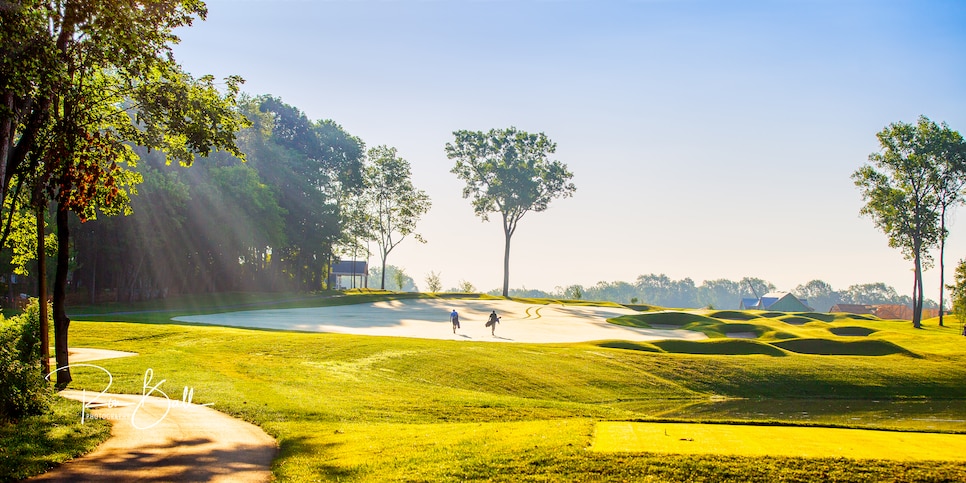 Zionsville, Ind.; Pete Dye; 7,321 yards, Par 72; Score: 47.8725
This private golf and residential development outside of Indianapolis is one of the last courses Dye worked on—he passed in early 2020. The most scenic areas on the course pass through woodlands and along creeks, and others open into meadows with hole reminiscent of The Golf Club and Crooked Stick. Tim Liddy and P.B. Dye, who both have long histories with Dye (P.B. is his son) and were best positioned to carry out Dye's ideas, helped finish building the course.
SIXTH PLACE and FOURTH PLACE, BEST PUBLIC: THE CLUB AT LAC LA BELLE, OCONOMOWOC, WISC.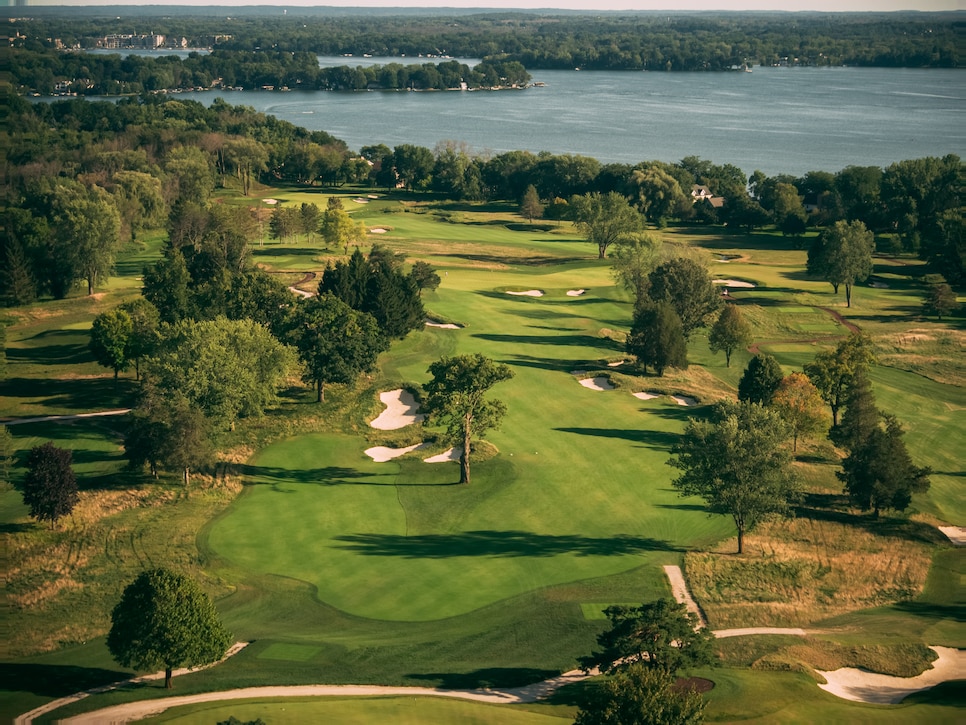 Craig Haltom; 6,906 yards, Par 71; Score: 47.4991
Golf was first played on the site of this course in 1896 and attracted the biggest names of the day. Its fortunes declined over the next 100 years, however, partially due to poor drainage. Several years ago, the Morse family purchased the course, and the revival has been inspired. Wisconsin-based architect Craig Haltom was given land for four new holes and reengineered the others using strong bunkering to create engaging strategies and some of the most whimsical, multilevel greens anywhere, several over 10,000 square feet in size.
WINNER: MUIRFIELD VILLAGE GOLF CLUB, DUBLIN, OHIO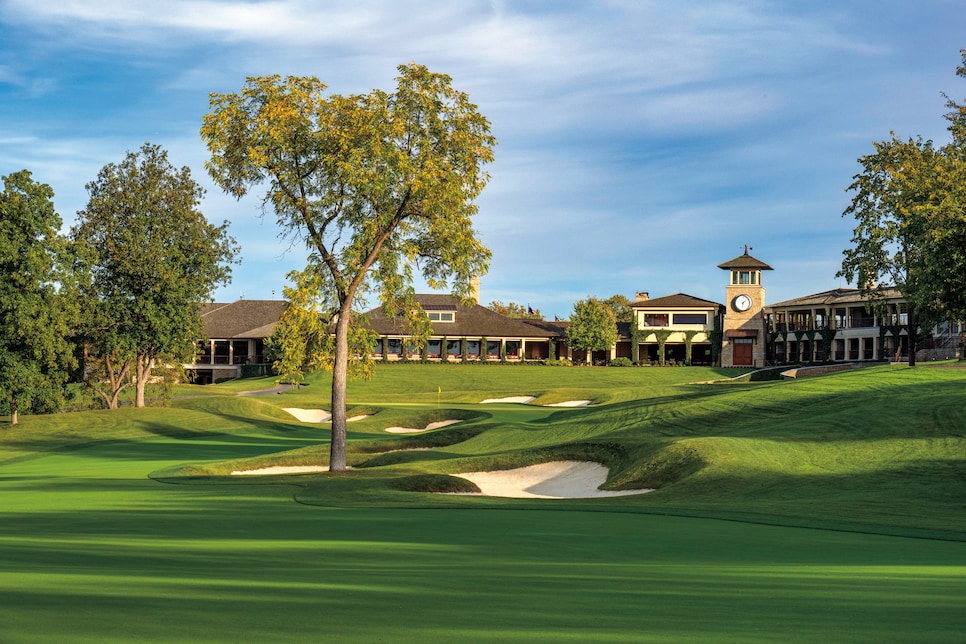 Courtesy of Jim Mandeville
Jack Nicklaus/Nicklaus Design; 7,609 yards, Par 72; Score: 56.8743
Renovations at Muirfield Village are nothing novel—through the years Nicklaus has regularly tweaked the course, which he designed in the early 1970s with Desmond Muirhead, using it as a type of laboratory to test his design ideas against the advancements of an evolving professional game. The renovation that took place in the late summer and fall of 2020, however, was the club's most comprehensive in decades. Aiming for a more friendly course for members and better calibrated to do battle with the pros, tees were lengthened and repositioned, landing areas were adjusted and several green sites were moved. Almost every green was resurfaced, and most feature new contours. Green surrounds—chipping areas, bunkers—have also been added. Despite all this, Muirfield Village remains very much Muirfield Village, and the changes are far less perceptible than at other courses in the category. In this case our panelists' scores reflect not so much an appraisal of changes or improvements but rather an ongoing respect for the overall quality of the course, which has placed outside the top 20 in our America's 100 Greatest Courses ranking just once since 1977.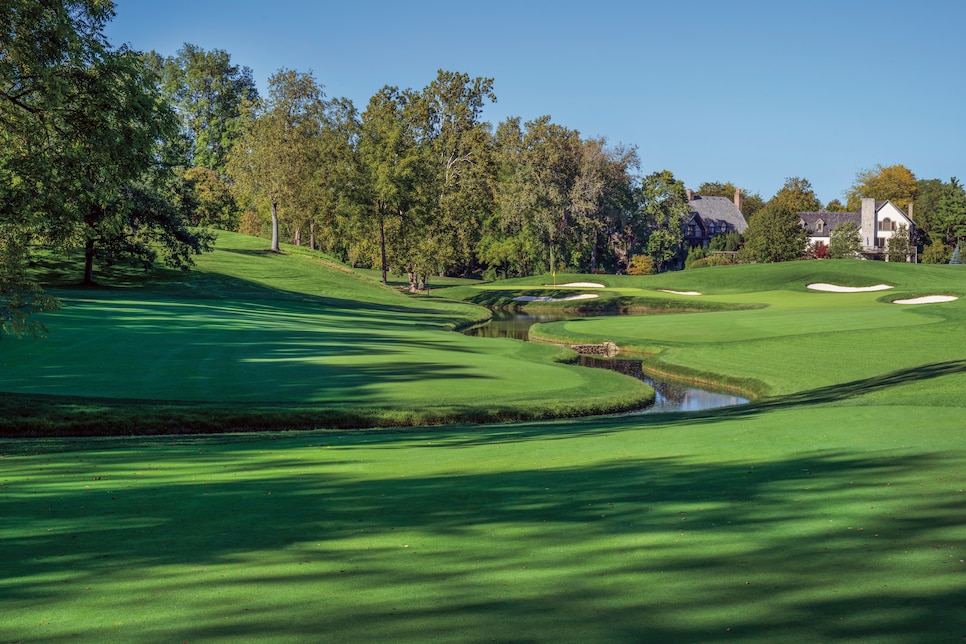 Courtesy of Jim Mandeville
Panelist Comments: "The sightlines are much improved and new angles create enhanced challenges as compared to the prior version…Muirfield seems, even more so now, purpose built for PGA Tour competition. Even for the scratch golfer, it is an exceedingly challenging second-shot golf course…It requires you to put yourself in the proper spots off the tee in order to attack most pin locations. If you do miss on your approach, you had better miss on the proper side or you will be faced with a near impossible up and down…Save for three holes (1, 5 and 15), the recent renovation is not obvious to the untrained eye. In several cases, the changes made seem to benefit the club player - aligning tees better with ideal lines down the fairway, softening internal sloping in the greens, rerouting an otherwise difficult par 5 (15) to lessen the intimidation factor off the tee…Great distinctiveness, especially on the par 3s. Fantastic green complexes, including the smaller size of some."
SECOND PLACE: OAKLAND HILLS COUNTRY CLUB (SOUTH COURSE), BLOOMFIELD HILLS, MICH.
L.C. Lambrecht/Oakland Hills
Gil Hanse and Jim Wagner; 7,509 yards, Par 72; Score: 56.1180
There's a new definition in the dictionary when you look up "Restoration": Oakland Hills South Course. The famed South Course has undergone an extraordinary change over the past two years, with Donald Ross' original conception of the property recovered for the first time since 1950. That's the year Robert Trent Jones made major bunkering and fairway alterations to the course in preparation for the 1951 U.S. Open, sending the club on a 70-year path of tree-planting, narrowing, bunker re-configuration and green shrinkage, most recently under the direction of Rees Jones. Ross understood the size and undulation of Oakland Hills was profound and built enormous bunkers and massive, rolling greens to showcase it. Hanse hit on that theme, basing his restoration on images of every hole from a recently discovered pamphlet from 1929 that provided ground-level details of most greens and bunkers. Smaller putting surfaces that had been encroached by sand traps and mounds have been widened, trees were taken down to reestablish views across the course and Ross' large fairway bunkers now create strategic left-right shot shapes. The course is almost completely unrecognizable, in the best of ways. Perhaps the Oakland Hills entry in the dictionary needs a new definition. Suggestion? Majestic.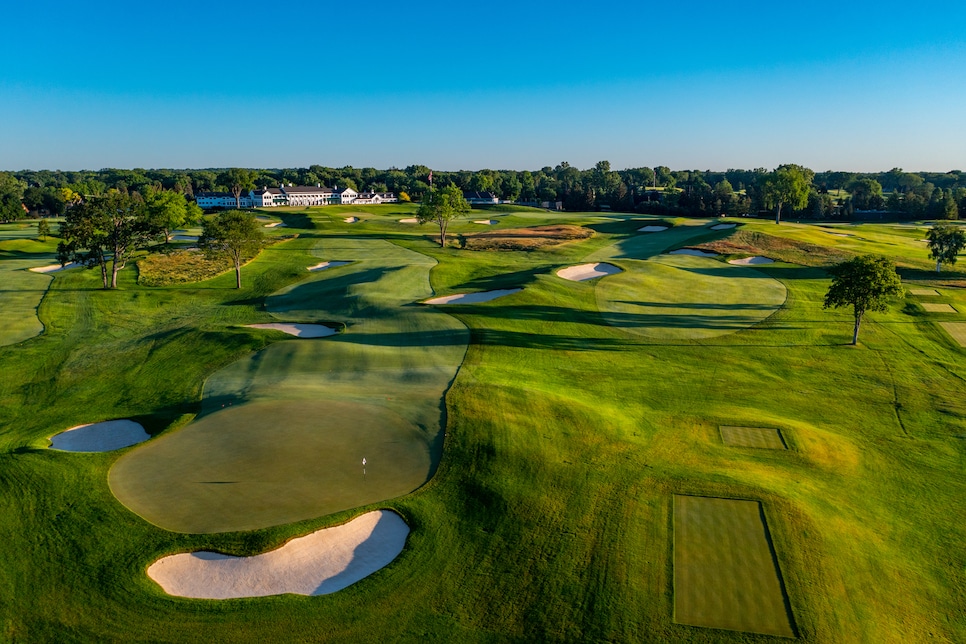 L.C. Lambrecht/Oakland Hills
Panelist Comments: "Next to Oakmont this is the most demanding course that I have ever played. This really is tough and yet reasonably playable with no forced carries, although lesser players will struggle with the numerous false fronts…The greens may be the best I have ever played, in terms of conditioning, movement and variety…The challenge is still primarily in the green complexes, which have undulations unlike anything I have seen on a Donald Ross design…Hanse did a tremendous job of opening up sight lines and bringing out the natural slopes of the fairways. Great course made better…This is the best renovation/restoration I have played in many years. It is brilliant…Designer Gil Hanse has gone on record saying that he favors building playable courses for everyone and that tee selection is paramount. However, the shortest tees he offers here are STILL way too long for the average player, or especially, the average woman."
THIRD PLACE: BALTUSROL GOLF CLUB (LOWER COURSE), SPRINGFIELD, N.J.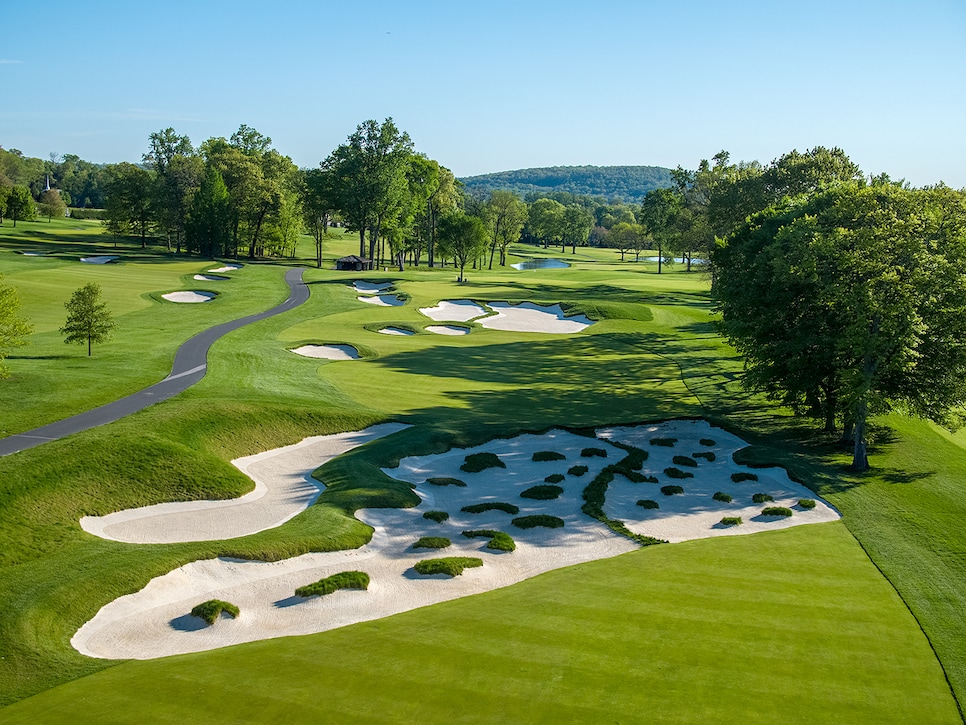 Gil Hanse and Jim Wagner; 7,550 yards, Par 72; Score: 54.6756
If it's not clear by now, here's the latest: Gil Hanse and Jim Wagner are the most in-demand designers in the country for club renovations and restorations, and they're closing in on Bill Coore and Ben Crenshaw, and Tom Doak, for original work as well. Hanse and Wagner have restored classics like Los Angeles Country Club's North Course, Merion, Winged Foot, Fishers Island and The Country Club, and they'll soon begin working on Oakmont to prepare it for the 2025 U.S. Open—and those are just the clubs in the top 20 on America's 100 Greatest ranking. CapRock Ranch in Nebraska won this year's Best New Course award, and Muirfield Village narrowly prevented Hanse and Wagner from claiming the Renovation category as well. The restoration at Baltusrol's Lower Course isn't as dramatic as Oakland Hills, but it's nonetheless significant and much needed. The intricate details of A.W. Tillinghast's greens have been recreated, lost bunkers have been reinstated, trees were thinned, fairway lines adjusted and tournament tees added. The biggest impact may be the work done around the edges of the greens, where shoulders and mounds have been lowered to better showcase the sterling putting surfaces. The changes could mean a sizable ranking jump for the Lower, and Hanse and Wagner will soon begin a similar effort at the club's Upper Course, which has even more to gain.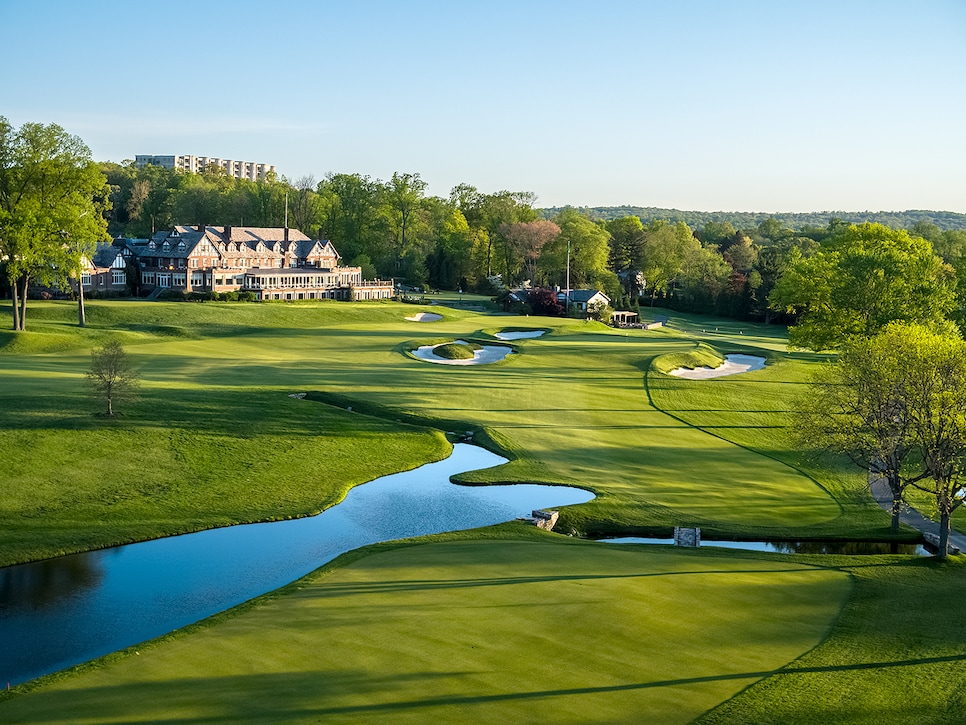 Panelist Comments: "The course was always exceptional but now it is more fun with creativity essential on and around the greens…The tree clearing really opens up the vistas of the property and showcases the subtle land movement. You didn't realize the rolling topography of the first few holes and finisher previously when the trees cramped the property…I thought one very interesting thing to see was the mix of fairways that led up to greens vs. the elevated greens. Unlike some courses that have the same theme throughout, there was a solid mix here…I especially enjoyed the final few holes including the par-3 16th that has a well-protected green that floats like a cloud between numerous bunkers surrounding the green…After 7 inches of rain three days before, I was concerned the course might be wet. But balls were bouncing and greens were holding and running fast."
FOURTH PLACE: FOX CHAPEL GOLF CLUB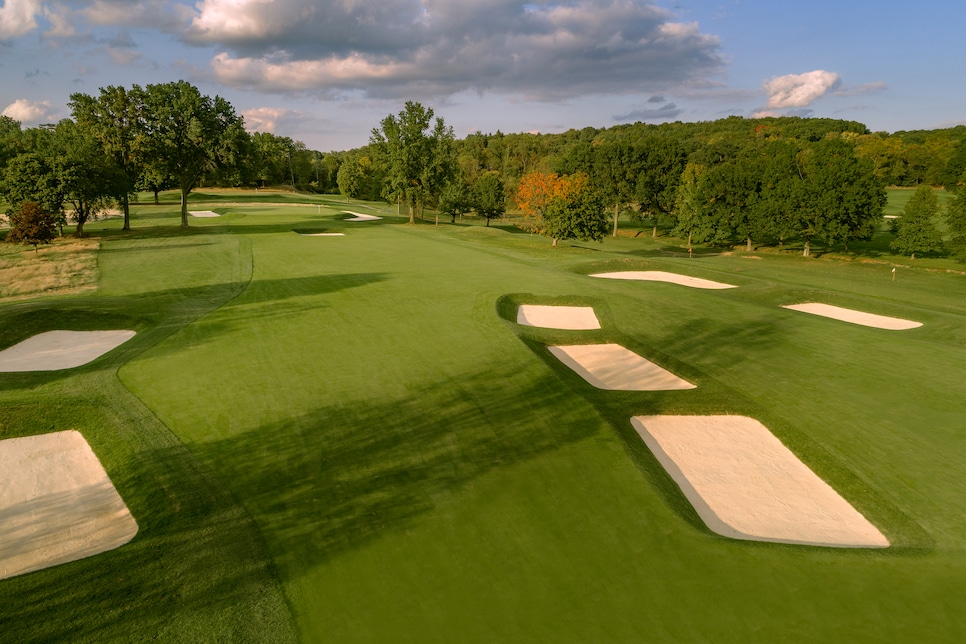 Pittsburgh; Tom Marzolf; 6,705 yards, Par 70; Score: 52.6489
Though not known for pure historical restoration, Tom Marzolf, longtime senior designer for Tom Fazio, oversaw the highly regarded 2020 renovation of this 1925 Seth Raynor design that brings back the original architect's strategies and angularity. The most profound features include the Punchbowl green at the par-5 second, the massive green and Lion's Mouth bunker at nine, the Bottle Hole 16th and the massive Biarritz 17th green.
FIFTH PLACE: OLD MEMORIAL GOLF CLUB, TAMPA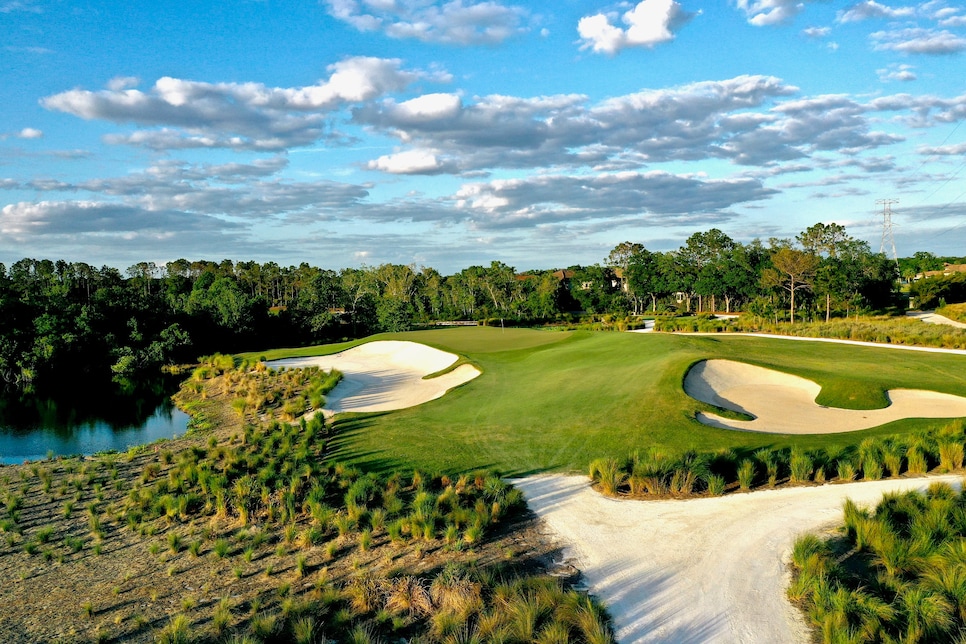 Steve Smyers; 7,674 yards, Par 72; Score: 51.8677
In 2020, Smyers did his best impression of Pete Dye and returned to one of his original design for a comprehensive overhaul. Smyers' ideas about strategic golf have evolved since he built Old Memorial in 1997, and to better respond to how great players attack courses he reconceptualized all greenside bunkering and surrounds, built new tees and a number of new putting surfaces, elevated a number of fairways and generally made the course more relevant to advancements of the modern game.
WINNER: CONGRESSIONAL COUNTRY CLUB (BLUE COURSE), BETHESDA, MD.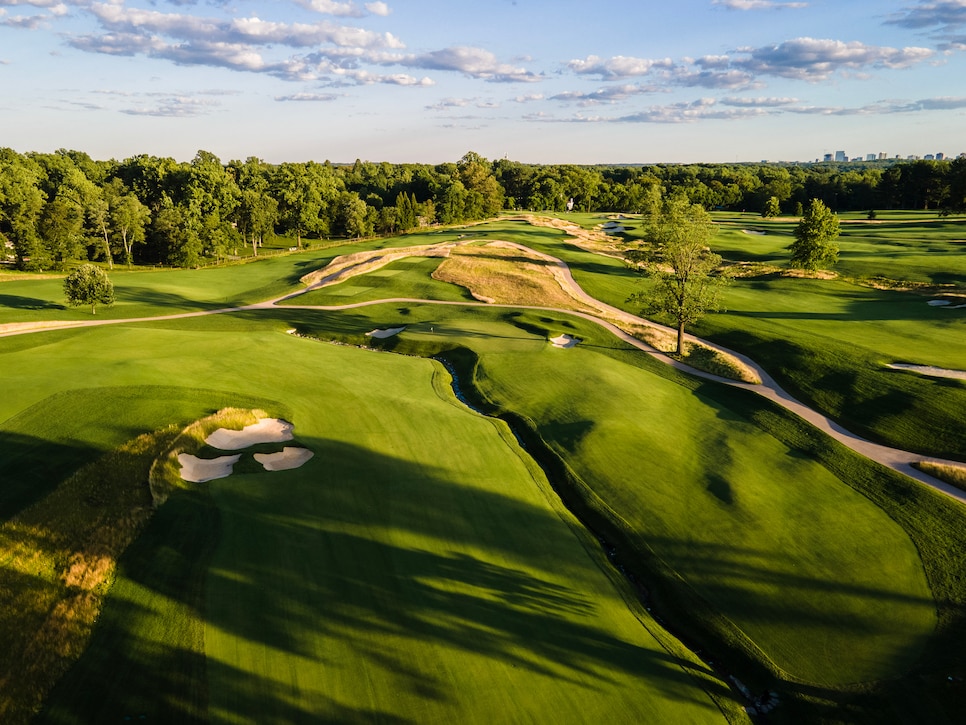 Andrew Green; 7,215 yards, Par 72; Score: 54.0585
It's almost unheard of that a club with a major-championship pedigree like Congressional would elect to tear up its golf course and rebuild it from scratch. That's essentially what Congressional did, making the bet that designer Andrew Green could fashion a modernized version of the Blue Course that would be more dynamic for member play and more architecturally relevant (since 2009, the Blue has slipped from 66th on America's 100 Greatest Courses ranking to 91st). Green kept the routing (though the 10th hole was altered) but everything else is different: new strategies, bunker arrangements, widths and textures. Holes that used to play through chutes of trees are now in open meadows, and Green worked hard to build topography back into the land that had been neutered over the course of previous renovations. The putting surfaces, formerly fronted with patterned bunkering and engineered not to offend, are a smorgasbord of levels, slope and contour. It's a lot to sort out, but the golf is unquestionably more diverse, complex and exciting. Congressional wanted to change the narrative of what the Blue Course was, and the club—and Green—certainly succeeded.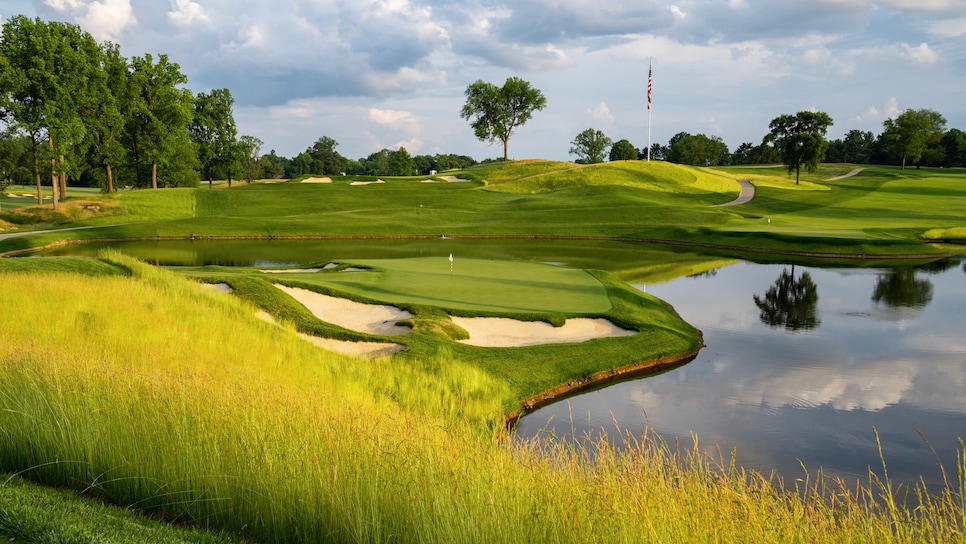 Panelist Comments: "They have removed virtually all of the trees and the course looks like it was built on farmland, and my first reaction to seeing it was its striking resemblance to Erin Hills…It will take awhile to get used to the dramatic change but seemingly overnight Congressional became a modern-day golf course…It had become a long boring golf course, difficult because of heavy rough but usually soft and playable only through the air. Green brought the ground game back into play and made the course fun…The only disappointing aspect of the new course is that it gets a lower rating in the Challenge category. By removing the trees and widening the fairways, Congressional just got a little easier."
SECOND PLACE: HILLCREST COUNTRY CLUB, LOS ANGELES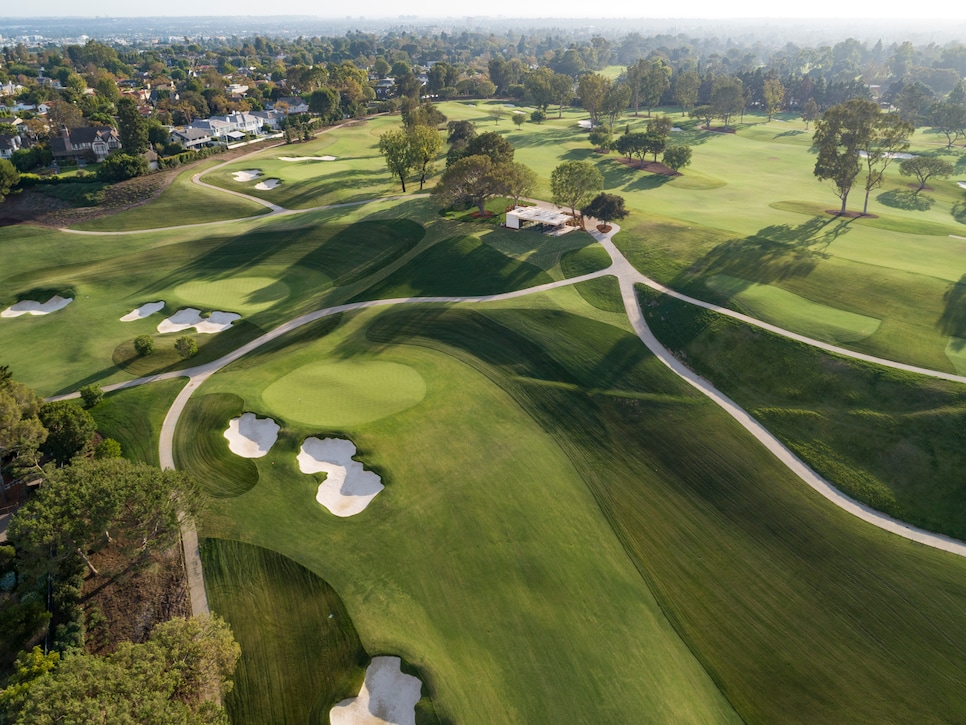 John Konkal/Courtesy of the club
Kyle Phillips; 6,950 yards, Par 71; Score: 49.6338
Designed by William Watson in 1920, Hillcrest is one of Los Angeles's most historic clubs. The setting bears similarities to Los Angeles Country Club less than a mile to the north, pinched into a slight 140 acres next to Century City with high and low sections and crystalized views of surrounding L.A. and the Hollywood Hills. The club engaged Kyle Phillips in 2019 to execute a major remodeling of the course and practice area, resulting in a fully transformed design with six brand-new holes (the other 12 have been rerouted), a new bunkering scheme, new greens and putting surfaces, state-of-the-art infrastructure and a new practice facility with a five-hole short course. The internal views throughout the course have been freed due to selective tree removal (though there's no net tree loss thanks to additional plantings along the property's perimeter) and the new 12th hole is an immediate new star in town, a 260-yard par-3 with a Biarritz green large enough to hold the dreams and ambitions of every young actor who's ever just stepped off the bus.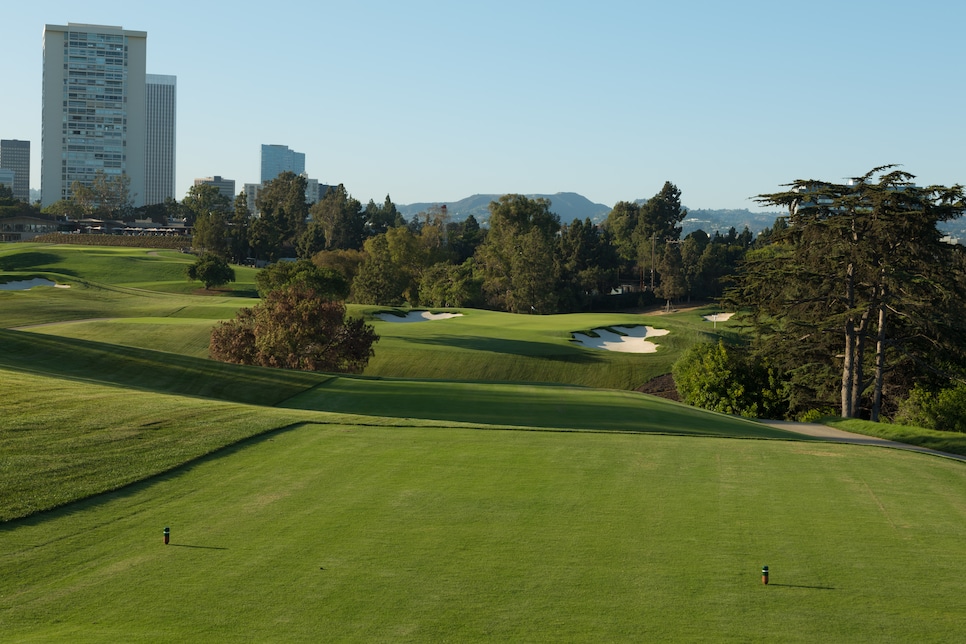 John Konkal/Courtesy of the club
Panelist Comments: "The old course was short with little character and literally no views; the new course has very distinctive holes, amazing views of the Los Angeles surroundings (from Century City to Downtown LA, Hollywood sign and Griffith Park Observatory) all done with non-strategic tree removal…There is a bit of everything, ranging from par 3s where I hit 9-iron to half-driver, short par 4s that attack a challenging uphill corner of the property to long 4.5 holes such as #16…A gem hidden in Los Angeles. It's one of the courses that you don't see from the road, but once you enter the gate a whole new world opens up…Two great short par 4s and a modified Biarritz hole are a blast. The bunkering and green complexes, along with the design variety make the course. Would be a great place to be a member…Its wide fairways and big greens were highly approachable and provided different choices for which shot to hit, but there were limited strategic benefits to be found."
THIRD PLACE: WESTFIELD COUNTRY CLUB (NORTH COURSE), WESTFIELD CENTER, OHIO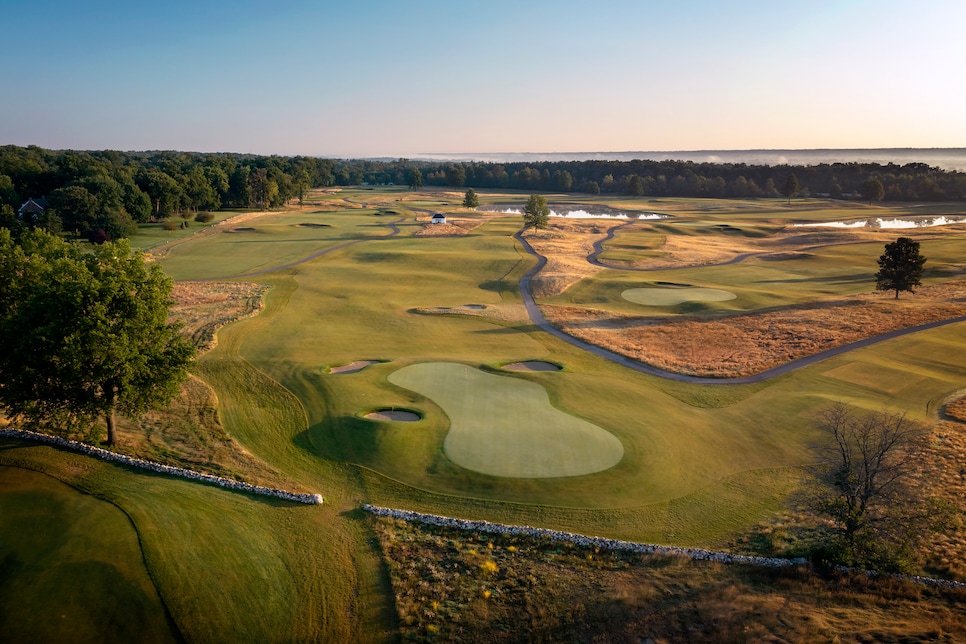 Gary W. Kellner/Courtesy of the club
Dr. Michael Hurdzan and Chris Hurdzan; 6,733 yards, Par 70; Score: 45.4553
Westfield Country Club recently conducted back-to-back renovations on its South Course followed by the North Course. Both were substantial transformations that included new holes and alternative routings, but while the South retained a more traditional parkland presentation, the North was radically changed from a cousin to the South into a prairie-style course infused with pot bunkers, fescue roughs and other Scottish-themed elements, though the playing surfaces are bluegrass. While less epic in scale and ambition, the new North Course recalls elements of the work Mike Hurdzan did at The Paintbrush (formerly Devil's Paintbrush) in Ontario in the early 1990s with former partner Dana Fry. This time around he had a different partner—his son Chris.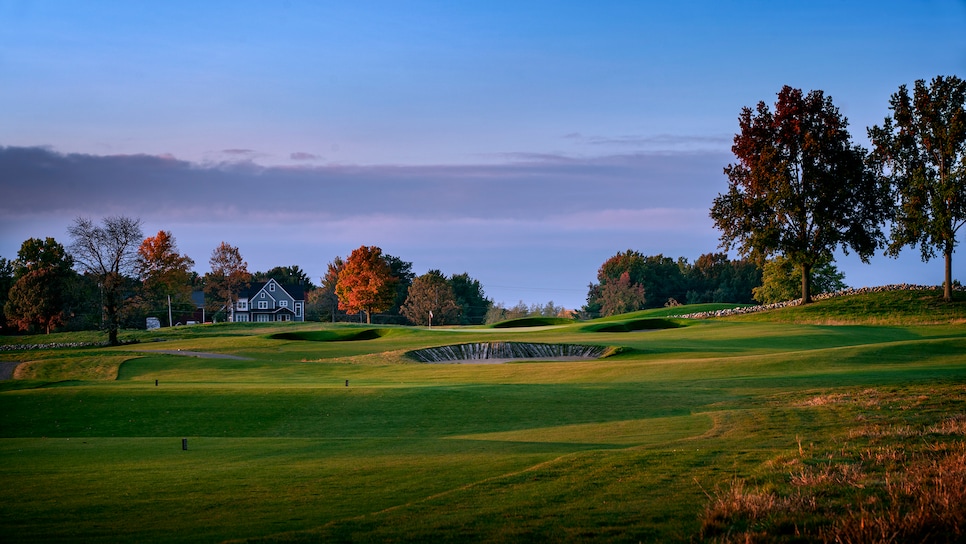 Panelist Comments: "It exuded fun: executing run-up shots and avoiding those steep-faced bunkers…Aesthetics should improve as decorative grasses grow in. Wonderful set of forward tees heightens "fun"…The course had a fairly confusing routing, but did sport some fun holes…Easy to keep the ball on the ground and bump it up. A nice set of par 3 holes, and love the risk reward short par 4 holes…The greens are the stars of the show, with a combination of major breaks and minor twists and turns."
FOURTH PLACE: CITY PARK GOLF COURSE, DENVER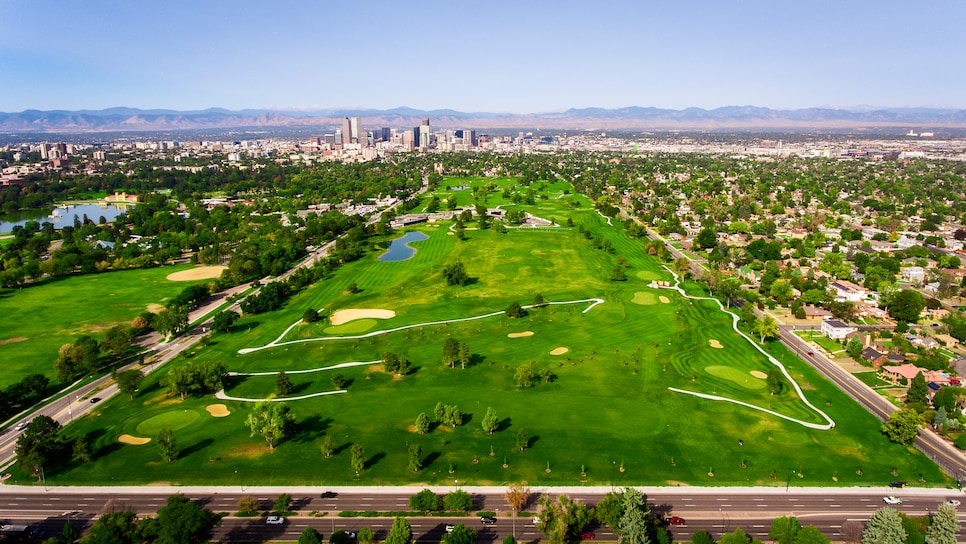 Todd Schoeder; 6,703 yards, Par 70; Score: 44.2072
Located in one of the city's oldest neighborhoods across the street from the Denver Zoo, this course has been a pilar of public golf since it opened in 1920. But the land had a greater service to offer than just golf—over the last several years the property has been reengineered to collect stormwater, holding it in a retention basin to prevent it from flooding area homes. In the process, designer Schoeder orchestrated an entirely new course, and somehow managed to also squeeze in an expanded practice area, a 4-hole short course and a new clubhouse site into the confined acreage.