The Loop
Americans keep lead on long day Down Under
MELBOURNE -- It's a sure sign of at least impending success in any international team competition. When a non-playing captain has enough confidence in his men that he can largely leave well alone on the partnership front, it signals to the world -- and not coincidentally the opposition -- that there is contentment and serenity within the camp. So when the United States emerged for the six four-balls on day two of the ninth Presidents Cup with four teams intact from the previous day's foursomes, the message was sent to Greg Norman's band of Internationals: we're happy with what we've got and we think we can beat you.
Actually, at least as far as the opening series of four-balls was (eventually) concerned, they didn't. But, then again, they didn't lose either. At the end of what was a fascinating -- but grotesquely slow -- day at Royal Melbourne, the 12-strong US team will carry into Saturday's potentially pivotal mix of foursomes and four-balls the same two-point edge they created on day one. Significantly, 11 Americans have now recorded at least half a point; the odd man out is Tiger Woods, who lost on the last green in tandem with Dustin Johnson. So far at least, the former world number one is a pointless pick.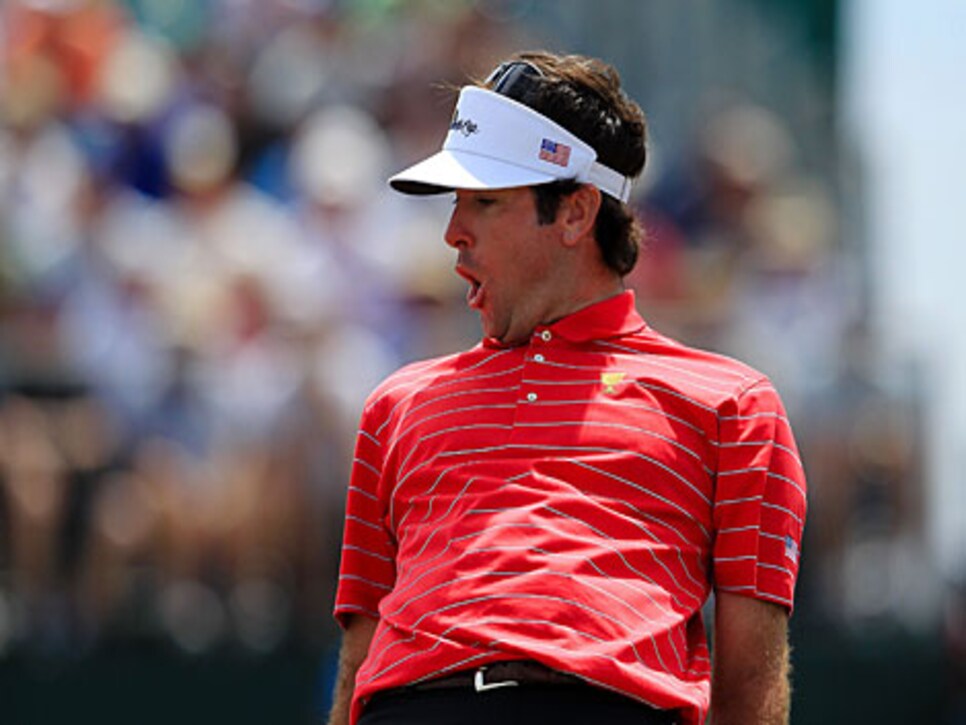 Photo by David Cannon/Getty Images
Still, for the rest of the visiting squad, it was more a day for consolidation than celebration. After picking up two late halves on day one to create that early lead, not allowing the opposition back into the game was surely the most important aspect of a hot, blustery day at Royal Melbourne. Conditions, in fact, were those in which many pundits -- this one included -- felt the Americans would struggle. Lightning fast greens combined with the strong breeze to create an environment in which defense was often the best form of attack. Certainly, putts were typically trickling rather than rolling.
"This was a case where we are trying to read the wind on the putts, and apparently we did a good job because Jimmy made a bunch of good, solid four or fiveâ¿¿footers today," said Phil Mickelson after he and Furyk had seen off Adam Scott and K.T. Kim by 4&3. "It was really fun playing with him."
As usual when it comes to the dark art of putting, Mickelson successfully identified the biggest key to success in conditions designed to test the nerves of even the strongest players. Because the surfaces are so hard and fast, putting dead from even mid-range is unlikely at best. The 'roll-out' on everything except the perfectly weighted chip or putt invariably carries the ball away to two, three or four feet. Horrible distances on concrete surfaces and even worse with that hot wind whipping across the course. An ability to hole-out stoutly was vital.
"Very few holes were won with birdies," confirmed US skipper Fred Couples. "On almost every hole someone was having to hole a three, four or five footer for par. That's tough."
Bubba Watson, as ever, put it his own way.
"A key on a golf course like today is pars," said the big left-hander after he and Webb Simpson had beaten Ernie Els and Ryo Ishikawa 2&1. "You have to make pars. The pins were in tough spots. Just make pars. You're going to throw in a birdie here and there but just try to make pars and that's what we tried to do."
Having figured out the most important aspect of this very long day, the U.S. side -- one containing as many as six Presidents Cup rookies -- actually looked just as comfortable as their international counterparts, with the notable exceptions of Aaron Baddeley and Geoff Ogilvy. This was nothing new to the native Melburnians, both of whom, not coincidentally, holed out from short range to win matches for the "home" side.
"I hope everybody had fun watching guys really think about a golf course and miss it under the hole and hit some smart putts and smart shots," said Ogilvy, who teamed with K.J. Choi to defeat Bill Haas and Nick Watney.
"Fun" wasn't a popular adjective though.
"You've got 100-yards in and it's difficult just to hit the green," gasped Steve Stricker, who combined with Matt Kuchar to beat Y.E. Yang and Robert Allenby, the only Aussie yet to score at least a point. "So you have to play hard every shot and play it out."
And continue to make all your four-footers of course.