The Loop
In the February issue of Golf Digest you may have noticed there was no Ambush article. There's also a good chance you didn't notice its absence, in which case, our friendship is in question.
If you were wondering about the Ambush, we held it because we had run the short story celebrating a buddies trip for 10 months in a row, and for space considerations, it was the Ambush's turn to hold. We do that from time-to-time with almost every section of the magazine. It was nice to get several letters of concern.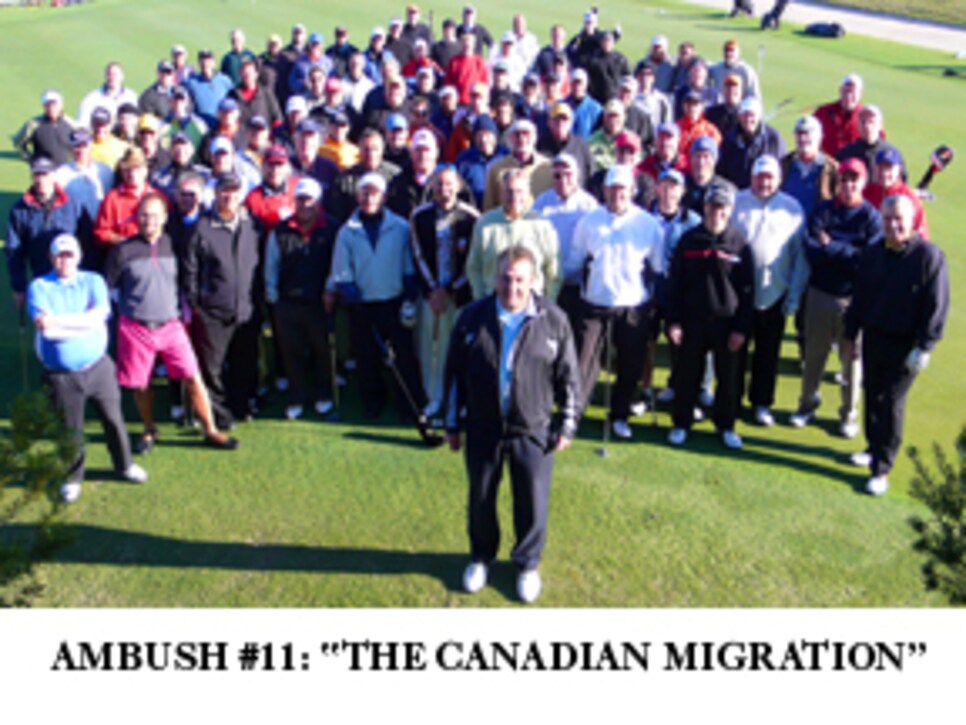 The Ambush will be back in March with "Canadian Migration," a story about Russ DaSilva and 95 of his friends making a 22-hour drive from Ontario to Panama City Beach, Fl. for the 16th straight year. It involves endless hospitality, one tough Hombre, a mean game of hold 'em, a big meal at Hooters and an unbelievable bang for their Canadian buck.
In this blog I thought I'd share some thoughts about what I'm looking for each month. I also wanted to remind you that if you were one of roughly 3,000 itineraries submitted last year, and your group didn't get picked, don't hesitate to enter again. We're planning another season of surprises.
I always get asked, "Do you pick the winner?" Yes. I pick the winner. I consult with an editor or two, but ultimately the Ambush is my project and my responsibility each month.
I also get asked, "What are you looking for?" At the start of every month I gather the batch of trips taking place in the next four weeks and I read each one. I'm looking for, among other things, a unique destination. Not necessarily a remote location, I mean a place I haven't covered in the travel section so far. For example, I've Ambushed groups in Alabama, Atlanta, Pinehurst, Orlando, Scottsdale and St. George, Utah. I've been to Sea Island, Destin, South Carolina and Garland, Mich. That's not to say I can't go back to any of those places, I just won't go back in consecutive months and probably would only try to hit those spots once in a calendar year. (I also believe there are exceptions to every rule.)
I'm looking for unique traditions. I like to meet up with annual getaways inspired by a desire to stay in touch with college friends or a group escaping the winter weather in the north. I like trips that honor a fallen family member, major milestones (50th birthdays), or a wife looking to send a husband on a dream trip because she's one of the "good ones" and she wants to make her husband unconditionally happy. I like odd trophies such as old and broken down $5 green jackets or very expensive Claret Jug replicas ordered from a small store in St. Andrews. I also believe a reader might be looking to this page of the magazine for tips, hints and ideas about how they can save money when they coordinate their next buddies trip. That's why frugal, efficient and organized also factor into the selection process. Any and all odd anecdotes are welcome and tend to catch my eye.
Here are a few clips from entries I'm looking at for the April issue of the magazine:
From Rob Sciabica of Henderson, Nevada:__ We had a foursome that played together as part of a local Cadillac charity event in Las Vegas. My team won the scramble, which was great (it also happened to be my 40th birthday), but we were told that as the winning team, we were entered into the Cadillac Invitational at the TPC Sawgrass. We weren't aware that this was part of the local tournament and we were skeptical that we would actually get to play TPC Sawgrass. None of my team (Tom Osborne, Darren Coughlin and Joel Larson) has ever played Sawgrass or the sister course at Dye Valley, so it would be great to make an Ambush at this event and help the charities out at the same time. If you want to Ambush us at the 17th at TPC Sawgrass, you could add a little extra pressure over one of the most intimidating shots in golf.
From Rob Rusznak of Calgary: Hello, I'm a CPGA Head Golf Professional at a private golf course (Carnmoney Golf Club) in Calgary and for the past eight years we've taken a group of our members on a "Mystery Tour." We plan the entire trip and the guys find out where we're going when we meet at the airport. We've been to: Alabama, Florida, California, Arizona and Nevada and we've always had an amazing experience. Each year we try to include a "signature" golf course so that the guys can watch the PGA Tour on TV and remember the trips. This year I've planned the trip for the third week of January and we are going to . . .[opting not to spoil the surprise]. I read your Ambush Article in the September issue and thought that this would be a way to again take our trip to another level. I really hope to hear from you. We're all huge Golf Digest fans and would love to have our story in your magazine.
From James Huston in Hanover, Pennsylvania: We've just completed the itinerary for our 12th annual "Golf Trek to Arizona." Sixteen golf buddies will be heading out to Arizona for a week of the best desert golf, great food and camaraderie. Ranging in ages of 48 to 76 and handicaps of four to 20, we even have a waiting list just in case. There's a Calcutta every night for blind-draw twosomes. Foursomes compete for best-ball, three best-balls, birdies, greenies, sandies, pars, skins and snakes (three putts on the ninth and 18th greens). We will play: Eagle Mountain, Troon North, We-Ko-Pa, Tanto Verde, Gold Mountain and the Boulders. All are courses we've played before and have the highest "return-to" rating. We'd love to be Ambushed!
From Chris Cressler of Webster Groves, Missouri: This is our first golf buddies trip and there's nothing really unique about this trip except that we were inspired to plan a golf trip because of your Ambush columns. I decided to talk with the two other guys that I golf with regularly. I've played Wolf Creek in Mesquite, Nevada, last November and was blown away by the course. So, we decided rather quickly, that Mesquite was the destination. Well, our three-person golf trip is now up to 12 guys. We'll be flying into Vegas and playing the Royal Links Golf course. Then, it's on to Mesquite where we're hoping to play 36 that day at Wolf Creek. On Saturday, we tee off at Falcon Ridge. Then on Sunday, we play the Palmer course at the Oasis Resort. I believe that the Golf Channel's Big Break Mesquite was filmed at the Palmer course. Anyway, this is our first golf buddy trip and I realize it's not full of history or stories but this entire idea of a trip was a direct result of reading your columns. Thanks for the great ideas.
From Tom Walsh of High Point, North Carolina: "Weaver Golf" has been in existence for 12 years now. It started as golf starved guys in N.C. trying to escape or ignore bad January weather and post-Christmas credit card woes and get away for a long weekend. We've been to Myrtle Beach regularly the first three to four years, but then ventured to Florida, Arizona, and last year we went to Mexico. This year, primarily due to the economy, we're returning to our roots and heading back to Myrtle Beach for four days. This is a devoted group who lives for this annual weekend. Our source of great embarrassment (other than our golf games) is a dinner jacket designed by a member of our group which is a hideous shade of (non-Masters) green, decorated with a patch on the left lapel (containing symbols of our adventures and a Latin saying), which we are all required to wear out one night for dinner. Next to the jacket, our golf games don't look so bad!