Courses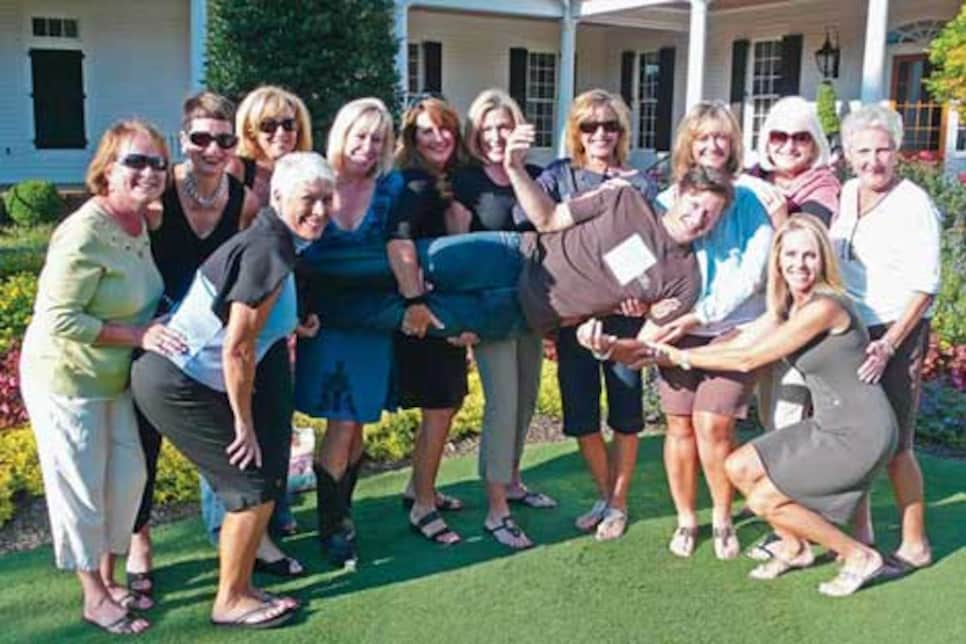 Back row (from left): Sandy Holtz, Laura O'Brien, Tari Gibson, D'Lana Nixon, Janet Roedel, Miki Gony, Judy Hoffman, Cindy Hollingshead, Marilyn Niederer, Susan Brown. Front row (from left): Mary Sander, Matt Ginella, Suzette Prettyman.
Judy Hoffman of Richmond, Va., doesn't mince words. Describing the fourth annual gathering of 12 women at Hawks Ridge Golf Club in Ball Ground, Ga., she wrote: "This group has too much fun, and I dare you to show up."
Not one to back down from a challenge, I took her up on it, ambushing the group in September with a dozen balls and a visor for each and dinner on Golf Digest. I was hoping to learn some differences between a boys' buddies trip and a girls' getaway. I came back with a notebook of similarities.
Sure, they don't bet as much as men. This group, ages 45 to 65 with handicaps from 4 to 40, barely knew the best-ball format, and they let the pro handle the scorecards. They don't play as much golf -- never more than 18 holes a day. Without fail, there's collective unconditional clapping from all of the golf carts anytime someone hits anything close to a good shot, and a collective gasp if any ball ends up in a bunker. Their outfits match, from the stitching on their headwear to the laces of their golf shoes, and they accessorize with embroidered seat cushions and fingerless gloves. But they also belch and take impromptu bathroom breaks in the bushes (Hawks Ridge doesn't have a women's restroom on the front nine).
In the end, much like any group of men who takes an annual break from reality to reunite with old friends, the recurring theme of any buddies trip, regardless of the gender, is to let it all hang out for a few days. Sometimes the "hanging out" is literal.
D'Lana Nixon's husband, Mike, is one of the owners of Hawks Ridge, a private club in the country, 35 miles north of Atlanta. Notable members include John Smoltz, Tom Glavine and Jerome Bettis. D'Lana drives a golf cart equipped with a stereo, plays air guitar with an iron to songs she appreciates and has been known to lead the women in a top-half flash for low-flying helicopters.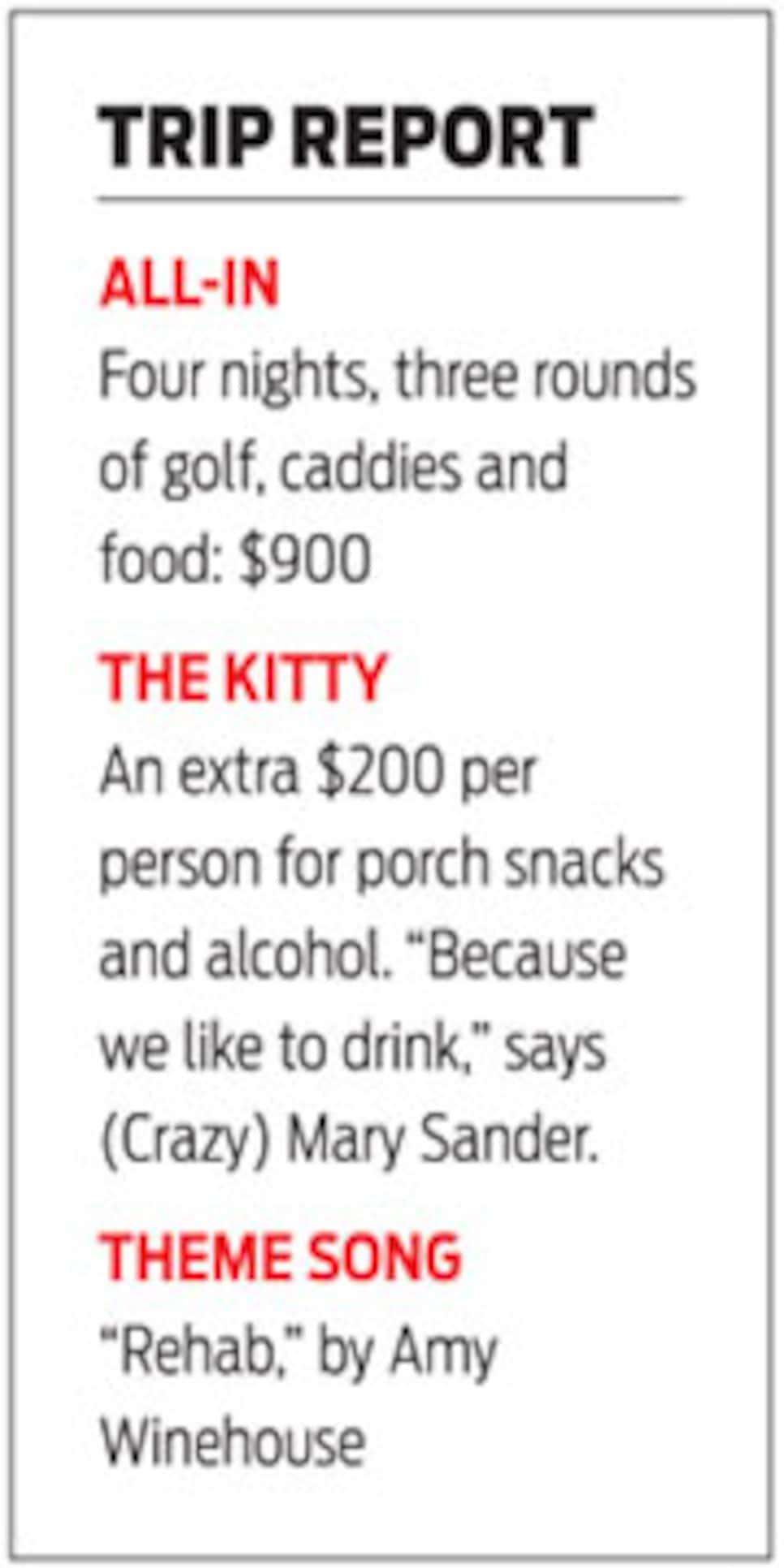 "At Hawks Ridge there are no rules, and we don't have specific tee times," says Suzette Prettyman. "This place fits our personalities."
There's quite a collection of those. On a rainy day, the year they went to Myrtle Beach, they table-danced their way into being escorted out the back door of a bar. The all-male onlookers were worked up, and the girls needed a safe getaway.
These women have been known to howl at the moon and skinny-dip in a private pool, and they were riding their drivers off the tee box like a jockey long before Boo Weekley did so at the Ryder Cup. But when they get together at Hawks Ridge, they say "It's all about the porch." On the back deck of one of two cottages they rent for four days at a friendly rate, the ladies gather around metal tables, pull up chairs, play more music and open inexpensive bottles of wine. They dance, they laugh and they do sorority-sister stuff.
I'd like to pass on specifics, but I swore to follow the trip motto: "What happens on the porch stays on the porch."