Courses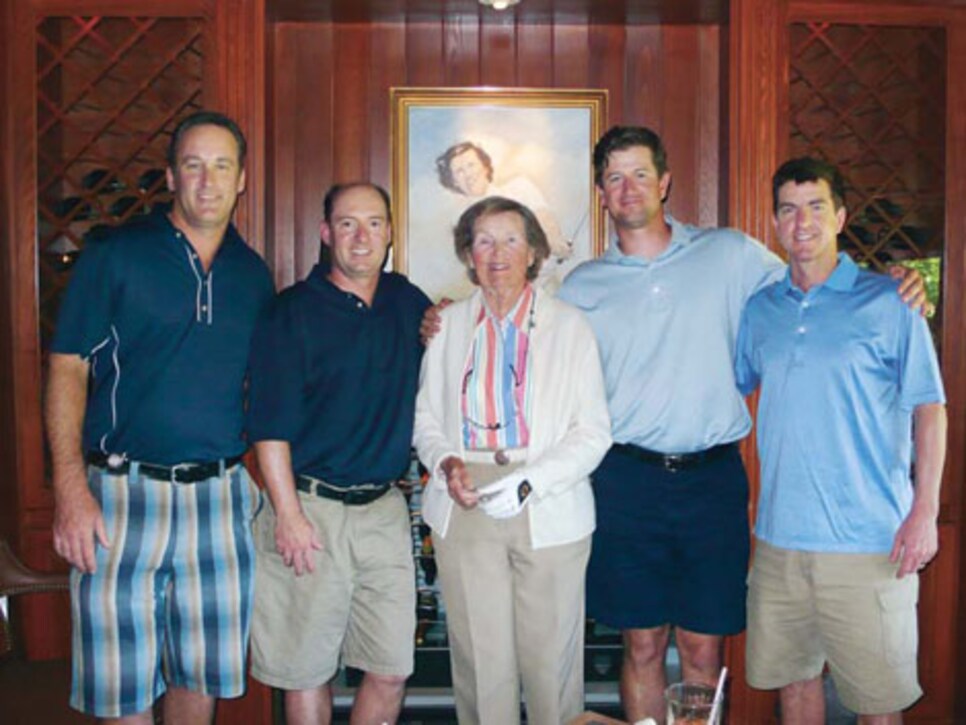 From left: Mike Cornelius, Tom Messmer, Peggy Kirk Bell, Matt Ginella, Tim O'Neill.
Significant birthdays are worthy (and often-used) excuses for buddies trips. Tom Messmer sent us his itinerary on behalf of his high school friend, Tim O'Neill, and a former co-worker, Mike Cornelius all celebrating their 40th within 12 months of each other.
"We arrive at Pinehurst on Memorial Day," wrote Messmer. "We plan on gambling, drinking and eating while playing 36 or 54 a day. There shall be plenty of good cigars and scotch that we'd love to share."
Sounds like a winner to me.
I ambushed the three guys from San Diego in the middle of their Pinehurst pilgrimage. I gave them golf balls, hats, scotch glasses, ball markers, cigars, wine and a round of golf at Pine Needles. This is where we also ambushed a legend of the game: Peggy Kirk Bell.
Bell owns Pine Needles and was the first woman inducted into the World Golf Teachers Hall of Fame. After she finished her lunch, she was nice enough to come over to our table and talk golf. Bell, who is turning 87 in October, is full of life, charm, wit and advice.
"The forearm is what releases, not the wrists," Bell told us. "If you sway, you can't turn. If you set your weight on the inside of your back foot, you can have a big shoulder turn. If you keep your head still, you get a release."
O'Neill's a sucker for new swing thoughts. "We just got a free lesson," he said. "Well, you get what you pay for," Bell said, with a wink and a smile. Then she walked down to see each guy tee off. Her advice on playing the former and future U.S. Women's Open venue: "Hit it straight."
The group's itinerary included all eight courses at Pinehurst, plus Tobacco Road and Pine Needles, for a total of 10 rounds in 5½ days. Carrying on a Pinehurst tradition, the guys got in extra chipping practice in the lobby of the Pine Crest Inn, which was once owned by Donald Ross.
Starting a tradition of their own, O'Neill set the record for riding a Pinehurst courtesy bicycle at night around the loop in front of the Manor Inn while smoking a cigar. (It'll be hard to beat 18.5 seconds.)
Pinehurst No. 2 was the trio's favorite course, followed by Pine Needles, Pinehurst No. 8 and then Pinehurst No. 4. As they walked down the first tee of No. 2 on a perfect morning in late May, Messmer summarized for his friends: "This is living."
"It's well above and beyond anything I expected," said Cornelius. "We should do this again."
"Yeah," Messmer said. "Like next week."
If they could change anything about the trip, they'd sub out Tobacco Road because of its many blind shots. Instead they'd play Bell's other course, Mid-Pines.
"How old were you when you started to play golf?" I asked Bell, as the birthday boys and I made our way to our carts. "I was 17," she said. "I remember feeling so old -- kind of like being 40."
Bell got off another zinger. Clearly, she still hits it straight.
Senior Editor (Travel) Matt Ginella might ambush you. Submit your buddies-trip itinerary here.