The Loop
Ambush #15: Watson's Springfest
I'm back from Rochester, NY. Canandaigua to be completely accurate. On a hill above a big beautiful lake, 132 guys came from (mostly) Toronto to scratch the winter golf itch. They were swinging clubs, fist-bumping, passing petting-zoo fumes, and hugging chesty and slender beverage-cart girls as though they were saying goodbye to a loved one before shoving off for a year at sea.
Watson's Springfest celebrated their 20th Anniversary this year. Their complete story will appear in the July issue of the magazine. But some of the people I met last weekend deserve some pre-story props.
Thank you Dave Walker. "Walk" has organized this group every year. He is the undeniable leader. What Walk says, goes. Walker, 57, pictured below with his father, Sam, 83, his brother, Pete, 44, and his son, Scott, 27. (From left to right: Pete, Sam, Dave and Scott.) The three generations of the Walker clan always play in the Saturday round together.
A sweet tradition, if you're into family.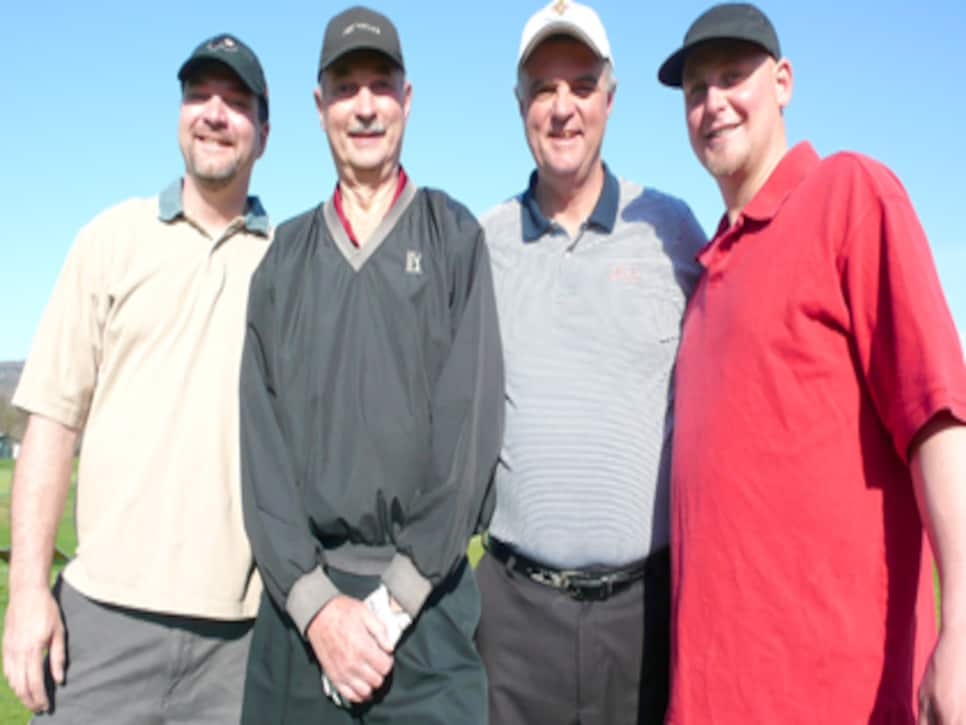 Thank you Reid Ferguson. On every Ambush I lean on someone to lead me to the good stories, to flush out some fun facts of past trips and to make sure I feel welcome into the group. Reid was my fullback and I followed him to this story about a great group of guys.
Wilson (L), Ferguson (R) and I are pictured below having a cup of coffee at Bristol Harbour's 14th hole (designed by Robert Trent Jones and Rees Jones).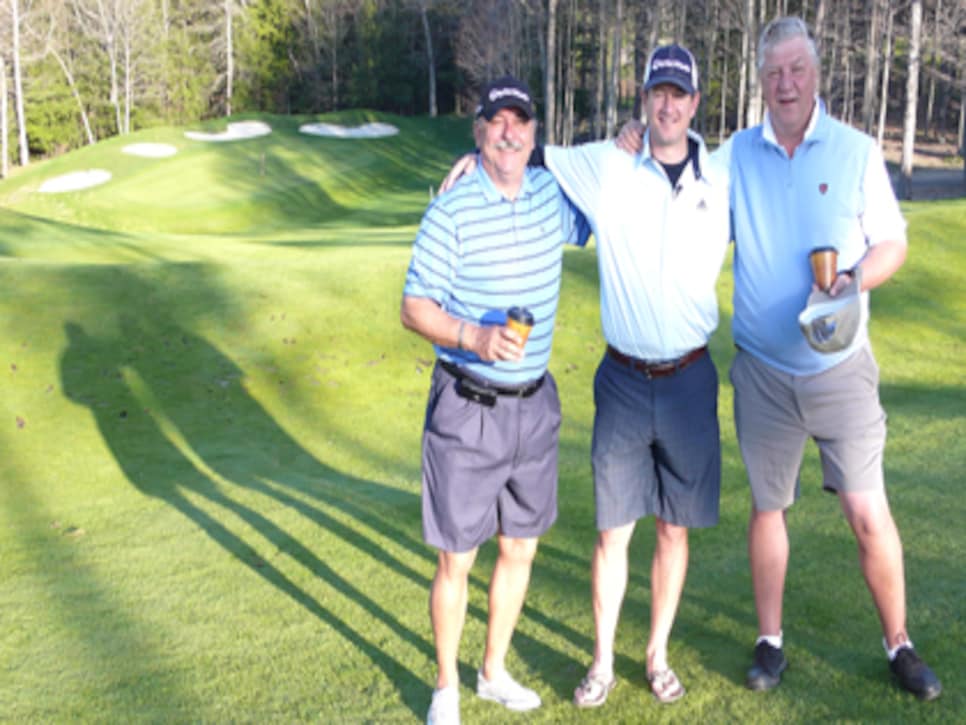 Thank you Greg Mulhern. He's the pro at Bristol Harbour Resort and he and his hospitable staff put me up in the empty conference room for three hours while I waited for the perfect time to Ambush. They fed me, watered me and kept the Ambush a secret from an inquisitive Wilson, who was sure I was picking his group.
And finally, thank you to__Dale and Brenda Stoker__. Bristol Harbour was at capacity and I needed a place to stay. I had a room reserved at a hotel down the road, but it was too far down the road to get to late Friday night, and not close enough to get back in time early Saturday morning. The Stokers gave me a bed in their "barn." Ten times the size of my New York apartment, three times the TVs and one hundred times as nice, this barn would be worth millions of dollars where I live. Being able to crash there for a night was priceless.
Sorry. One more. Congratulations to Emma Taylor on her recent engagement. It was as recent as Saturday night to one of the guys playing in the Springfest. He's a local and they've been going out for a few years. I'm blanking on his name, but he was a cool guy and they make a great couple. Taylor, 26, is the latest entry in my search for the most beautiful cart girl in golf. She's pictured below. "Emma" is a legend at Springfest. If for nothing else, she's been serving them White Russians and Bloody Caesars since she was 18.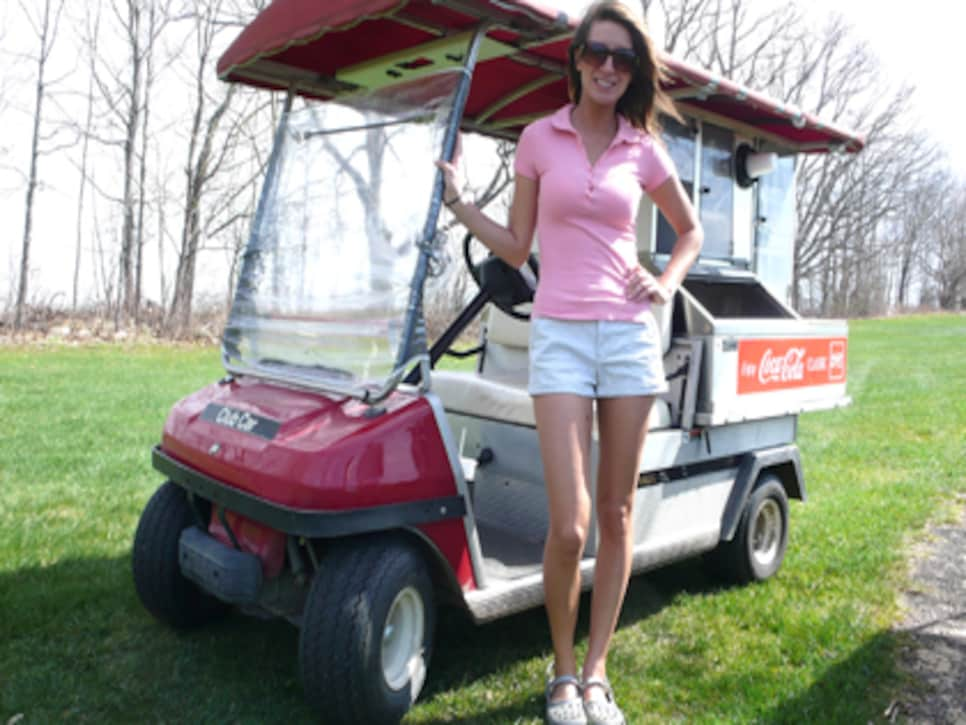 He wrote: Hi Matt. It was a pleasure meeting you and on behalf of all the guys at Springfest, thanks for choosing us. I am positive there will be 132 framed copies of your article on us hanging on everyone's wall. If you ever make it up to Toronto you'll have places to stay and great courses to play. Cheers, Dave Walker.
I wrote: Dave, Thank you for the note. You have a great thing going. That group of guys, the deal you secured at the location that works with you, and for you. Congratulations on two decades of buddies trips and happy anniversary for that matter. And congratulations on not only surrounding yourself with good help, which is key, but also with a great family. The three generations of Walkers was an honor to be a part of. And that Friday night of listening to stories, and watching all of you guys laugh yourselves to tears, was fantastic. And thank you to "Wilson," because without his entry into the Ambush contest, I would never have met you guys, and never had the chance to share your story with our six million readers. We'll be in touch I'm sure. I've kept in touch with all past Ambush winners. That's just what happens after sharing a few days on the golf course with a great group of guys. A real tribute to the spirit of the game and the people who play it, I suppose.
Any interest in being Ambushed?
You never know, you and your group might be next.