The Loop
Alpha-Planner Alert . . .
From the places I've been so far as the Golf Digest Travel Editor, below I've listed my top-five mancation destinations. I have not yet been to Myrtle, Kiawah or ventured down the Robert Trent Jones Trail in Alabama. I haven't done Wisconsin or Northern Michigan, but I've been to northern Minnesota, Mexico, California, Florida, North and South Carolina, Georgia, Hawaii, Oregon, Arizona and Washington. I'll count 'em down: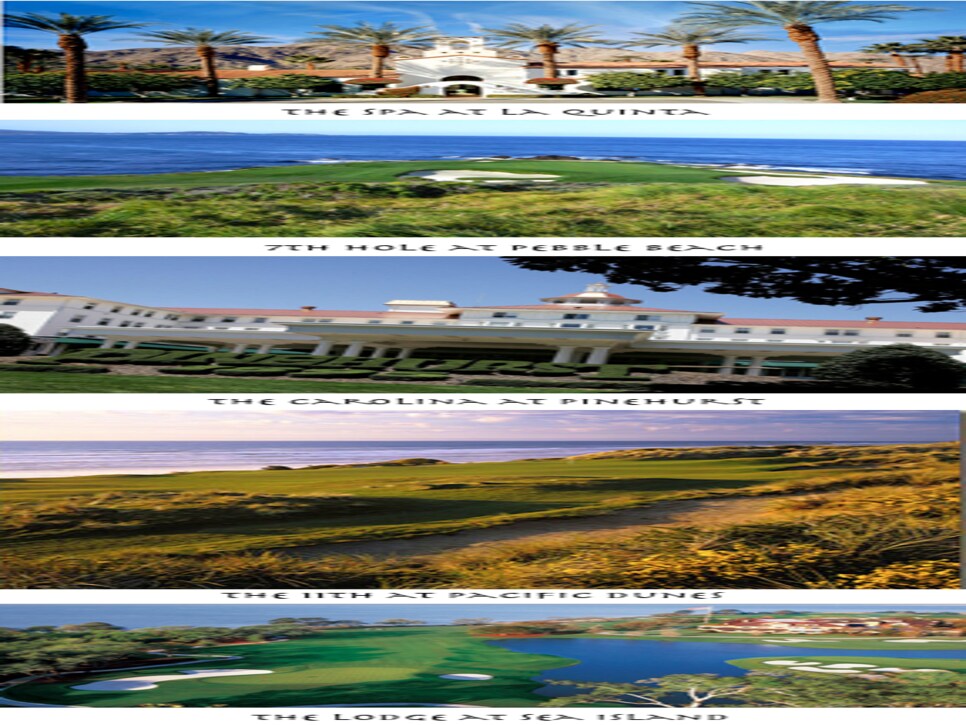 No. 5: La Quinta Resort and Club. With a new focus on catering to the sort of golf trips you're trying to plan, you'll be impressed by the lodging options, food and great golf. If three courses by Pete Dye, a Greg Norman and a Jack Nicklaus don't move you--you might need to take up tennis (there's plenty of that at La Quinta as well). On July 15, La Quinta broke ground on the new PGA West Stadium Clubhouse. It will feature a mini golf Hall of Fame, a sports bar and a cafe/market. The clubhouse should be finished by the start of the Bob Hope Chrysler Classic (end of January, 2009).
No. 4: Pebble Beach/Santa Cruz. With such a high price tag for golf come high expectations. Pebble and Spyglass do not disappoint, but they leave a significant dent in your savings. Throw in Pasatiempo, Pacific Grove and the two courses at what used to be Fort Ord (the Bayonet and Black Horse courses will be done by the end of the year) for some added value.
No. 3: Pinehurst. So much good golf in the area, so much tradition and Southern hospitality. Although you'll still be required to swing the club, make putts and lift the drink off the table, just get yourself there and the staff takes care of the rest. Make sure your itinerary includes courses Nos. 2, 4 and 8 and Pine Needles, which is just down the street.
No. 2: Bandon Dunes. The dollar is weak, so if you want an Ireland/Scotland golf trip, go to Oregon and immerse yourself in all things Bandon Dunes. Play the three courses twice and take note of one of my favorite deals in golf, especially if you have a sturdy caddie and a padded pair of feet: Pay $265 for the first round (May through October), $105 for a replay rate and any more golf you play that day is free! Fifty-four of those holes for $370 can only be described as stealing.
No. 1: Sea Island. The Lodge is so strong, the service is the best I've experienced and Seaside anchors the three good golf courses. Unlike a round at Pebble or Spyglass, golf at Sea Island is still played in less than four hours. The minute you leave Sea Island, your only concern is how quickly you can justify a trip back. Don't forget to spend time at the shooting school. Look into off-peak rates and summer golf packages to avoid breaking the buddies trip budget.
On the subject of Pinehurst, buddies trips and budgets, this was an e-mail worth passing on:
*__"PINEHURST'S BUDDY TRIP OF A LIFETIME TAKES GOLF TRAVEL TO NEW LEVELS"
For those who believe there are few things more important than a golf trip with close friends, Pinehurst Resort has launched a unique experience that includes the opportunity to win a signature trophy on one of golf's most revered layouts--and a schedule packed with perks.
The Buddy Trip of a Lifetime at Pinehurst is loaded with extras that take an average golf trip to the next level--from a steak and lobster dinner with a private chef in your own villa to a round on No. 2 with caddies wearing your name. And one member of your group will be awarded a PutterBoy Trophy. You choose the game, Pinehurst will hand out the trophy and, with it, a year's worth of bragging rights.
The three-day, two-night Buddy Trip of a Lifetime is available for groups of four or more and carries an all-inclusive price of $2,300 per person double occupancy or $2,800 single occupancy.
COMPLETE COMPONENT LIST:__
-    3 days / 2 nights in our luxurious Villa* accommodations--four guest rooms connected to a central gathering parlor
-    Villa parlor wet bar stocked with beverages of your choice (wine and beer) & snacks for your stay
-    Round on No. 2 with single caddies who wear your name and their bibs
-    Private tip session with a Pinehurst pro on how to play No. 2
-    On-course surprise, activated by your group's planner
-    Breakfast and dinner daily
-    Exclusive Steak & Lobster dinner with your own private chef in Villa
-    Unlimited steam/sauna/whirlpool access at The Spa
-    Group photo at 1st tee of No. 2
-    Acura courtesy car available throughout your stay
-    VIP Concierge access throughout your stay
-    Surprise welcome/departure gifts
-    $50 gift card per person
-    Pinehurst Putterboy Trophy for group's contest of choice--you make the bets, we provide the prize*
Do you have a favorite buddies trip destination? Share the details by clicking on "comments."