The Loop
All-world Women's Am final set
EUGENE, Ore.--It was hardly surprising to see some tears at the end of the semifinal match between Spanish natives Azahara Munoz and Belen Mozo. That they came from the player who will play again Sunday--in one of the more highly anticipated finals in recent memory--rather than the one who's week came to an end, however, was a bit unexpected.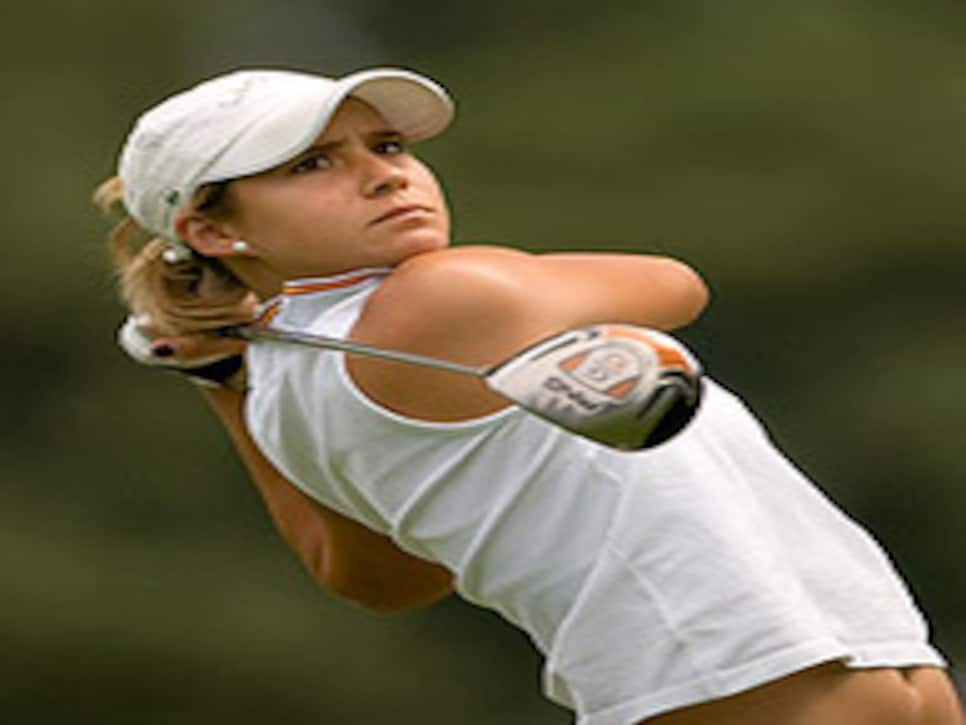 "Belen was really unlucky with some putts," said Munoz with redden eyes. "It's hard when it's somebody you're close to and you want her to do well."
Only after seeing Munoz (right) crying did Mozo begin to tear up herself. "It's OK, Aza," Mozo said while giving her a hug. "You deserved to win."
Indeed, Munoz, 20, continued to showcase the consistent ball-striking that had marked her charge through the match-play bracket at Eugene CC. While making only one birdie, Munoz also missed just one fairway, keeping pressure on Mozo throughout the round. Meanwhile, Mozo's putter went cold, causing her to make bogeys on four of the first six holes, falling 3 down in the match.
While Mozo made birdies on the seventh and eighth holes to close the deficit to one hole, her three-putt bogey from just off the green on the ninth short-circuited any moment she may have gained. Bogeys on three of her last six holes then sealed her fate.
The Munoz/Mozo showdown was a match up neither player said they "wanted" to have to go through. At the same time, both know such duals will be inevitable if each continues to play such high levels of golf. "We're pretty young," Mozo said. "We're going to play against each other way more times."
Munoz' victory, on the other hand, sets up a showdown everyone is anxious to see; the reigning NCAA champion at Arizona State faces Amanda Blumenherst, the three-time college player of the year from Duke in Sunday's 36-hole final.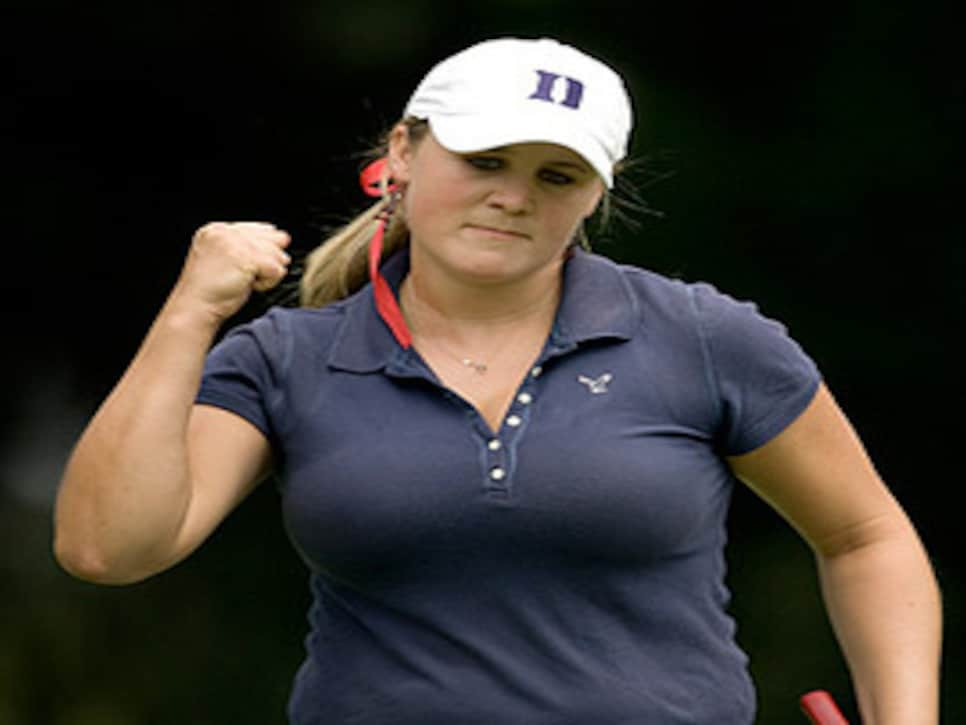 Blumenherst, 21, knocked off a pesky 15-year-old high schooler Erynne Lee, 3 and 2, in their Saturday semifinal but not after having some anxious moments of her own. For the first time in 51 holes, Blumenherst trailed in a match when she lost the third hole with a bogey to go 1 down to Lee. Yet she squared the match for good with an eight-foot putt birdie on the ninth hole, then took the lead with a par on the 11th.
"I didn't hit the ball as well as I have been at the beginning," Blumenherst (right) said. "My driver was going a little left. And the rough was just so thick that it kind of can be a little trickier.
"I was putting well and just everything came together on the last part of the front nine," she continued. "And I just kept playing solid. And she made some good putts on the backside, too, to keep it close. I started hitting the ball a little better.
"The only real difference that I might have kind of forgotten about last year was that it is 36 holes," Blumenherst said. "And it's so important to stay patient, just because I think it's easy to get frustrated or worried. But 36 holes is a lot of golf and really anything can happen. I'm just going to make sure that I stay very patient."
Regardless of the outcome, some history will be made Sunday. If Munoz wins, she will become only the second player to claim the NCAA and the U.S. Women's Amateur titles in the same calendar year, joining Vicki Goetze in 1992. If Blumenherst comes out on top, she will be the sixth player to have won the title after losing in the finals the previous year, the last being Jane Park in 2004.
A few more tidbits about the final:
Photos: Steven Gibbons/USGA