Courses
The O.C.: California, Here I Come
The St. Regis Resort in Dana Point, Calif. (5 stars in the Mobile Travel Guide, if you're counting, and we are), sits near the southern end of what is known as the Orange Riviera. For any golf venture to Orange County, it's a spectacular place to start -- but only after knocking off four Best Places to Play stars at Oak Creek Golf Club in Irvine on your way.
Beginning a golf trip at Oak Creek is akin to encountering a benign par-5 opening hole: It allows you to ease into your proceedings. For that matter, Oak Creek opens with a docile par 5. The Tom Fazio design was built from a flat parcel of land, requiring earthmovers to give it definition. Fazio produced an enjoyable layout that has enough trouble (including four difficult par 3s) to force you to pay attention, but not so much that you'd vow never to return.
The St. Regis, at any rate, is a sufficient salve for any wounds. It's a postcard come to life, an upscale hotel on a bluff overlooking the Monarch Beach Golf Links and the Pacific Ocean. It qualifies as the only golf resort in Orange County, at least until the Resort at Pelican Hill in Newport Coast opens in the fall.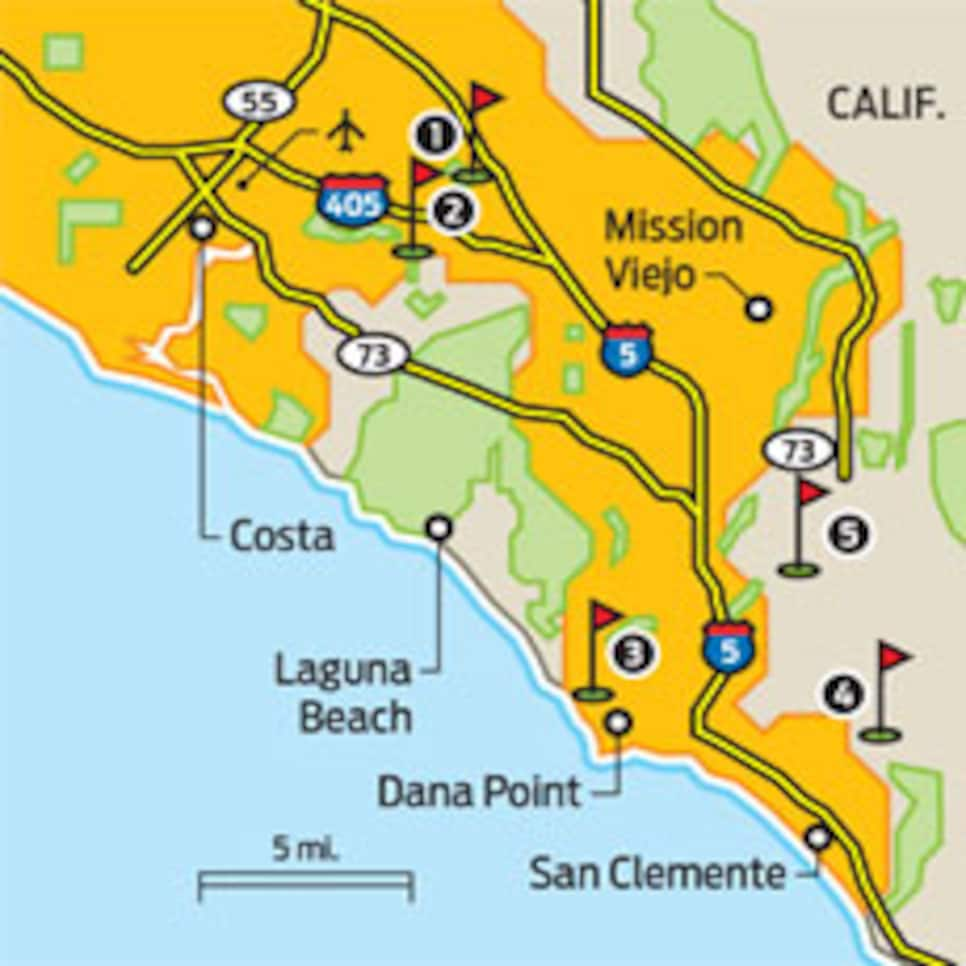 Daylight hours on trip: 35
Best Places to Play stars accumulated: 19½
Green fees per star: $37.43
The next day it's back to Irvine for a trip around Strawberry Farms Golf Club, nestled in a canyon and offering another 4 stars (5, when you consider that former All-Star third baseman Doug DeCinces was the developer and is the managing owner). One of the better features of Strawberry Farms, in addition to its farmhouse-design clubhouse and red barn that serves as a banquet facility, is that no houses or condos encroach on the picturesque property; its bane is that penalty areas do encroach. Designed by former Nicklaus associate Jim Lipe, it's tight, bordered in spots by environmentally sensitive areas.
After a bite in the clubhouse -- a chicken sandwich, No. 11 on the menu, DeCinces' number with the Orioles and the Angels -- it's over to Tijeras Creek Golf Club in Rancho Santa Margarita. Tijeras Creek rates only 3½ stars, but on the strength of its back nine deserves better. A Ted Robinson design, Tijeras Creek has two distinct nines: The front meanders through condos, and the back wends through old-growth oak and sycamore trees and chaparral.
The next morning, breakfast beckons at the Harbor House Café, a legendary eatery featuring a choice of more than 25 omelets (our recommendation: guacamole, bacon and cheese). The Harbor House is on Pacific Coast Highway, between the St. Regis and Interstate 5 South, en route to the next stop, Talega Golf Club in San Clemente, and another 4 stars. Talega is a Lee Schmidt-Brian Curley design, with input from Fred Couples. Its proximity to the Pacific Ocean guarantees coastal breezes that counter the summer heat but also play havoc with the golf ball.
The afternoon destination is the Monarch Beach Golf Links adjacent to the St. Regis. Monarch Beach is a Robert Trent Jones Jr. design that works its way down to the beach. At that, the 19th might be the best of Monarch Beach's holes. Club 19 affords an unobstructed view of the sun setting over the Pacific.
A visit to Orange County also warrants a round at Arroyo Trabuco Golf Club in the rolling hills of Mission Viejo. It's as yet unranked but among the more enjoyable golf outings available in Orange County. You might encounter one more star there, too, in the person of Sandra Palmer, the 1975 U.S. Women's Open champion who is on the teaching staff.