The Loop
All 96 Matches of the Match Play round-robin stage, scientifically ranked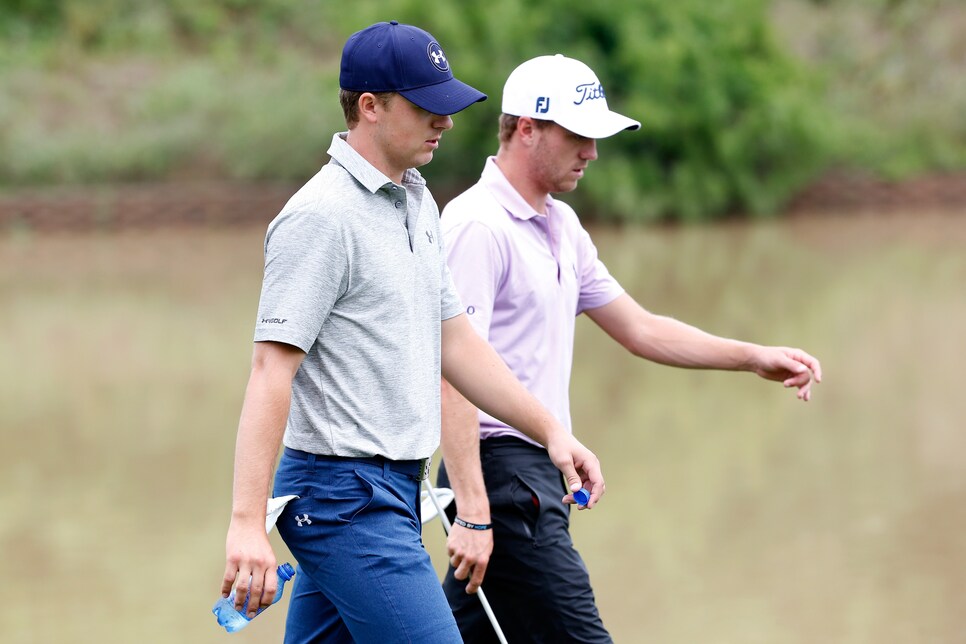 The first three days of the WGC-Match Play Championship are a hallucinogenic funhouse of one-on-one golf. In the round-robin stage, there are 96 matches happening within the 16 groups picked in Monday night's surprisingly enjoyable special on the Golf Channel. That's a lot of action to sort through, and like an actual hallucinogenic funhouse, there are a few great parts, like the hall of mirrors or the distorted floors, and a few not-so-great ones, like the carnie who yells at you that the park is closing and you've already been in the hall of mirrors for three hours, and hey, aren't you the guy who always tries to steal balls from the ball pit?
Anyway, the average civilian can't be expected to sort through all the options alone. That's why I'm here -- last night, I ranked every single round-robin match. It was sometimes fun, and sometimes agonizing, but I made it through all 96. Each match received a score from 1-5 in five different categories, and was then sorted by overall score. Before I reveal the results, here were my five criteria:
Simply put, how strong are the résumés? Note here that matches featuring one truly great golfer and one average or relatively unknown golfer, like Phil Mickelson vs. Matthew Fitzpatrick, skew higher on the rankings. Rather than balancing each other out, I allowed the record of the higher player to elevate the lower one, since in real life, most of us will watch someone like Mickelson or Jordan Spieth play a match regardless of the opponent.
Are there are any dramatic storylines between the players from the past? Sometimes that happens, and sometimes it doesn't. In the latter cases, I gave higher scores to players who have played on opposite teams in the Ryder Cup, or who are of a similar age, or who play on the same tour -- even if no specific piece of personal history stands out.
In boxing, they say that "styles make fights," and the same is sorta-kinda true for match play golf. High ratings can be awarded either for similar styles matching up against each other, like the bomber vs. bomber showdown in Bubba vs. J.B. Holmes, or when opposites meet, like Jason Day vs. Graeme McDowell.
We all know that certain golfers have achieved a level of fame that exceeds their actual accomplishments, either because of style or personality or looks or whatever. This can be positive or negative, and this category allows adjustments that transcend résumés.
This is purely based on how excited I became when I saw the match-up appear on the screen last night. There is very little objectivity here.
You might have a few questions, such as, "Did you realize halfway through that it's a huge pain to rank 'style mesh' for players you barely know, and also sort of impossible?" Or, "did you let your personal feelings dictate every single ranking?" Or, "is this actually science?"
In answer, I would encourage you to trust that when the holistic process was through, the overall accuracy was borne out by the results. With that said, here are the top match-ups of the round robin stages:
10. Zach Johnson vs. Martin Kaymer
Total score: 22.8
Résumés: 4.9
Personal history: 4.6
Style mesh: 4.1
Notoriety/fame: 4.5
Gut appeal: 4.7
It still blows my mind when I remember that Zach Johnson's two major titles came on the two most famous course on Earth -- Augusta National and St. Andrews. It also blew my mind when I realized that in many ways, Kaymer is the European Z-Jo. He has two majors (they have a career slam between them), he plays clinical, nearly error-free golf when he's at his best, and he seems to emerge when you least expect it. The difference is that while Z-Jo is a model of consistency, Kaymer goes through prolonged bouts of slumps before returning to a surge of greatness.
9. Sergio Garcia vs. Lee Westwood
Total score: 22.9
Résumés: 4.4
Personal history: 4.8
Style mesh: 3.9
Notoriety/fame: 5.0
Gut appeal: 4.8
The nice thing to say about these golfers is that they've been very good for a very long time, and have been total studs for the European Ryder Cup cause. The less nice thing to say is that they're the two best active golfers in the world never to have won a major. The outright mean thing to say is that they have a steady history of blowing big tournaments under pressure.
8. Jordan Spieth vs. Justin Thomas
Total score: 23.0
Résumés: 4.4
Personal history: 5.0
Style mesh: 4.2
Notoriety/fame: 4.4
Gut appeal: 5.0
I refuse to say that I feel sorry for Justin Thomas, because he is one of the world's best golfers and is making a very lucrative living. On the other hand . . . I feel sorry for Justin Thomas. He is totally defined in the eyes of the golf-watching public by his friendship to Jordan Spieth, and within that dynamic, he is clearly the sidekick. And that won't change until he gets up to Spieth's level, but -- spoiler alert -- no young American golfer will probably ever get to Spieth's level. From the time Spieth holed out at Riviera to help Texas beat Thomas' Alabama in the 2012 NCAA national title, their roles have been defined. This will be fun.
7. Justin Rose vs. Matt Kuchar
Total score: 23.1
Résumés: 4.6
Personal history: 4.4
Style mesh: 4.6
Notoriety/fame: 4.8
Gut appeal: 4.7
Great match, but still sorta boring, right?
6. Bubba Watson vs. J.B. Holmes
Total score: 23.3
Résumés: 4.5
Personal history: 4.0
Style mesh: 5.0
Notoriety/fame: 4.7
Gut appeal: 5.0
Yes! Two good-ole-boy bombers from the south, but not the country club south. J.B. Holmes is the likable version of Bubba Watson -- working class mentality, hits the ball a mile, wins tournaments, but doesn't rub literally everyone the wrong way. I love this match-up.
5. Jordan Spieth vs. Victor Dubuisson
Total score: 23.4
Résumés: 4.6
Personal history: 4.3
Style mesh: 4.7
Notoriety/fame: 4.8
Gut appeal: 5.0
If you were going to make a Rocky-type movie about golf, your protagonist would be Spieth—the nice, unassuming, hard-working American with loads of talent. And your antagonist would be Dubuisson -- sullen French villain, highly competitive, unbelievable at match play. This is one of just eight matches that I rated a full 5.0 on the "gut appeal" metric.
4. Jason Day vs. Graeme McDowell
Total score: 23.6
Résumés: 4.9
Personal history: 4.1
Style mesh: 4.8
Notoriety/fame: 4.8
Gut appeal: 5.0
Bomber vs. Putter. Aussie vs. Irish. Young vs. Old. Instinct vs. Intellect. This has it all, and both are major winners and phenomenal match-play golfers with format-specific titles. More than anything, this match makes me wish Day played in the Ryder Cup.
3. Dustin Johnson vs. Jimmy Walker
Total score: 23.7
Résumés: 4.3
Personal history: 5.0
Style mesh: 4.7
Notoriety/fame: 4.7
Gut appeal: 5.0
This should be a good golfing match between two golfing golfers. Golf.
2. Rickie Fowler vs. Jason Dufner
Total score: 23.8
Résumés: 4.5
Personal history: 4.6
Style mesh: 4.4
Notoriety/fame: 4.9
Gut appeal: 5.0
The most fun match of the early stages, and I mean fun in the positive way, not fun in the "I can't wait to watch these guys kill each other" way. Fowler and Dufner are pals, and they're both in the cool set of PGA Tour golfers. There will be lots of smiles in this one . . . or, Rickie will smile, and Dufner will do that strained grimace that is apparently his way of communicating joy.
1. Patrick Reed vs. Phil Mickelson
Total score: 24.0
Résumés: 4.7
Personal history: 4.6
Style mesh: 4.7
Notoriety/fame: 5.0
Gut appeal: 5.0
This one blows me away. As a few people noted on Twitter last night, these are two guys who really don't lack for self-esteem. I bet if you asked them, they'd each put their chances of winning the match at roughly 150 percent. In some ways, Reed is the younger Mickelson -- brash, totally confident, and in total control of his game. Mickelson has way more charisma and is beloved in a way that may never be available to Reed, but this is still a match of two very unique personalities. There was a mold that created Mickelson, and there was a separate mold that created Reed, but both molds were equally broken to pieces.
And by the way, I wasn't joking about having ranked all 96 matches. For the full list, go to this link. (Spoiler: Smylie Kaufman vs. Thorbjorn Olesen was 96th.)