News
Alex Noren's final five-hole stretch (which included a hole-in-one) was about as insane as it gets
For 13 holes, Alex Noren was having about as boring a round as you could imagine at the Hero World Challenge. He failed to make a single birdie on the front nine, carding a one-over 37 before making the turn and adding another bogey at the par-4 10th at Albany. Finally, he made his first birdie at the par-3 12th to stop the bleeding.
After a par at 13, Noren proceeded to put together one of the most insane final five-hole stretches you'll see all season. His lifeless round suddenly became the most electric one on the golf course, starting with a birdie at the par-4 14th and an eagle at the par-5 15th. All that work was undone at 16 though, as Noren made a disastrous triple-bogey-seven to fall back to one over for the day. Then, at the par-3 17th, this happened:
Not a bad bounce back, even though it didn't even make up all three shots from that triple. This is how I imagine my first hole-in-one will come some day, either immediately after a triple or right before a triple that ruins everything.
Noren was able to get that third stroke back at 18, making a 15-foot birdie putt to post a colorful two-under 70: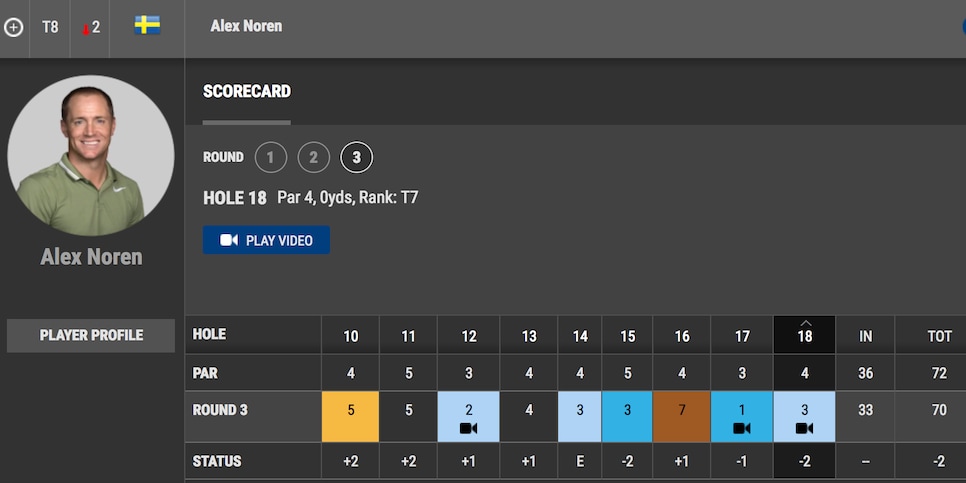 He'll begin the final round five back at eight-under, which has him in a tie for eighth with Patrick Reed and Justin Rose.