News
A.J. Eathorne: My Life as a looper (updated)
*Editor's note: Newly crowned **ShopRite LPGA Classic **champion Brittany Lincicome credited her new caddie, A.J. Eathorne, with her helping keep her nerves in check this week. "The more I talk and chattier that I am, the better I play," Lincicome said after her victory late Sunday. "So [A.J.] did a great job; if I was down a little bit she picked me back up and talked about something that I really enjoy, whether it be fishing or my dogs or my friends at home. She just did a great job. She used to play on tour, so she knows what the feeling is."
Eathorne did indeed play regularly on the LPGA Tour for 10 years before retiring in 2009 and becoming a caddie for PGA Tour player Kris Blanks. She was hired by Lincicome two weeks ago for the Sybase Match Play Championship and had only spent 15 holes on her bag before this week's event. In the April edition of Golf Digest Woman, Eathorne told the story of how she went from tour player to looper, and what life was like as one of only three female caddies on the PGA Tour:
*By A.J. Eathorne with Kathryn Stafford
The sun is barely above the horizon, and already people are everywhere. It's the first day of competition at the Bob Hope Classic in Palm Springs, and I'm dodging excited spectators as I walk toward the range--the strap of the 40-pound staff bag over my shoulder creaking with each step. It's the type of walk I've made countless times before, first as an LPGA Tour player and now as a PGA Tour caddie. Strolling next to me is my boss, Kris Blanks. He's a late bloomer, in his third season on the PGA Tour at 38, but he's finding his way out here. We always get comments from the crowd or volunteers: "Are you his wife? I can't believe he makes you carry that heavy bag. Are you his girlfriend? His sister?" I know it's a different job for a woman to have (there are only three regular female caddies on the PGA Tour), but I'm comfortable enough out here to joke about it. My usual reply is, "No, he'd have to pay me a lot more if I were his wife!"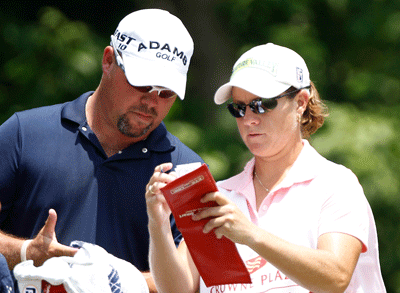 Growing up in Penticton, British Columbia, I was your typical girl-jock. There weren't many other girls to hang out with, which left me constantly running around with my older brother, Steve, and family friends who were boys. I played any sport I could, and soon after my dad introduced me to golf at 13, I won the novice division at a junior event and earned a little trophy. I was hooked. I gained a lot of confidence while playing at New Mexico State University and made my debut on the LPGA Tour in 1999. Back then, I played with no fear, and as a result, enjoyed success early. My first three seasons on tour were the best of my career. I continued to play for 10 years, winning more than $1 million. As nice as that sounds, it didn't leave enough after expenses for a decent living. The pressure of making cuts to pay for entry fees and travel started to weigh on me. Making the cut became harder, and with the waning number of tournaments compared with 10 years earlier, I was playing fewer events. I had to start looking for other work.