The Loop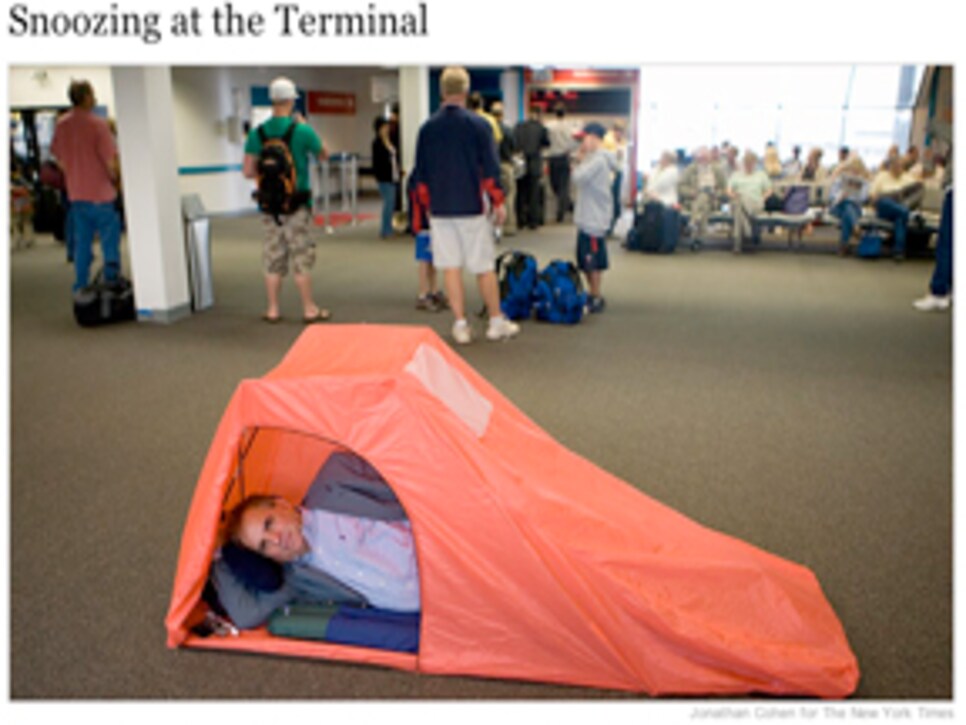 Anytime you pack a tent and use it before you get to the campground, you're having first-degree travel troubles. I read an article on nytimes.com by Sharon McDonnell about sleeping in an airport. The article, and the image, is worth passing on. Here's a clip:
__Sleeping at an airport overnight, once almost a sport for the young and short of cash, has become a lot more common lately, affecting even older and professional travelers. And a big reason is that airlines are no longer as free with complimentary hotel vouchers as they once were.
"Belt tightening by airlines over the last 18 months, and more so this year," is how Randy Petersen, editor of the online magazine InsideFlyer and the frequent-flier Web site FlyerTalk.com, explains it.
"They have to look at everything they spend a penny on," Mr. Petersen said. And because flights are fuller, he added, "they're not just dealing with a few passengers."
Bob Harrell, founder of Harrell Associates, an airline consultant, agreed. "If they're charging for extra bags, food and water, then the flip side is the airlines are going to go out of their way to minimize expenses on one side, while maximizing on the other," he said.__
I almost had to sleep in the Los Angeles airport a few months ago. I missed my connection to Reno, and there were no more flights until the next morning. I debated driving--which was a no because it was too far. I saw people in a similar situation who opted to lay their heads on a metal armrest of a dirty chair. Passed on that idea as well. The thought of putting my mouth remotely close to the floor of an airport was so wrong, I was definitely going to a hotel.
The airline--I don't remember which one--handed me a phone number. It was a booking agency that would get me a decent rate at an airport hotel that had two things: availability and some sort of deal with the agency I was calling. The rate was roughly $110 and the hotel was a Holiday Inn. I took the shuttle to the Marriott and paid $150 for a room. I passed on the savings because I wanted the Marriott points.
It's no secret. The act of traveling is currently INSANE. I combat travel anxiety by getting to the airport with more than enough time to catch my plane (always at least two hours before flight time). I'm a member of American Airlines' Admiral's Club ($350 per year) to escape the general clutter of the terminal. This is where I get free Internet access, a TV, reading material, snacks, coffee, juice and water. Some even have a shower, but I wouldn't go there unless I smelled like a petting zoo.
I was just talking with some colleagues--not only is traveling tough on the consumer, but you may have noticed, morale of airline employees is dragging along the bottom of the sea. I can tune out the occasional impolite flight attendant because I have noise-reduction headphones and a power cord to my computer that plugs into the seat of the plane. I can lose myself in music, work or a DVD. Not to mention, we have such little contact with attendants now; they won't help with luggage and I don't want to buy the giant blue tube of the chips they're selling.
I do hope the maintenance crews and the pilots are paid properly. They're the critical pieces of the travel operation, and I feel safer thinking they're happy and enthusiastic about their jobs.
If I were in charge I would eliminate middle seats. They're a flawed concept, and no matter who sits in them, there's an unhappy traveler. I'd like to see only rows of two, TVs on the back of every seat--not just on JetBlue. This way you don't have to pray the pilot is a golf fan in order to get an update during the Monday playoff of the U.S. Open between Tiger and Rocco.
My favorite airports are the ones that get your bags to the baggage claim before you get there to claim them. Airports in Savannah, Ga. and Wilmington, N.C. are good at this. JFK is not. I've waited as long as an hour before the little red siren went off, indicating the bags were on their way. My internal red light was going off after 20 minutes.
Any airport where you don't have to take a shuttle from the baggage claim to the rental-car facility gets a huge plus in my book (Avis is across the street from baggage claim at Orlando's airport).
You've gotta love the Jacksonville airport for its putting green, a great place to settle some bets (putters and balls are provided).
If I'm traveling to the Bay Area, it's Oakland or San Jose--and no more San Francisco, which is one of my least favorite airports. SFO has a rail system to get you to your rental car, which is fine, but you need a mule and a sherpa to get you and your luggage to the train from the baggage claim, and another 30 minutes to get to the Avis counter.
I hate the inconsistency that comes with travel. In most airports, you're required to check in 30 minutes before your domestic flight. If you happen to be running late in Miami, you should know their cutoff time is 45 minutes. I learned the hard way.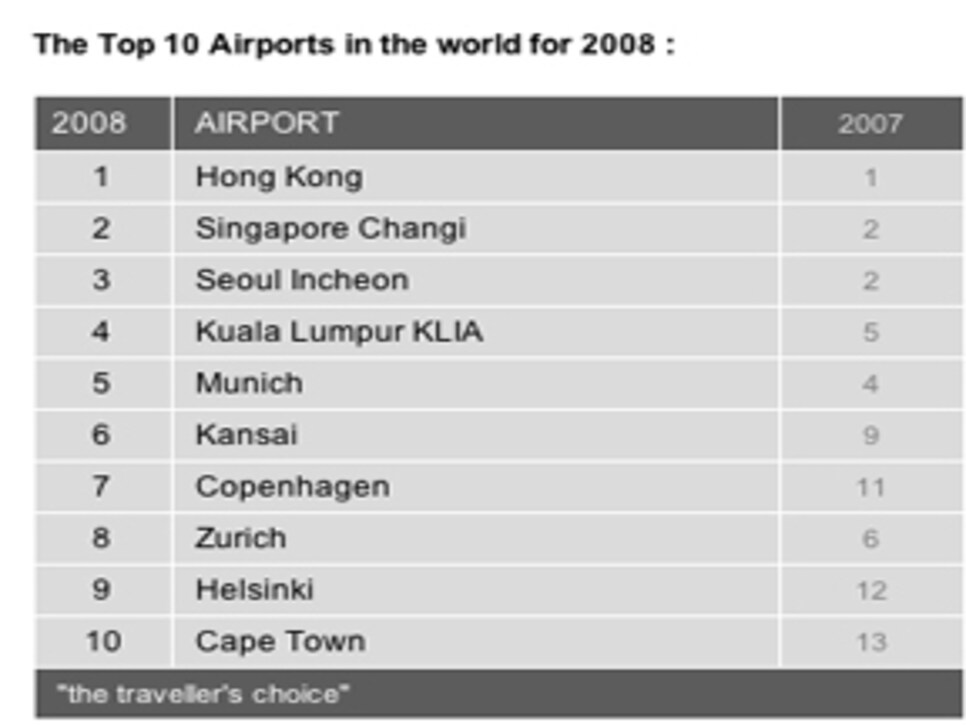 Here's a list of the best airports by worldairportawards.com (based on 8.2 million questionnaires completed by passengers over a 10-month time period from 2007 to 2008).Hong Kong has won seven out of the last 10 years. San Francisco, Denver, Dallas and Atlanta were in the top 25, but no U.S.-based airport was in the top 10.
I'll leave the terminal tent concept to the weary traveler in the picture above. I don't like to camp, and I don't sleep in airports.
(Post your favorite and least favorite airports in the comments box.)