The Loop
A Q&A with Morning Drive host and Tiger Woods' buddy Ahmad Rashad
*Ahmad Rashad is a former NFL Pro Bowl wide receiver who played a total of 10 seasons for the Minnesota Vikings, Buffalo Bills and St. Louis Cardinals. Upon retirement, Rashad began a successful career in sports broadcasting. Now, he can be seen daily on Golf Channel's morning show, Morning Drive.
Rashad has befriended some of the most famous athletes and celebrities in the world throughout his career, and regularly plays golf with two of his closest friends, Michael Jordan and Tiger Woods. How connected is he? We asked Rashad who he'd most like to play golf with that he hasn't already. He was stumped.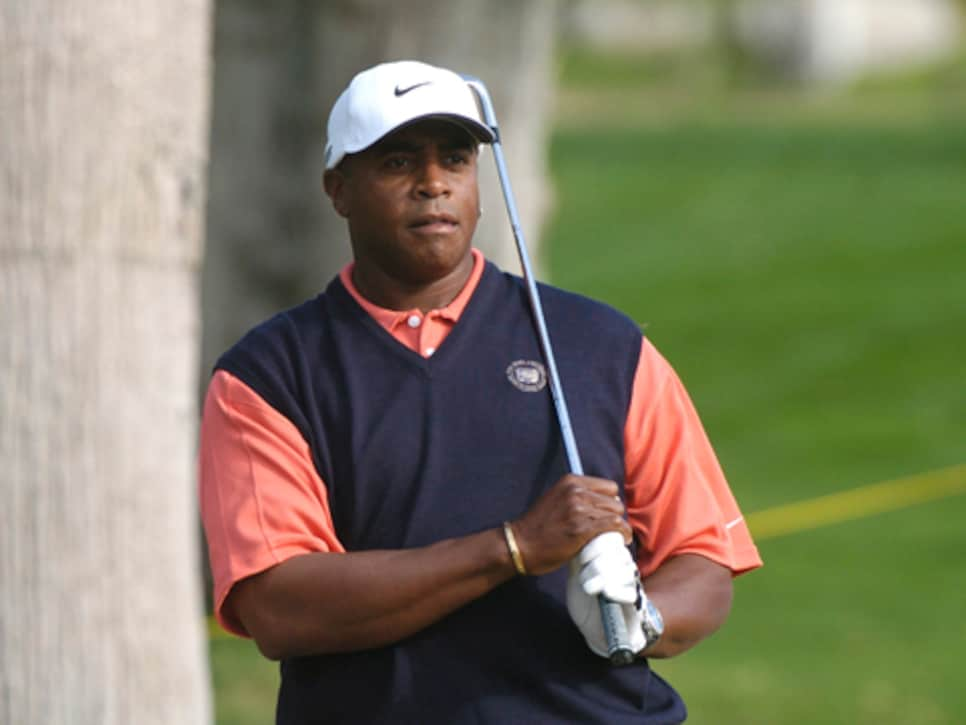 *Ahmad Rashad at the 2005 Bob Hope Chrysler Classic.
Photo: A. Messerschmidt/Getty Images*
You were once an NFL star. Then you became an NBA analyst, and now, all of a sudden, you're on Golf Channel. What has allowed you to make the transition from sport to sport so easily?
I first got into this business when I was still playing for the Vikings. I worked at a CBS affiliate and did football, baseball, girls' high school basketball -- everything. I wanted to be able to do any sport; that was always the challenge. Having been a football player, most viewers associated me with just that. It was tough to go from football to basketball, but what really helped was that my show, Inside Stuff, was personality driven. I was recognized by players and fans as someone who not only had a passion for the game, but was somewhat knowledgeable about it.
Getting into golf was another change. I readily took this challenge knowing I had to approach it the same way I did my other jobs. It's all about the personalities and the people. NBC producer Dick Ebersol always taught me that if you can show the fans what the players are like -- and get the fans interested in them -- then they're more likely to watch. I've always taken that approach.
You've been friends with Tiger Woods for a long time and have played a lot of golf with him. How did the relationship begin, and how has it evolved?
Tiger Woods has been one of my best friends for 25 years. I first met Tiger at an event I was hosting in Chicago; he was getting an award. Tiger's father Earl knew about me and introduced me to his son. We stayed in contact and eventually started spending a lot of time playing golf and talking. We both ended up living in Jupiter, Fla., and now we spend a lot of time together, playing a lot of golf. I get a lot of insight into the tour and the players through Tiger.
So what's it like down there in Jupiter? Where do you play most of your golf?
I'm a member at the Bear's Club and Old Palm. My neighbors now are Luke Donald, Ernie Els, Keegan Bradley -- these are guys I play golf with on a regular basis. I'm an OK golfer and to have a chance to play with these guys regularly is unbelievable. Rory McIlroy lives around the corner. Here I am just now entering the golf world, and one weekend I play with Tiger and Rory. I don't know how you do better homework than that.
When you play golf with Tiger and these other guys, do they give you any tips on your swing?
I only get tips if I ask. It's never a teaching lesson. But the difference with Tiger is that I practice with him. We'll spend the whole day practicing and not play a hole. But when I'm with Keegan or Luke or some of the other guys, we're just out playing. We're having a great time in each other's company. I'm telling funny stories from ages ago and they're telling me stuff about golf. They're my good friends who I enjoy spending four hours with laughing and having a great time.
Do you feel pressure when you're playing with them?
I put the pressure on them! They're the best in the world but if they give me enough strokes, they really have to play well to beat me. They never want to lose so they're not giving me putts. Keegan tells me I'm a human ATM machine. That's how serious he is about beating me. I said to him the other day, "You know, I'm the only guy you've beaten in weeks."
It's not about the money, he just loves to take my money. Same with Michael [Jordan]. These guys are really prepared to take our money. We give them a lot of heat, too. If a guy hasn't won on tour in a while, Michael will tell them, "You know, you might as well stay here and play me all week."
You say you're not that great of a golfer, but for some reason, I doubt that.
My handicap is 3. I always have to play the back tees with these guys. But here's where Tiger gets me -- rather than playing the back tees, he'll play one step off the back tee box. So if the hole is 460, we're playing it from 490. He's hitting 7 iron into the green and I'm hitting 3 wood. But when you play with great players it's on you to keep up. You can't be hacking balls in the bushes. That puts a little pressure on me. I'm a strong 3, I'm comfortable with that. I just love the game.
What else do these guys do on a regular basis to really challenge themselves?
I see Luke [Donald] in the morning hitting balls on the range, and I'll go back out at night and he's still hitting balls. I'll go play another 18 and he's still there. Same with Rory. Sun up to sun down, just bangin' balls. The next day, Luke's on the putting green for hours. People don't understand the work that goes into it. Then I think, when I was a receiver I caught millions of balls! That's the same approach Michael had to basketball: practice as hard as possible. You don't become great by thinking you're great. Working gives you all the confidence in the world.
Let's talk about the gig on Morning Drive. It must take quite a toll on you with the hours and preparation. How are you handling that, and how do you like being a golf analyst?
Here's the thing: I'm not and will never be a golf analyst. We have guys on the show that are former pro golfers. They analyze. I try to ask the questions that the fan at home would ask. I can analyze the mental approach to the game, but I can't analyze swings or any of that. And I don't try to.
I'm just lucky to have a ringside seat to watch the best in the world. I played with Tiger and Rory last week and it didn't hit me that I was playing with the No. 1 and No. 2 ranked golfers in the world until halfway through the round. Tiger was giving me ten shots and I was just trying hard to beat him.
What is the relationship between Rory and Tiger like?
When they first met, it was one of the most beautiful things to see because of the mutual respect they have for each other's accomplishments. But they still are very competitive with each other. That's what happens in sports. When I first started playing in the NFL, I wanted to play against the best cornerbacks in the league. I really wanted the guys that were a little old. I was young and strong and respected them but wanted to compete against them. That's the way it is with Rory and Tiger. They respect each other, but they both would like to be in a situation where they're competing in a major. It wasn't a love fest, just a respectful encounter. They are wonderful friends. It really was a beautiful thing to see.
What do you make of this rivalry talk?
You can't create rivalries -- they have to develop on their own. We won't see a Tiger-Rory rivalry until it really happens. Rivalries come from one guy winning half the time and the other guy winning half the time. Rory's got a handful of wins and Tiger's got seventy-six. That's not a rivalry. But Tiger knows he needs something like that. When a young guy comes on, you want to go after him. That's the beauty of sport.
Where do you see Tiger's career heading? Does he break Jack Nicklaus' record?
I think Tiger, for the first time in a lot of years, is healthy. He doesn't have those swing woes he was having last year. I think he's really in a great space right now. I think he wins a major this year. I think he breaks Jack's record. It's inevitable. He's played so many years with injuries and has gone through some swing changes. Those are gone now. He's the best he's been in years and he's such a positive guy. He's the closest thing to Michael -- confidence wise -- that I've met.
He puts the work in and that's where the cockiness, the positivity, come from. It's not something you just wake up and you have. It's something that you develop over years.
I've played with him so many times, but there isn't a round where he doesn't dazzle me at least seven or eight times. He'll hit shots than I never even thought about. It's unbelievable! I know how much he wants it. I covered Michael, and Tiger's the same way. Everyday they go out to prove how good they are to themselves.
I know Michael is one of the greatest trash talkers in all of sports, but besides him, who is the best on the golf course?
Tiger. Definitely. He can really needle. But he can get needled too. It takes a lot of talent to trash talk. It's funny because I played a game where all we did was trash talk. And I didn't understand it because all they were doing was waking me up. You wouldn't know it, but Keegan Bradley is a great trash talker.
Now I know I stumped you earlier, but there has to be someone that you are dying to play golf with.
You know, there is. Lee Westwood keeps challenging me. I really want a piece of him after all that talk. He just moved to the neighborhood. But he's only going to give me two shots a side. I might as well just give him the money.
I've played some golf with Michelle Wie, and she's great. I'd like to play with some of the other girls on the LPGA, especially Stacy Lewis. Man, I'm just lucky to be where I am. It's amazing the opportunities I've had, just to be around a game I'm so passionate about. I'm really lucky.