The Loop
Ageless golf machine Bernhard Langer wins his third consecutive Charles Schwab Cup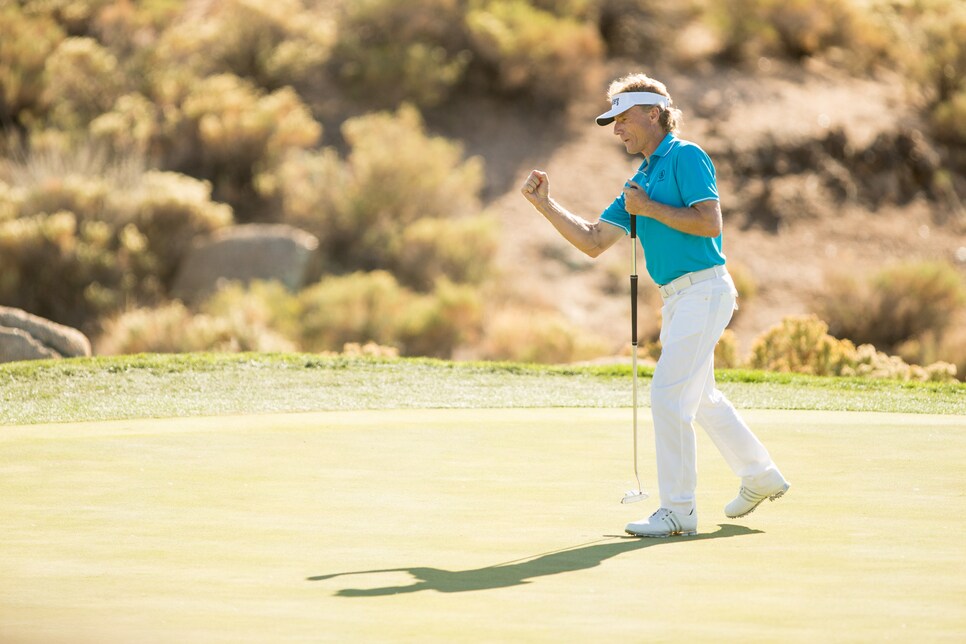 Death, taxes, and Bernhard Langer dominating the PGA Tour Champions. Seriously, Langer has been on the senior circuit for a decade now and he's showing no signs of slowing down.
On Sunday, the 59-year-old (at least, that's how old he says he is) German capped off another incredible campaign with a 64 to clinch the Charles Schwab Cup for a third consecutive year. It's the fourth time overall that Langer has won the season-long race and it marks the eighth time in his nine full seasons on the tour that Langer has captured the money title. Just look at these stats for the past three years!
Perhaps the most surprising outcome of the season-ending Charles Schwab Cup Championship is that Langer didn't win the tournament also. His brilliant final round still left him two shots behind Paul Goydos, who picked up his fourth career PGA Tour Champions title. But Goydos raved about the man seven years his elder, and even joked his four-shot cushion entering Sunday might not be enough since Langer should give him two shots a side.
"The guy's a super hero. I don't get it," Goydos told reporters after. "Seems like he should get older. . . . I mean, he's getting better. It's his best year and he's 59. He's amazing."
Goydos might have a point about this being Langer's finest year yet. Although his four wins in 2016 don't match the five he won in both 2010 and 2014, his level of consistency has never been better. Langer played in 21 events and had 18 top-10 finishes. His worst finish? A T-13 at the American Family Insurance Championship in June.
"It's incredible," Langer said. "Finishing all the tournaments throughout the year in the top 13, it's extremely tough to do. So it's difficult to put it all into words, how consistent it's been, how good it's been, but very blessed, very fortunate."
You know who isn't as fortunate? All the other golfers out there over 50.