News
RANCHO MIRAGE, CALIF.-  Oddly, as the wind picked up, the Friday-afternoon scores began to drop and the Kraft Nabisco leader board became littered with new names charging leaders Ochoa and Stupples.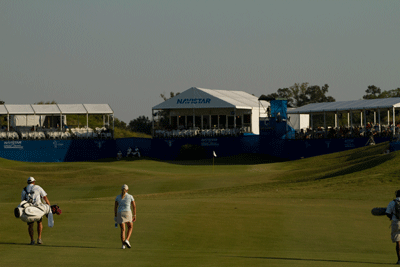 Cristie Kerr and Stacey Lewis are both four under par for the day and tied for third at -5, while Song-Hee Kim is in the middle of a bogey-free, four-under-par round that has moved her up into sole possession of the lead at -7.
Overnight leader Suzann Pettersen, meanwhile, has fallen dramatically, but not because of the wind. She seems to have lost all confidence in her putter after a sloppy four-putt landed her with a double bogey on the 6th hole. One birdie and three bogeys later, she is three over par for the day and has fallen to -2 and a tie for ninth.