News
After years of struggle, Tom Lewis, a can't-miss kid when he turned pro, finally gets another win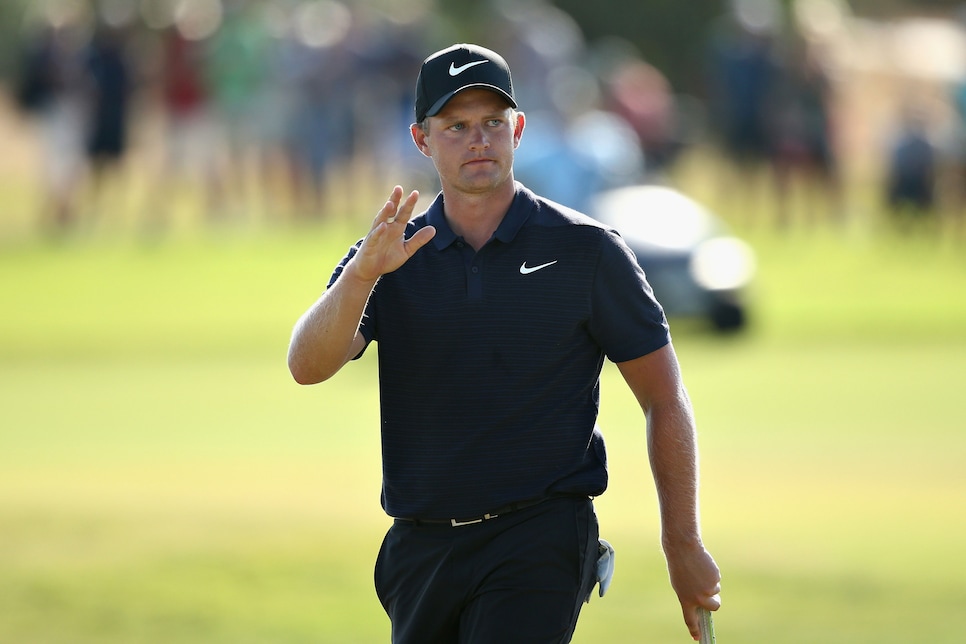 It will surely go down as one of the great pars of the 2018 European Tour season. Or any season really.
Standing on the 17th tee of the Dom Pedro Victoria Golf Course on the Portuguese Algarve, Tom Lewis was 22 under par and one-shot ahead of his playing partner, third-round leader Lucas Herbert, in the race for the Portugal Masters title. Lewis, who had won this event in only his third start as a professional back in 2011, sent his drive 30 yards right of the distant fairway on the 588-yard par 5 and into a water hazard. The compulsory drop under penalty was followed by a lay-up that luckily finished on the bank of a bunker. The 27-year-old Englishman then hit a wedge to 40 feet and holed for what he would later call the "the best 5 of my life." Routine really.
One hole later, Lewis had his second European Tour title and, perhaps more importantly for a man who lost his card at the end of 2016, a two-year exemption on his home circuit. Only two weeks before resurrecting his career in such dramatic fashion, the former Walker Cup player (he was the highest-rated member of a 2011 Great Britain & Ireland squad that contained future Ryder Cup player Andy Sullivan) was winning on the second-tier Challenge Tour. Still, he arrived in Portugal a lowly 163rd on the Race to Dubai and 12th in the Challenge Tour standings.
It turned out Herbert made things easy for Lewis. After pulling his tee shot into water off the 18th tee, the 22-year-old Australian eventually made a double-bogey 6, one that allowed Lewis to play safely away from the same pond with his approach shot. That Lewis got up-and-down for par was largely irrelevant, the eventual margin of victory three shots over Herbert and, in a repeat of last year, Eddie Pepperell.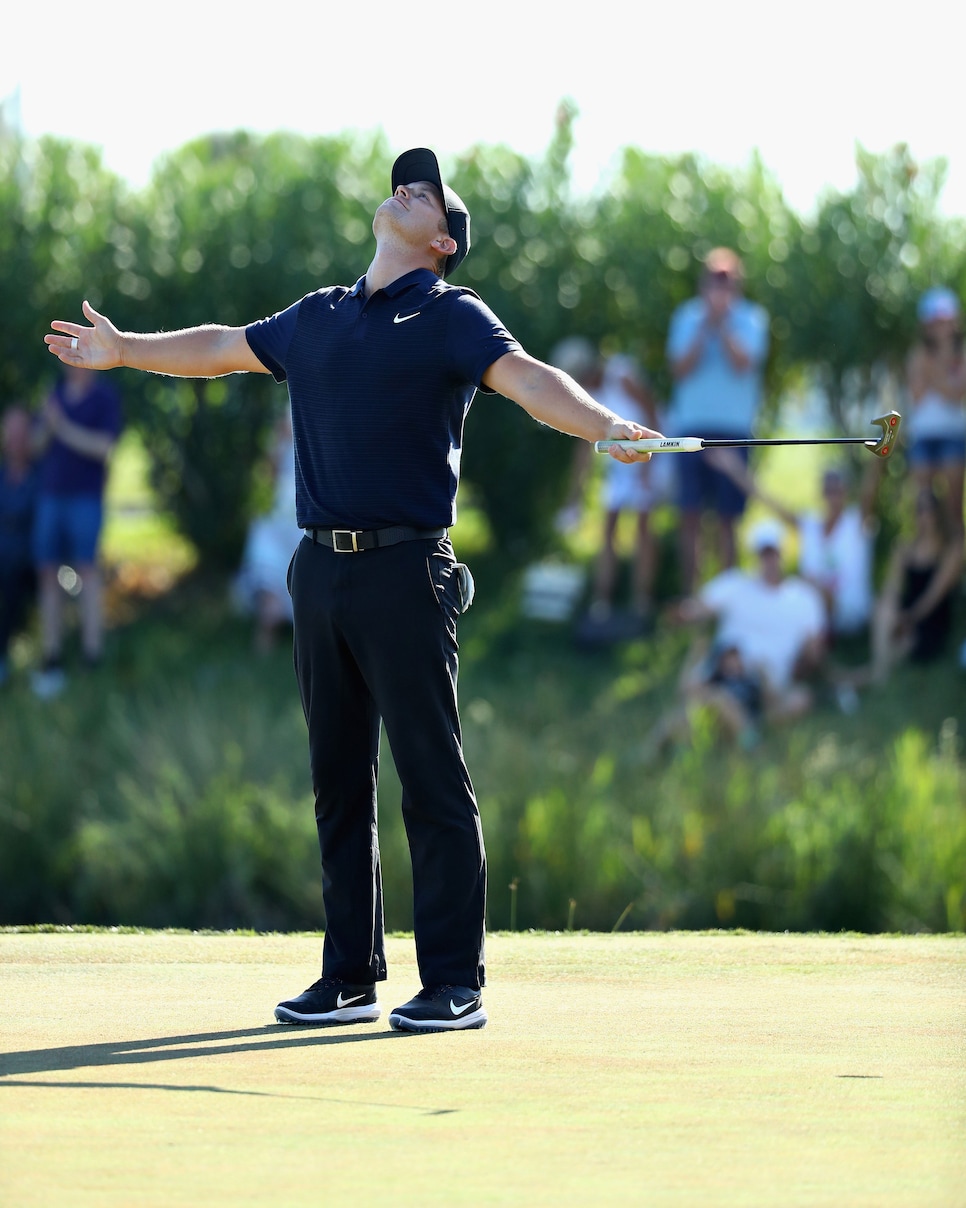 Warren Little/Getty Images
"This is unbelievable," said Lewis, who picked up a check for €333,330 and became the 10th Englishman to win on the European Tour in 2018. "I'm so happy. It's been a rough ride. I played hard this week. I got off to a bad start [an opening one-over-par 72] but finished great (63-61-66). I'd hardly made a mistake all day then hit that one bad shot off the 17th tee. But I've been putting great.
"To be back here in Portugal and play the way I played is great. I think this one means more than 2011. The next win was always going to mean more because of how hard I have worked to get back here. Hopefully I can do better than last time and continue to do well. I need to keep my foot on the gas and not ease off. It's a tough life on tour and not as easy as it looks. There is pressure and I have struggled with that at times. I lost my fame, if you like. But now I want it more than ever."
There was consolation for Herbert in that this finish, his highest-ever on the European Tour, sealed his card for next season.
A little further down the leader board, Ollie Fisher closed with a round of 70 to finish T-8 alongside Sergio Garcia, who with Thorbjorn Olesen (T-20) was one of two European players getting in some last minute competition before next week's Ryder Cup. Fisher's score is notable for one reason, of course. Two days earlier the 30-year-old Englishman—a direct contemporary and close rival of Rory McIlroy on the amateur circuit—shot a 12-under-par 59. It was, for those who have not heard, the first sub-60 round ever shot on the European Tour. All in all, it wasn't a bad week for tall, blonde, big-hitting Englishmen.