The Loop
After Thursday 79, Rory McIlroy struggles to turn his mental game around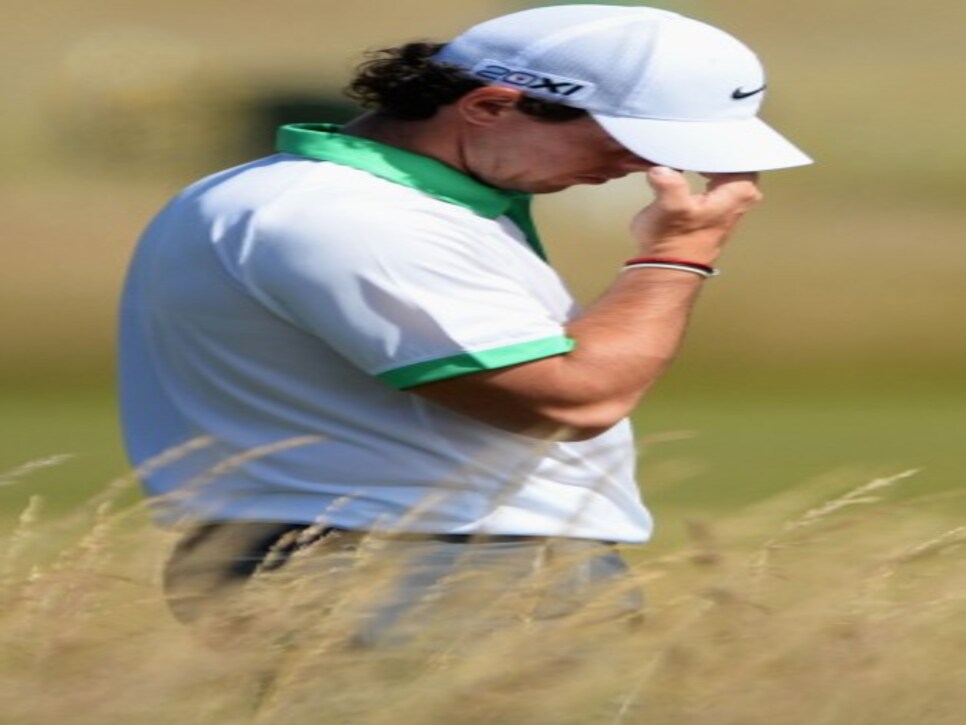 GULLANE, Scotland -- At the Irish Open last month he confessed to being "lost." Now, three weeks on from that missed cut, the feeling has worsened. "Brain dead," was Rory McIlroy's terse, but undoubtedly apt description of his state of mind in the immediate aftermath of an opening 79 in the 142nd Open Championship.
Emitting a downbeat air of resigned pessimism almost throughout, the former world No. 1 was clearly a man battling powerful and destructive internal demons. The ultimate evidence, as ever, was in the numbers. McIlroy accumulated six bogeys and two double bogeys en route to what was just the latest in a lengthening series of disappointing scores.
"I feel like I've got the shots, so it's just a matter of going through the right process to hit them. But that's something I obviously haven't been doing recently." Indeed, despite making a pair of birdie 2s on Muirfield's famously testing par 3s, McIlroy was depressingly sloppy in most areas of his game. His round was, in fact, a classic example of how a good player performing poorly shoots a high score. When a green was missed, it invariably led to a bogey. The occasional birdie chances were inevitably missed. Throw in a couple of sloppy shots from decent positions and it all added up to eight-over par.
Related: Swing Sequence: Rory McIlroy "It has nothing to do with technique," insisted the reigning PGA champion. "It's all mental out there. And then I just need to concentrate. But sometimes I feel like I'm walking around out there and I'm unconscious. I can't really fathom it all at the minute. It's a very alien feeling, something I've never felt before. "I didn't hit that many bad shots. I actually hit a lot of good shots. I feel like I made a lot of progress over the last couple of weeks. Then shooting a round like this is not what you want. I have to go back to the drawing board and think about what I need to do differently and what I need to do to improve." Easier said that done. As any struggling golfer knows, change for the better is rarely a speedy process. Rather, success needs to be measured in small steps rather than giant leaps. That way, each day can be viewed as a positive. Not surprisingly, Mcllroy did not rule out a visit to sports psychologist Bob Rotella.
Related: Dr. Bob Rotella's 10 rules for mental fitness Amidst this almost disturbing display of angst, the difficulty of the course needs to be taken into account. Almost yellow in color, Muirfield is in the sort of "firm and fast" condition that allows those playing well to prosper, but which, conversely, exposes, exacerbates and punishes every error in those even slightly off form. And right now, of course, McIlroy is in a place where "slightly off" would represent real progress. "I need a swing thought out there," he sighed. "I know I have the shots and I know I'm capable of hitting them. It's a matter, like I said, of being in the right place mentally to do it." All in all, it was painful stuff, both to witness and listen to. Asked how often he had "gone back to the drawing board" this year, the two-time major champion's response was brief, to the point and telling.
Related: Muirfield still haunts Azinger "Basically every week this year," he said. Sometimes, however, the road to solution is as simple as identifying the underlying problem. "I'm definitely under-thinking on the golf course," summed up the 24-year old Ulsterman. "Maybe over-thinking off it." Sounds about right.