The Loop
After the tragic death of his wife, Matt Kuchar's caddie returns to the event she loved
GLENEAGLES, Scotland -- Just outside the U.S. team room at Gleneagles early Tuesday morning, Lance Bennett quietly and emotionally reflected on being back at work. The caddie for Matt Kuchar laid the bag down for an indefinite period on Aug. 27, when his 39-year-old wife died having an epileptic seizure at a medical center near their home in the Dallas suburbs. The decision to skip the remainder of the FedEx Cup playoffs and return for a Ryder Cup was a decision Bennett made after receiving support from the golf community and talking to Kuchar before the Tour Championship.
"I never knew people cared that much," he said. "It has really humbled me to the point where I'm still in shock over the whole thing."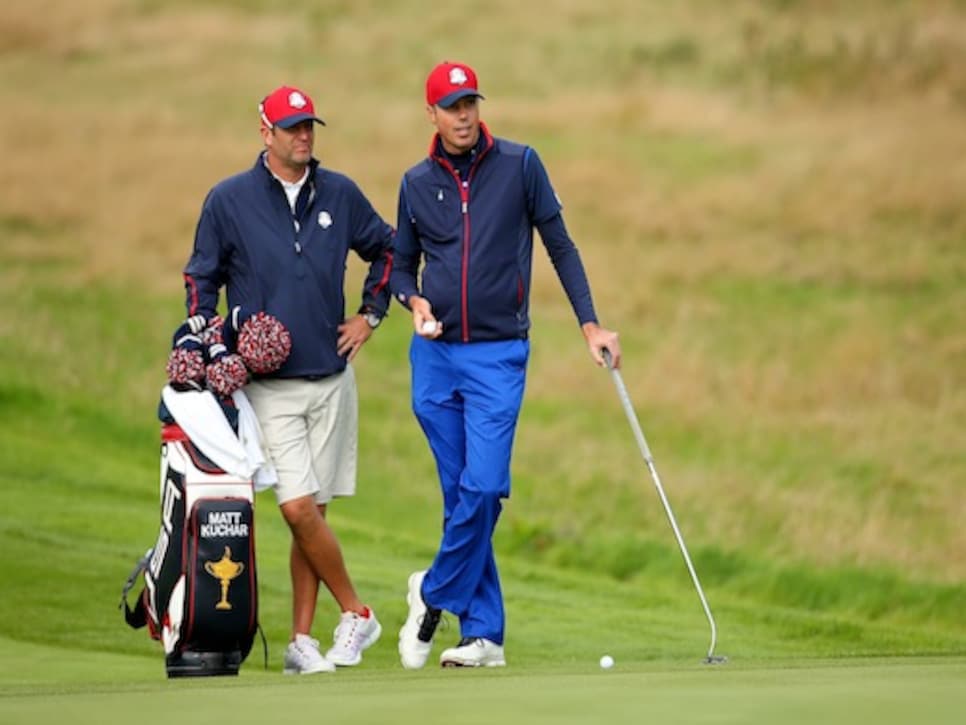 "If this were a regular tour event I wouldn't (be here)," Bennett said. "But with this being one of the greatest events in the world, and it being such a team atmosphere, I felt it was the right week to try and come back and at least spend one week with my closest friends and have the whole team bonding experience." Part of the experience brought back painful memories. The Ryder Cup was Angie's favorite event. She traveled to the last two and was excited to be on the team charter for the first time. Her birthday was also on the Monday the team arrived. Bennett knew Angie would want him to be there. "She had so much fun hanging out with the caddies' wives, getting to walk inside the ropes," Bennett said. "She loved it."
That was one of the reasons Bennett flew over early with Jim Mackay, John Wood and Joe Skavron, three of his closest friends in the caddie ranks. In his news conference, Kuchar described the hugs and personal time everyone coming off the bus took with Lance. "I just thought I'd be better traveling alone, with less attention," he said. "The last thing I wanted to do was draw attention away from the two teams. That's not the way I do things." This was just an example of why Bennett is so deeply respected. He has been on Kuchar's bag since a run that began eight years ago in the Nationwide Tour's Boise Open, and is looking for ways to keep his job and provide care for Emma while he's not he road. He has not made any concrete decisions beyond caddying caddying for Kuchar this fall. "I think it would lead to some normalcy in my life," he said. Bennett got a full dose of being back in competition in the Friday afternoon foursomes, but it didn't end happily with a 2 down loss that Kuchar and Jim Furyk sustained to Lee Westwood and Jamie Donaldson. He shook hands on the 18th green and walked away from it knowing this was a loss that could be overcome before the week's over.