Ambition and emotion. Generally, the more a golfer has of the first—which is essential for those who hunger to convert monster talent into monster achievement—the more he has to fight the usually corrosive effects of the second.
This is the calculation Bryson Dechambeau must balance if he's to become the great player he aspires to be. Like his familiarity with Newton's Second Law of Motion, which DeChambeau can sometimes refer to as "F=ma" just to mess with golf writers, the former SMU physics major is good at solving equations. But emotion can gum up the scientific approach he applies to every facet of his game, and he seems to aspire to become Spock-like in competition.
DeChambeau isn't there yet, but he's managing well. With a final-round 68 at the RBC Heritage, he finished an impressive T-4 in his pro debut, four strokes behind winner Branden Grace at Harbour Town Golf Links. It was immediately noted that none of the previous four players who won both the U.S. Amateur and the NCAA championship in the same calendar year (Jack Nicklaus, Phil Mickelson, Tiger Woods and Ryan Moore) finished better than 50th in their first PGA Tour start as a professional.
More importantly, the top-10 finish meant DeChambeau automatically qualified for this week's Valero Texas Open, saving him from burning one of the six remaining sponsor's exemptions he has this season. With a continuation of the solid golf he has shown in making the cut in all three PGA Tour events he has played this year, DeChambeau is a good bet over the next few months to earn the special temporary membership that would provide him unlimited sponsor's exceptions for the rest of this season. And if he gets there, DeChambeau is probably a lock to get into the top 125 of either the money list or FedEx Cup points ranking and earn his tour card for next year. Using last year's final standings as the measure, DeChambeau will need about $750,000 in winnings or about 460 FedEx points for that E-ticket. After San Antonio, DeChambeau is scheduled to play at the Wells Fargo Championship, AT&T Bryon Nelson, Dean & Deluca at Colonial, Memorial and Quicken Loans.
DeChambeau won $259,600 at Hilton Head, but he says his mind is not on money. With a grandiosity that is forgivable in the young, but which also recalls Tiger Woods' approach as a rookie, the 22-year-old from Clovis, Calif., says he is focused on winning. So what did he gain from his debut? "Confidence," he said, a continuation of a pattern of "more and more confidence each and every week."
On Harbour Town's tight track, usually a haven for steady veterans, DeChambeau was impressive in the way he controlled his golf ball. With a swing already famously conceived through his study of The Golfing Machine, he led the final field in strokes gained/tee to green, mostly on the strength of finishing fourth in driving distance with an average of 296.3 yards. Had he putted as well as he usually does—he was only 46th in strokes gained/putting—he could have won.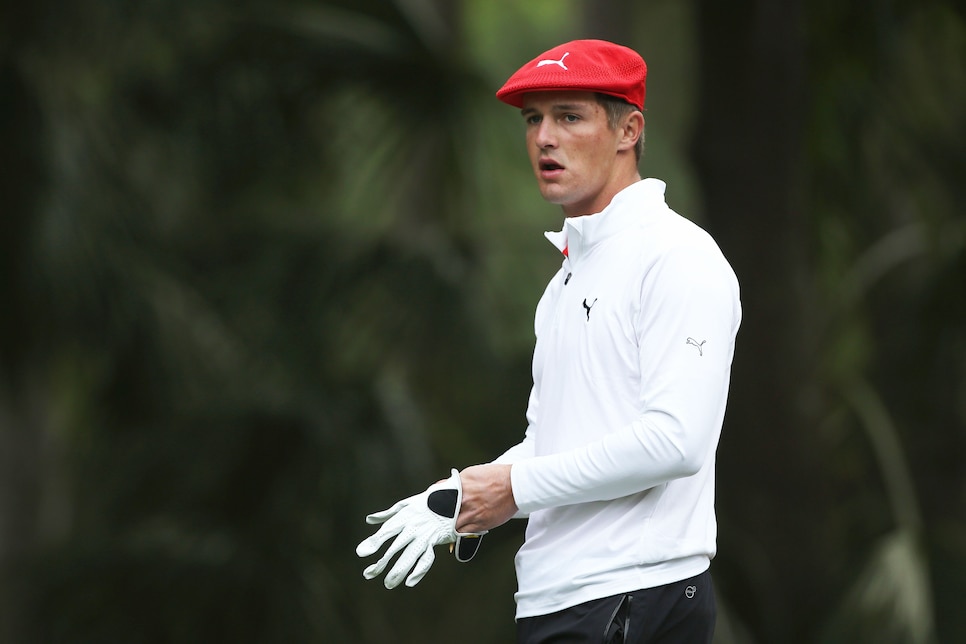 DeChambeau also had four 6s on his card over four rounds. It was similar to the big numbers that undermined him in an otherwise stellar showing at the Masters, where he finished T-21 to take low-amateur honors, but also played the 18th hole in five over par during the second and third rounds.
Those moments, especially late in a round when mistakes are more wounding, are not atypical for a young player who wants it so much, and perhaps too much. But taking the long view, DeChambeau's extreme level of talent and desire—that essential combination of how-to and want-to—bodes very well.
Like a lot of high achievers, DeChambeau has had to battle impatience and anger. In his early teens, his parents sent him to a psychologist to help him temper the same perfectionist expectations that bedeviled the player DeChambeau read in depth about before the Masters: Bobby Jones.
In a recent interview with Golf Digest, DeChambeau said that by his sophomore season at SMU, he was having so little success that he was ready to quit the game. "I was severely depressed," he said. "I was shooting 75s and 76s, and becoming just a terrible, awful person to be around." His mother, Jan DeChambeau, remembers that "there were times that Bryson would call home after a tournament he didn't do well in and wonder, 'Why is God doing this to me? I practice harder than everyone else.' "
DeChambeau says he turned his golf and his life around when his coach, Mike Schy, came to Dallas and gave him a copy of The Handbook of Athletic Perfection, by Wes Neal, a faith-based treatise. DeChambeau read it and had a realization. "I saw that I had made my golf score the center of my life," he says. "That was my problem."
Since then, DeChambeau's mantra has been to simply "do my best" at all times. Part of that, in his view, is reaching out to the public to help make golf more popular. At Hilton Head there were kids wearing DeChambeau-type caps. And the 6-foot-1, 200 pounder who facially looks like Rob Gronkowski possesses plenty of ham. Last week, SkratchTV.com aired his respectable imitation of Bill Murray/Carl Spackler's Dalai Lama riff in "Caddyshack."
It's a package that might engender resentment from fellow pros. Yet DeChambeau to all appearances is well-liked by young players who competed against him as an amateur, and respected by veterans for his good manners, intense work ethic, and just plain being good.
Even so, the attention DeChambeau draws almost demands that he play well to back it up. In his first press conference as a professional, he placed himself on a pretty high pedestal. "I will say to them I am an artist," he said. "I love creating things. And that's ultimately why I've become so scientific is because scientists out there are artists. I can tell you that. They go out there and are imagining things people aren't thinking of. Coming up with equations, that's an art."
In part because of the burden that comes with expectation, DeChambeau is still working on the equation involving ambition and emotion. On Friday, when his 69 was spoiled by a double bogey on the eighth hole and a bogey on the 18th, he alluded to internal issues. "I'm trying to make a non-emotional execution," he said, "and I still get a little emotional out there."
If scientists are also artists, as DeChambeau says, he always will. He's too ambitious not to. He just has to figure it out.