A 6-Iron Shot I'll Never Forget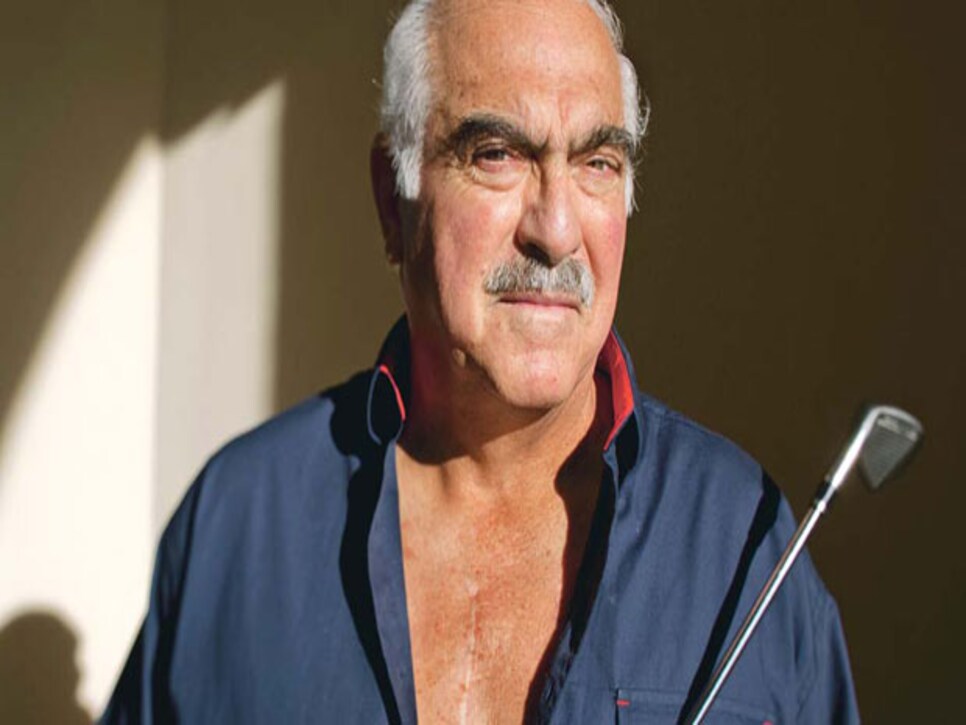 The free medical checkup Carlos de Anda won at a charity tournament helped save his life.
Would you believe me if I told you a 6-iron saved my life? Well, it did, and all I can say is, I'm lucky I hit it so well. I'm now 69, retired, a 9-handicapper who used to be scratch. I've been fortunate to play all over the world, but the shot that saved my life I hit in my hometown of Mexico City.
It was July 2006. My buddies and I were about to take our annual golf trip, this time to South Africa. A few days before we were set to leave, I played in a charity fundraising event at the Country Club of Mexico City. On the fourth hole, 174 yards, I hit a high-cut 6-iron, my usual shape, to five inches. It was a team scramble, so as the ball tracked toward the hole, the rest of my foursome yelled for it to go in.
All the par 3s that day had a closest-to-the-pin prize. Later that night, at the dinner, I found out that I had won a free medical checkup. (One of the event sponsors was a hospital.) To be honest, I was disappointed. Sometimes these prizes are a new driver or flat-screen TV.
When I got home that night, my wife, Gabriela, said, "Carlos, what did you win this time?" (I play in a lot of these kinds of tournaments.)
I told her about the checkup.
"Nothing, like always," she joked. But then a moment later, more seriously, she said: "You should do it."
At first I didn't think much of it. I felt perfectly healthy and had many errands to run before leaving for South Africa. I told my wife she should take the checkup, or we should give it to our maid.
"No, Carlos," my wife demanded. "You should do it."
I've been married to Gabriela for 43 years. To please her, I decided to go. No more than 10 minutes after the doctor had completed the tests, he came in and said: "I don't understand how you're alive." These were the doctor's very words.
The tests showed that my arteries were so severely blocked that I was "perhaps hours away from a heart attack," said Dr. Luis Solana, a fine man who now gets a case of good wine from me every year. Solana told me to call my wife and have her bring my pajamas; they were opening me up that afternoon.
Now, I don't smoke, I don't drink, and I'm not overweight. I swim or play golf (walking while the caddie drives my cart) almost every day. It's true that we have rich food in Mexico, but I also eat a lot of fruit and healthy things. Needless to say, I was shocked.
The doctor goes in, and my arteries are so blocked he can't even insert a catheter. Some people's bodies naturally produce high amounts of cholesterol, Solana explained, and I must be one of those people. The next day I underwent quadruple-bypass surgery.
The operation was successful, and I spent 10 days in the hospital recovering. My buddies trip to South Africa was canceled, of course. I don't like to think about what might have happened had I gone.
I spent a month resting at home, and then I started to play golf again. Seven months later, seven buddies and I finally took our trip to South Africa. We played 11 courses in two weeks, including The Links at Fancourt and Royal Cape Golf Club.
A year after the surgery, I played in the same charity event. Many of the people had heard my story and encouraged me to make a speech at the dinner. I tried my best to keep it short but was overcome with emotion.
"I'm so grateful to the tournament organizers for saving my life," I said. "This has been a very special year for me. I now see life differently. Each day I'm grateful to be alive. Each day I try to be a better person." I'm sure I stumbled and said some other things, but I ended by encouraging everyone to enjoy life and their friends. And, of course, to enjoy golf. Because it could save your life.