SPONSORED
Kiltie lace covers and 3D-printed midsoles: A look at adidas' MC87 4D golf shoe
*In partnership with adidas. All products featured on Golf Digest are independently selected by our editors. However, when you buy something through our retail links, we may earn an affiliate commission.*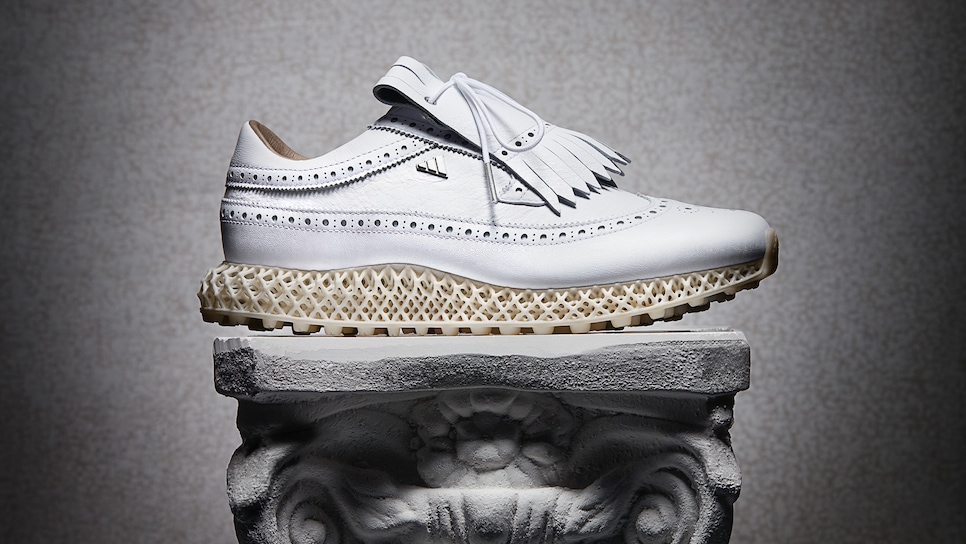 No strangers to pushing the boundaries in what's possible with golf shoes, adidas is at it again with the new MC87 4D. Combining vintage footwear styles pulled from its archives with some of the newest 3D printing technology available, the old-meets-new golf shoe aims offers timeless style, comfort and energy return for golfers looking to mix things up. Available now, the adidas MC87 4D release is timed with the upcoming Ryder Cup, featuring a cobblestone sockliner to pay homage to the streets of Rome. Here's what else you need to know about adidas' newest golf shoe.
Above the futuristic midsole, the upper of the shoe is similar to the recently released MC80 golf shoes. Designers at adidas scoured their archives and were inspired by one 1987s shoe model, the Tiverton. In line with 1980s footwear trends that have come back in vogue today, the Tiverton's wing tip styling, brogue stitch design and croc texture are seen in the MC80 and MC87 4D. Water-resistant leather on the upper bring the retro style into modern times to fit the needs of today's all-weather golfers.
Bringing the shoe more into the future adidas has added its 4D midsole to the MC87. Beyond a noticeably visual lattice design, it's a technology from 3D printing specialists Carbon that uses light projection, oxygen and programmable liquid resins to print durable polymeric products. This process gives footwear engineers additional control in making the midsole more durable, flexible and uniquely beneficial for the sport it is designed for.
This is the first time adidas has used its 4D midsole technology in a golf shoe, offering responsive cushioning for comfort and energy return. The techy midsole absorbs pressure from all angles when compressed—while walking or weight shift in the golf swing, for example—and provides a powerful energy return from the ground up to support the next movement.
Below the aesthetically and technologically futuristic midsole, the outsole features spikeless traction via strategically placed rubber lugs. A removable kiltie gives the wearer the option of leaning more vintage or modern with the look in daily wear.
"Over the last 18 months we've noticed golfers wanting more vintage designs, and we're in a unique position where our archives provide some amazing product inspiration," said Masun Denison, global footwear director, adidas Golf. "We challenged ourselves to combine the timeless aesthetics from the past with the technology of today, and MC87 4D was the perfect result."