The Loop
Adam Scott's win is twice redeeming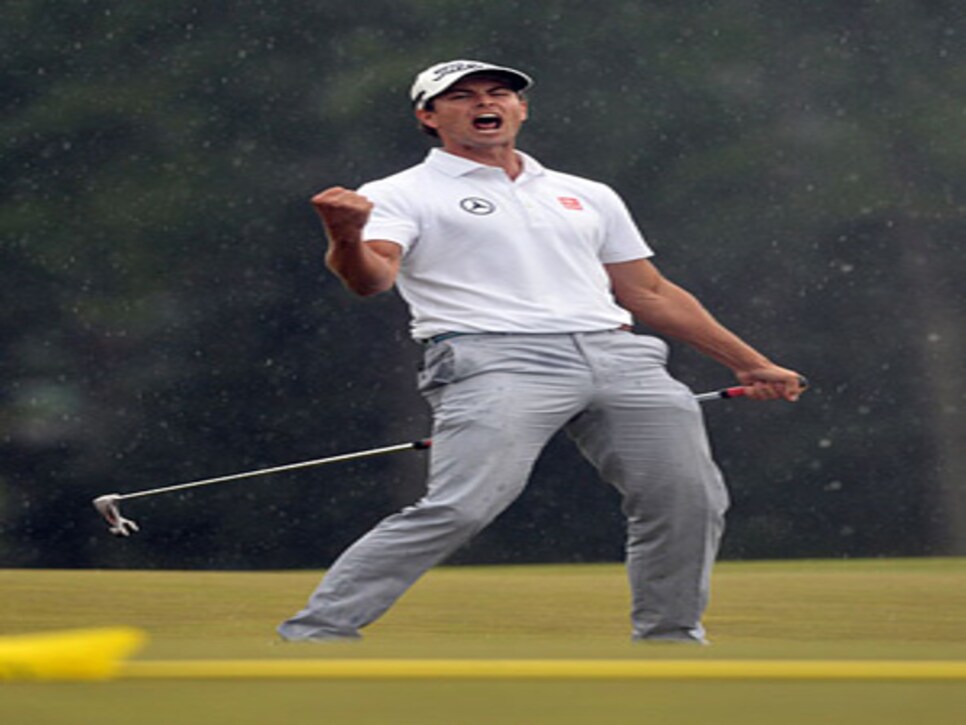 Greg Norman was home on Jupiter Island in Florida last night, living and dying and ultimately crying joyous tears as his apprentice attempted to win the Masters and break a 77-year-old spell.
"Blank me," Norman typed at 7:05 p.m. "The golfing gods can't be this mean to Australia."
This message came through just as Angel Cabrera stuck his approach shot on the 72nd hole of the Masters to two feet, soon matching Adam Scott's closing birdie. It looked like the same sad old story for the Land Down Under. If Norman didn't beat himself at Augusta, somebody else beat him.
"Now I know how everyone felt when he was there," was the next message at 7:17 as Scott and Angel Cabrera went down the 10th hole for the first playoff hole. When I texted back: "Hold on, you're still alive," Norman responded instantaneously. "I am, and I am believing so hard. All my energy and belief is with him."
Scott stayed home from school and watched Norman lose a six-shot lead to Nick Faldo in 1996. He visited Norman's compound shortly after that and stayed in Greg's beach house. In the midst of a slump, he was Norman's Presidents Cup pick in 2009. When he experimented with the long putter in early 2011, it was on Norman's putting green. When he bogeyed the last four holes of last year's British Open, one of the first people to reach out was Norman.
So when Scott birdied the 10th hole for the jacket at 7:46 p.m., a text came through almost instantaneously. "Finally SO happy for him...I have a few tears in my eyes...now I have a lot of tears in my eyes!!!"
Norman made it a point not to reach out to Scott and countrymen Jason Day and Marc Leishman as they stacked up on the Augusta National leader boards. He didn't want to put added pressure on them.
The jinx was on Scott's mind, but so was the T-2 he recorded at Augusta in 2011, and the productive run in major championships he has produced since then, including the sad runner-up at Royal Lytham that was reminiscent of Norman's heartbreaks.
In the Butler Cabin, Scott acknowledged that by singling out Norman as his idol. "There was one guy who inspired a nation of golfers, and that's Greg Norman," Scott said. "He's been incredible to me and a generation of golfers in Australia. Part of this goes out to him."
Earlier in the week I sat down with Scott for a Q&A that was part of a function hosted by Mercedes-Benz. Scott acknowledged that losing the British Open nine months ago was softened by losing to one of his close mates, Ernie Els.
He talked in reverential tones about Norman. In one of the closing questions, I asked, "Who is going to win the Masters this week?"
After a pause, Scott showed the bravado he showed in the playoff against Cabrera, the type of self-confidence he supposedly lacked.
"I would be kidding myself if I was sitting here telling myself I couldn't win this week," he said. "Absolutely, I could win this week."
Turns out, the Golf Gods weren't so mean to Australia after all.