The Loop
Playing with a new sense of urgency, Scott strikes early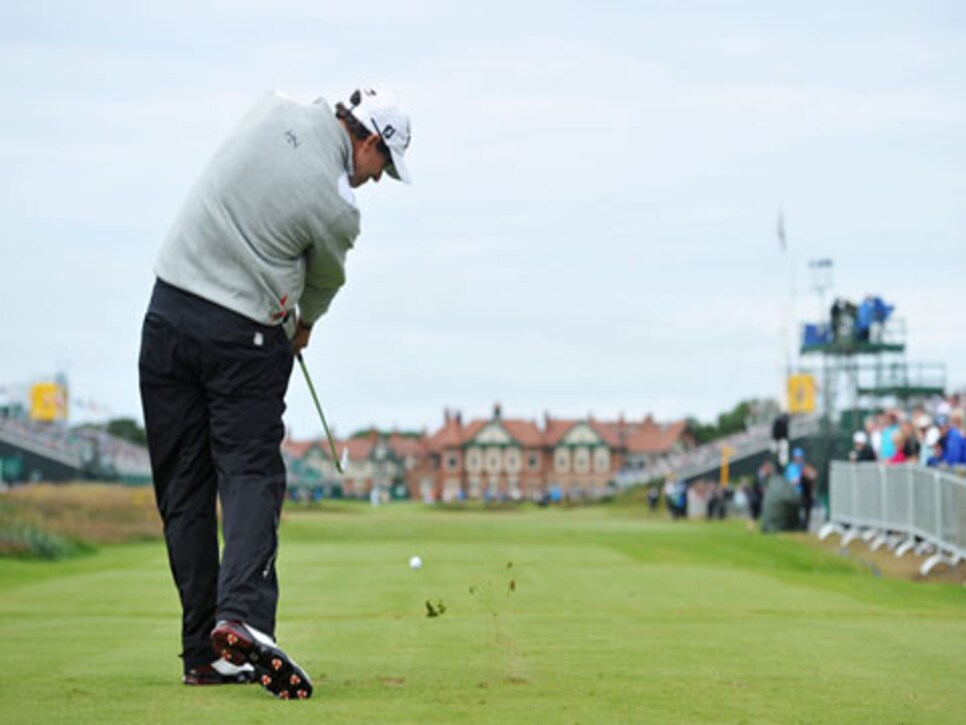 Photo: Stuart Franklin/Getty Images
LYTHAM ST. ANNES, England - Adam Scott exudes surfer cool, which befits his hobby but isn't always the best thing on the golf course. A little sense of urgency can go a long way, Scott found out Thursday when he parlayed a make-it-happen mindset into a six-under 64 at Royal Lytham & St. Annes and the first-round lead in the 141st British Open.
"It was surprising but very pleasing to go out and play some solid golf," said Scott, who was poised to tie the major-championship record of 63 until a poor tee shot on the 18th hole led to a bogey. "It's what I haven't done the first rounds of the majors this year, and that was my goal here, to play today like it was Sunday and there was no tomorrow."
The talented Australian, who turned 32 on Monday, struggled to respective opening scores of 75 in the Masters and 76 in the U.S. Open. Although he fought back to finish T-8 at Augusta National and T-15 at Olympic Club, the damage had been done by his desultory starts.
"Maybe [I was] too conservative and almost too patient," Scott said of those failings. "I was playing so well going into the U.S. Open and all of a sudden I was seven over through 15 holes of the tournament, and you can't pick up that many shots in a major."
Despite an early bogey Thursday morning at the third hole, Scott -- who credited caddie Steve Williams for helping motivate him into being more focused early on -- quickly rallied with birdies on three of the next four holes. Five more birdies in a six-hole span from Nos. 11 through 16 had Scott seven under and in position to become the 26th man to shoot 63 in a major, and even a chance to go one better and set a new mark.
"I know there's never been a 62," said Scott, who looked at a leader board before teeing off on the 17th hole and realized where he stood. "[I] realized it was a par 70 and I also probably realized that I wasn't going to be the guy to shoot 62. It's one of those things that you don't want to go through your mind, thinking about your final score and stuff like that."
Even with his closing bogey after hitting a 2-iron off the tee into heavy rough, Scott still eclipsed his best score in the British Open by four strokes. The placid conditions made scoring as easy as it could be Thursday at Lytham. Scott likes the confidence he gained from his 64, but is aware it likely will be a tougher task the rest of the way. "I'm sure there's going to be some weather elements thrown at us the next three days," he said. "So I'm just going to have to knuckle down to handle that. But I'm confident. My ball-striking is good. I think I can get it around no matter what the conditions are."
Although Lee Westwood and Luke Donald lately have been the most mentioned names when it comes to being the best players who haven't won a major, Scott, once deemed a lock to win one -- or more -- should still be in the discussion. Stewart Cink, grouped with Scott in the final round of the recent AT&T National, watched a display that day that convinced him the Aussie is still poised for greatness. "He looked like he should be the No. 1 player in the world," Cink said of Scott, who is currently No. 13. "He was like five under through seven holes. He just played one of the best rounds I've ever seen. Was not missing anything. So I'm not surprised. A guy like that who has a lot of confidence, it almost doesn't matter what course he's playing when he gets in that kind of a mode he's going to shoot low."
A major title, of course, is what Scott himself dreamed -- and still dreams -- of winning. "I would say I haven't achieved what I wanted until I win a major or more," Scott admitted.
This is Scott's 46th major. He has seven top-10 finishes, including a T-2 at the 2011 Masters and a T-3 at the 2006 PGA Championship. His stellar start at Lytham -- his score equaled Tom Lehman's during the 1996 Open for the best score at the Lancashire course -- puts him in great position to fulfill a dream, but the hard task really starts now.
By making every day feel like Sunday, though, Scott just could be the happiest guy around on Monday.